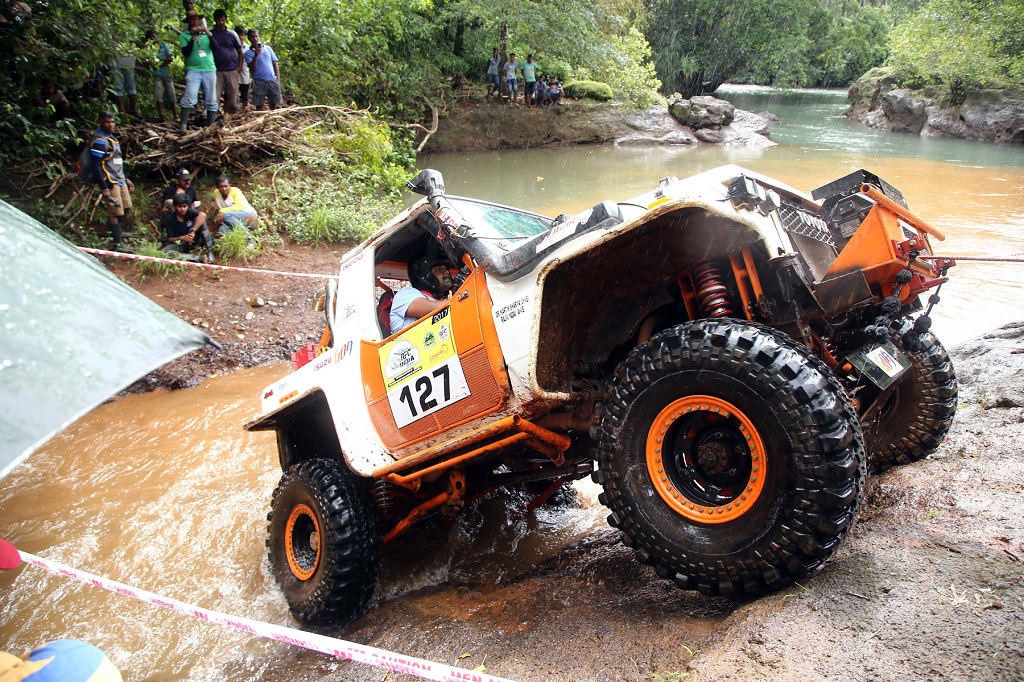 In a nail-biting competition, Bangalore's Siddartha Santosh claims the second position and trails Virdi by only 1 point
Quepem (Goa), July 28, 2017: Motorsport enthusiasts across the nation are finding it hard to control their excitement as Season 4 of Force Gurkha RFC India, the country's toughest off-road motorsport competition, is nearing its conclusion. Amidst a deadlocked competition for the top three slots, Gurmeet Virdi (co-driver Kirpal Singh Tung) of Gerrari Offroaders Chandigarh managed to retain the top spot at the end of Day 4 with 1307 points out of 1800. He is closely followed by Team BODA's (Bangalore Offroad Drivers Association) Siddartha Santosh (co-driver Prithviraj AC) with 1306 points, who is trailing Virdi by merely one point! The third position is held firmly by veteran rallyist Jagat Nanjappa (co-driver Chetan Changappa) of Coorg-based Team V5 Offroaders with 1267 points.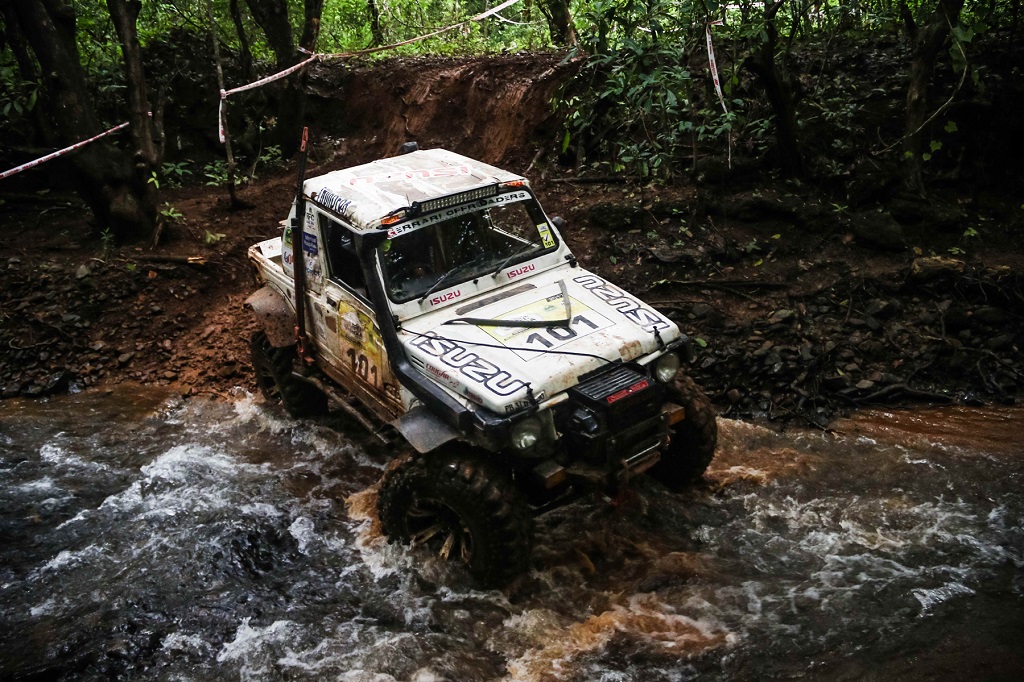 Goan driver Cedrick Jordan DaSilva (co-driver Dushyant Khosla) is at the fourth spot with 1193 points while Malaysian driver Merwyn Lim (co-driver Tan Choon Hong) of Mumbai's Team Fairmont has climbed up the ladder to claim the fifth slot with 1095 points.
The fourth day of the mega off-road motorsport event was held at Maina in Quepem where three Special Stages, Predator SS 16 to SS 18, ran live and the teams were tested on their ability to react and respond in critical settings while preserving their vehicles for the upcoming days. The participants had to tackle an exciting mixed-bag of some speed tasks, winching tasks and water crossings. SS 16 had them gradually ascend a craggy terrain to hit an eight feet tall cliff and winch out of it to move anti-clockwise towards the finish box through a serious of irregular rocks and boulders. SS 17 again saw the 38 participating teams winching out of a perpendicular obstacle followed by a sharp left turn and a narrow U-turn before touching the finish rope. SS 18 was spectacular in terms of its grandeur and myriad terrain. It had vehicles going in a sharp right to descend in a water stream and ascend out of it on a rugged terrain to go through a narrow gate towards a steep decline back into the stream. From here the contestants were required to drive 20-30 meters in the flowing water to climb right on a slippery incline and trace their way towards the finish line. This Stage tested their focus and skill-set to transcend through extreme topographies.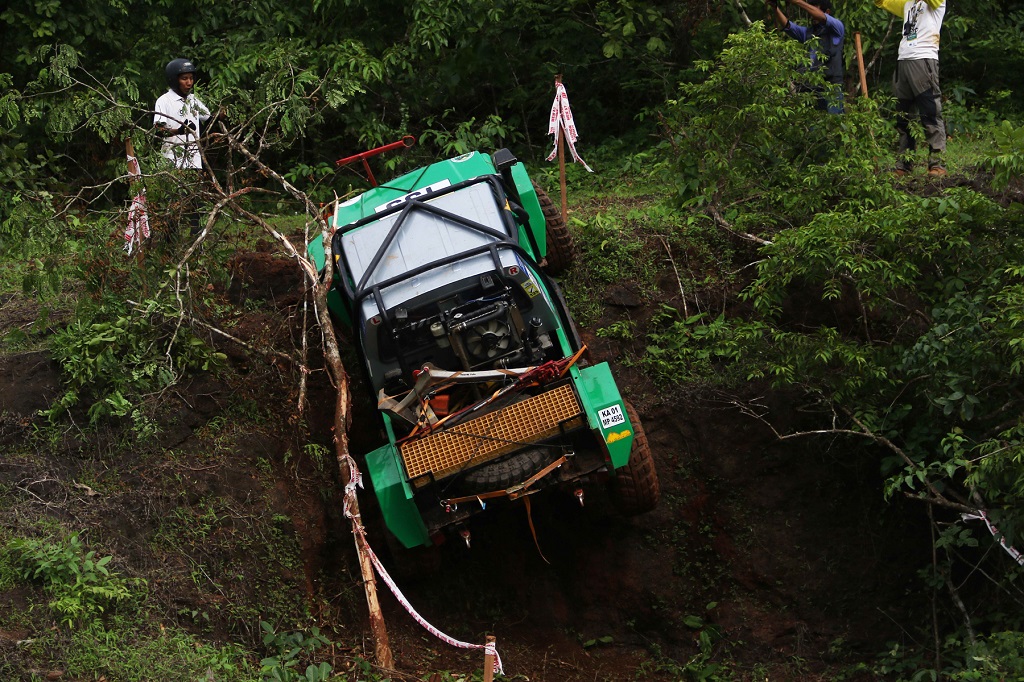 Gurmeet Virdi seemed relieved after maintaining his top spot but was equally aware that even a slight error would be a game-changer in such a close competition. He said, "I am executing the stages very sincerely but want to upscale my performance a bit. I had a few vehicular breakdowns yesterday which led to some average scores in a few stages, otherwise the margin between our scores and those of Siddartha would have been considerably more. I also suffered a minor injury on my right shoulder and arm due to which the arm is stiff and it is becoming difficult to maneuver the vehicle. However, once I go live into a Stage the pain is completely forgotten and my entire focus is on completion of the task in the best possible time. The competition is so intense that there is no space for any error whatsoever, so I'm keeping that in mind and proceeding ahead with my game." His co-driver Kirpal was of the opinion that "We didn't expect this close a competition, so the next few stages will be very crucial for our wining prospects. Gurmeet's injury is a slight concern for both of us but it is not affecting his temperament or dedication towards his job. We'll try to bring forth our best ever game in the upcoming days to maintain this position."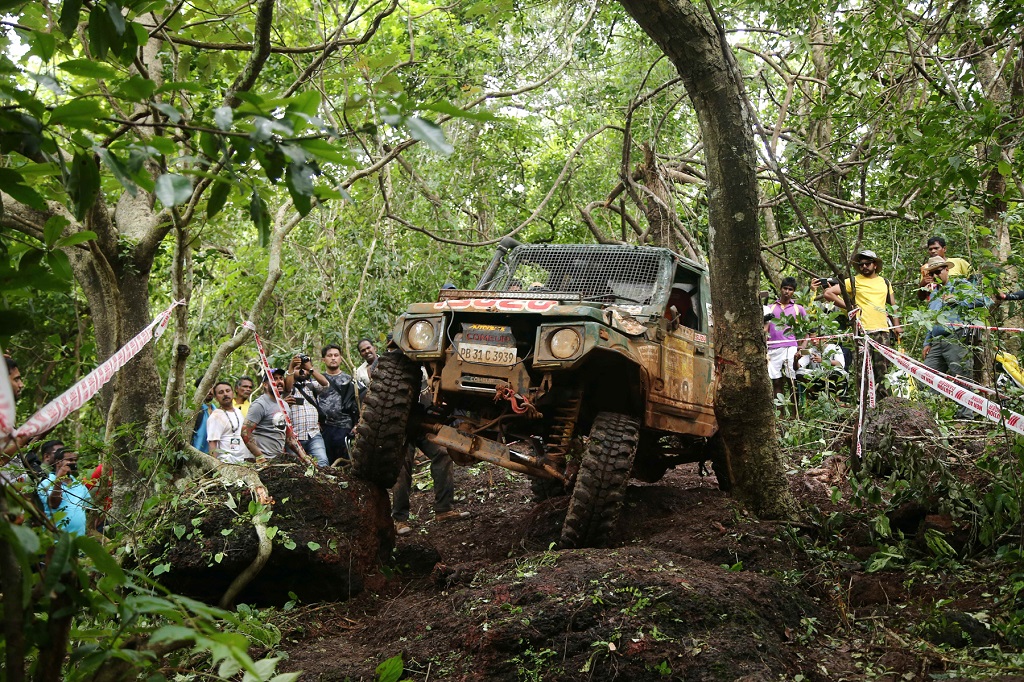 Things couldn't have been more enthralling for Siddartha Santosh, who is now trailing the defending champion by a meagre point. He explained, "Yesterday was not so good for us, we messed up the first stage we went in (SS 10) because of sleep deprivation and unnecessary aggression. This is the closest competition I can recall in ages and you can expect the points table to jumble up even till the last day of the event. Everyone around is catching up really fast so there is no longer a buffer for mistakes. Anybody who does that will be replaced immediately in the table. From this point onwards, we need to put our best foot forward."
The one team which has been consistently giving unparalleled resistance to the dominance of these two is of Coorg-based Jagat Nanjappa and his co-driver Chetan Changappa. Analyzing his performance so far, the 59 year-old said, "Since most of yesterday's stages were speed-oriented and our machine is a true-blood offroader, things were slightly difficult for us. But we concentrated and held the ground with precision. The competition this year is extremely tight, so it's pretty exciting and I am loving this sort of thrill and neck to neck competition."
The event so far has been a great learning experience for the newcomers. Despite not being on the top slots of the leader board, Sujeesh Kolothody (co-driver Nithin M) from Kerala-based Team Flywheel KASC is having a gala time at RFC India 2017. He said, "For me as an RFC India debutant, it has been a truly enlightening experience so far. It's much tougher than what I had expected. Nevertheless, I am in a happy state of mind and trying to learn and deliver my best." Asked about his take on RFC India 2017 as an event, Sujeesh said, "I would score it a 100 on 100. I've never experienced this kind of an event. It is totally different from other motorsport events around the country and definitely the hardest of the lot. For me as a newcomer, I'd say it is as tough as tough gets!"
After another day at Maina in Quepem, the teams will head to the Rajiv Gandhi IT Habitat in Dona Paula on 29th July for the last leg of the competition. The winner of RFC India 2017 will be announced on 30th July with the top Indian driver of the competition getting monetary benefits of up to $8000, including an automatic entry to the RFC Global Series Finale that will be held in Malaysia at the end of the year.