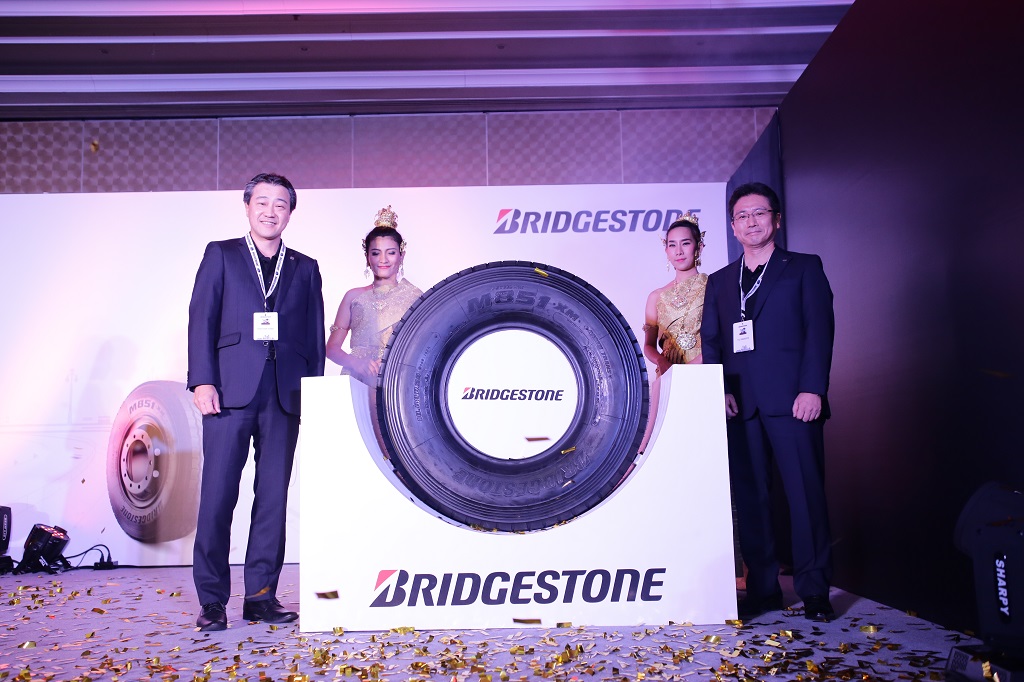 Pune, July 31 2017 – Bridgestone India Pvt. Ltd., subsidiary of world's largest tyre and rubber company Bridgestone Corporation, launched its new product M851 XM Xtra Mileage Tyre specifically targeted for Transporters. The launch was scheduled in Thailand with exclusive participation of Channel Partners across India.
"10.00 R20 M851 XM" is a categorically designed product for an Indian long haul customer seeking high tyre mileage and fuel savings. It is an all position extra mileage tyre for on-road services and its special wear resistant tread compound provides superior mileage. The product's extra tyre life, better retreadability, less downtime and better irregular wear resistance makes it ideal for normal load transport vehicle.
On the occasion of the launch, Mr Kazutoshi Oyama, Executive Director, Sales and Marketing, said "M851 XM has a special compound which ensures extra tyre mileage benefits to the end users and also maintaining the durability and low rolling resistance. The tyre is specially developed to reduce operating expenses of the fleet owners."
M851 XM: Key Product Features:
Special Compound:
Special Compound designed for extra tyre mileage
Square Shoulder Design:
Ensures contact pressure is evenly distributed. Hence reduces irregular wear
Shoulder Pocket Design:
Smaller shoulder pocket design reduces irregular wear
CTDM (Computerized Tyre Design Method):
Engineers use proprietary software to optimise the tyre design (Casing Shape, Material, Construction, Etc.) to maximize tyre performance
Dual Nylon Chafers:
Boosts longevity and enhances and maximize retreadability rate
About Bridgestone India:
Bridgestone India Pvt. Ltd started its operations in 1996. In March 1998 with the setup of its manufacturing facility in Kheda, Madhya Pradesh, Bridgestone achieved its objective of running Indian manufactured Bridgestone tyres on Indian Roads. It expanded its facilities by setting up one more facility in Chakan, Pune in 2013. In more than 20 years, Bridgestone India Pvt. Ltd has become one of the leading tyre companies in both the OEM & Replacement market.
About Bridgestone Corporation:
Bridgestone Corporation, headquartered in Tokyo, is the world's largest tire and rubber company. In addition to tires for use in a wide variety of applications, it also manufactures a broad range of diversified products, which include industrial rubber and chemical products and sporting goods. Its products are sold in over 150 nations and territories around the world.