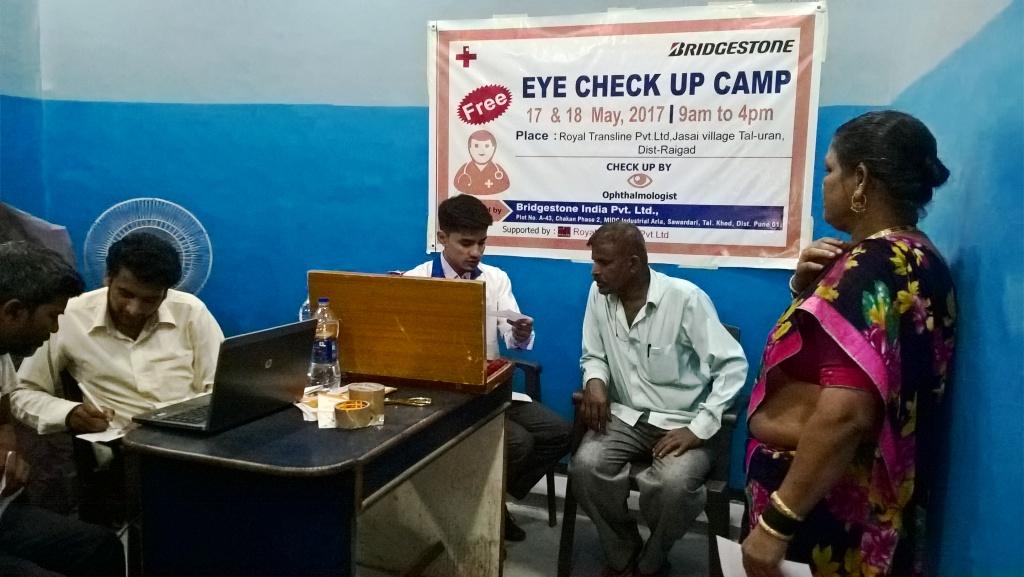 Delhi 22nd May 2017 – Bridgestone India Pvt. Ltd., a group company of Bridgestone Corporation, the world's leading tyre and rubber company organised an exclusive eye check-up camp for the drivers at Royal Trans Link Private Limited at Jasai village in district Raigad, Pune, Maharashtra. The camp aimed at providing proper eye check-up to drivers fulfils Bridgestone's commitment towards safe life and safe drive.
The camp was organised by Bridgestone India, with support from Royal Trans Link. The camp's team constituted of Ophthalmologists from reputed hospital services who ensured proper check-up and consultancy on vision related issues of drivers. Spectacles were also distributed to drivers with low vision to ensure utmost safety while driving. 200 eye check-ups were done for drivers during the check-up camp
Speaking about the initiative, Mr. Ajay Sevekari, Director, Human Resources, Bridgestone India Pvt. Ltd. said, "We at Bridgestone firmly believe in the cause of responsible driving and road safety. With this initiative, our aim is to spread awareness and drive the right messages that will improve the eye health of drivers to drive safely across the country. Their families are of utmost importance to all, and in the event of a mishap they suffer the most, hence this activity ensures safe driving and road safety."
Bridgestone employees also volunteered in conducting various activities during the activity right from the patient's registrations, medical examinations and medicine distribution for the convenience and for extending the best possible health care services to all the patients. This is one of the health care activities of the ongoing campaign that Bridgestone India has been conducting since last 4 years.
About Bridgestone India:
Bridgestone India Pvt. Ltd started its operations in 1996. In March 1998 with the setup of its manufacturing facility in Kheda, Madhya Pradesh, Bridgestone achieved its objective of running Indian manufactured Bridgestone tyres on Indian Roads. It expanded its facilities by setting up one more facility in Chakan, Pune in 2013. In a short stint of more than 20 years, Bridgestone India Pvt. Ltd has become one of the leading tyre companies in both the OEM & Replacement market.
About Bridgestone Corporation:
Bridgestone Corporation, headquartered in Tokyo, is the world's largest tire and rubber company. In addition to tires for use in a wide variety of applications, it also manufactures a broad range of diversified products, which include industrial rubber and chemical products and sporting goods. Its products are sold in over 150 nations and territories around the world.