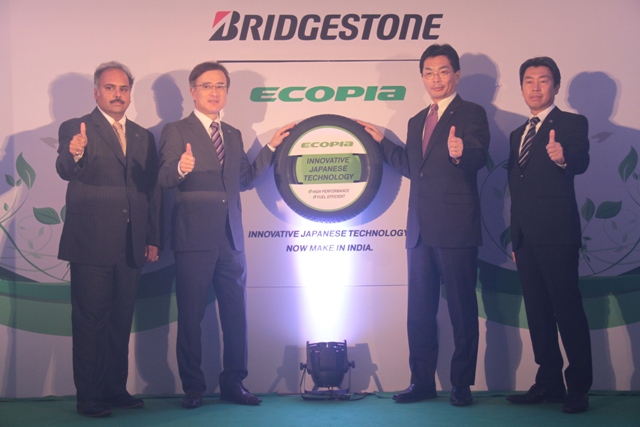 Bridgestone India, a group company of Bridgestone Corporation, the world's leading rubber and tyre company, today announced the launch of its fuel-efficient Ecopia EP150 and Ecopia EP850 in India. Ecopia tyres are engineered with a combination of light and strong materials for greater fuel efficiency and to reduce carbon emissions. Independent testing has demonstrated that Ecopia EP150 and EP850 provides 7% and 10% better fuel efficiency respectively, when compared to conventional tyres.
Ecopia is a combination of the words "Ecology" and "Utopia". It is one of Bridgestone's flagship brands that represent the Company's eco-activities.
Speaking on the occasion, Mr. Kazuhiko Mimura, Managing Director, Bridgestone India Pvt. Ltd. said, "Bridgestone's Environmental Mission Statement of "To help ensure a healthy environment for current and future generations" is the driving force behind our launch of Ecopia in India. Through Ecopia's fuel-efficiency, Bridgestone can contribute towards the reduction of CO2 emissions in India, while enabling Indian drivers to achieve fuel-savings. Apart from increased fuel-efficiency and being environment-friendly, Ecopia EP150 and EP850 are also designed to provide durability and excellent road handling performance."
Bridgestone's ECOPIA range of tyres utilizes unique compounds and cutting-edge technology in tread design to strike a balance between fuel efficiency, low rolling resistance, safety and durability. This enables Ecopia to cope with the demands of a wide variety of drivers.
"The rise in eco-consciousness, coupled with drivers seeking new ways of stretching their petrol dollar, has led ECOPIA to receive growing interest from vehicle owners in the region since its introduction five years ago. As of April 2015, more than 10 million Ecopia tyres have been sold in the Asia Pacific region. Achieving this milestone within such a short period of time indicates that ECOPIA's offerings are in line with consumer demands and requirements," commented Mr Shinichi Hanashi, Chief Executive Officer of Bridgestone Asia Pacific Pte. Ltd. "The launch of Ecopia in India aligned with the Government of India's "Make in India" campaign for indigenization."
The Ecopia tyres are available in 26 sizes initially, ranging from 13″ to 18″ rim diameters, and is designed to fit many popular compact vehicles. Ecopia EP150 caters to small and mid-size sedans, while Ecopia EP850 caters to SUVs.
The fuel savings offered by Ecopia contributes to Bridgestone's global goal of improving tyre rolling resistance by 25 percent by 2020. The Ecopia tyre line also moves Bridgestone closer to its long-term environmental vision of achieving a 50 percent reduction in CO2 emissions by the year 2050 and beyond.
*: As per the test conducted by ARAI (The Automotive Research Association of India) based on ISO standard test conditions. The actual result may vary depending on usage conditions.
About Bridgestone India:
Bridgestone India Pvt. Ltd started its operations in 1996. In March 1998 with the setup of its manufacturing facility in Kheda, Madhya Pradesh, Bridgestone achieved its objective of running India-manufactured Bridgestone tyres on Indian Roads. It expanded its facilities by setting up another facility in Chakan, Pune recently. In a short stint of 18 years, Bridgestone India Pvt. Ltd has become one of the leading tyre companies in both the OEM & Replacement market in India.
About Bridgestone Corporation:
Bridgestone Corporation, headquartered in Tokyo, is the world's largest tyre and rubber company. In addition to tyres for use in a wide variety of applications, it also manufactures a broad range of diversified products, which include industrial rubber and chemical products and sporting goods. Its products are sold in over 150 nations and territories around the world.