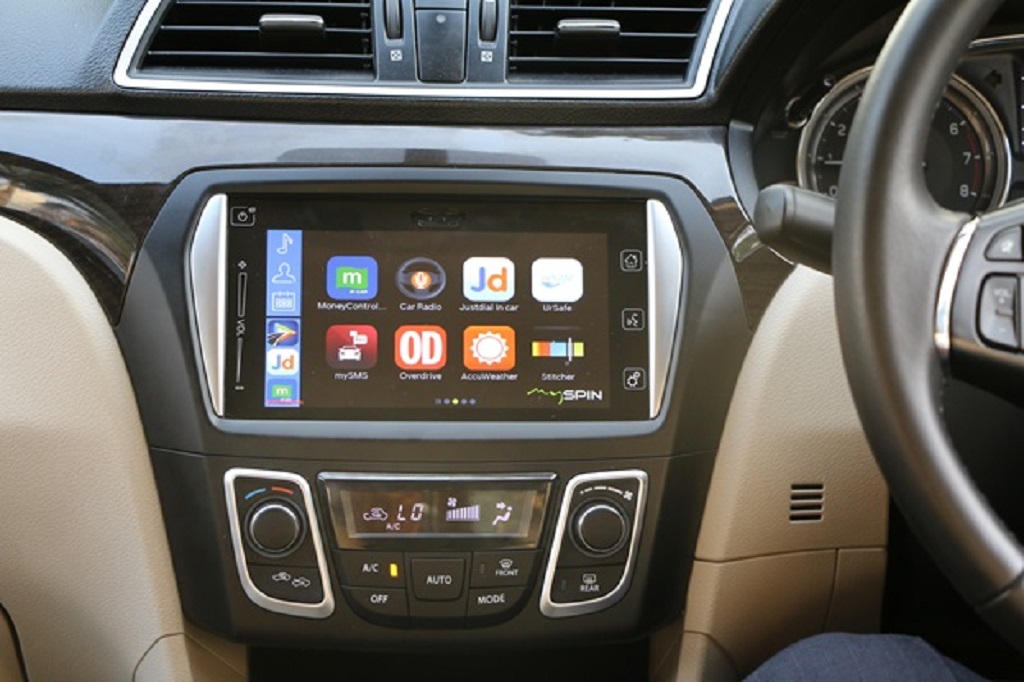 April 13, 2017, Bengaluru: Bosch announces new Apps on its smartphone integration solution mySPIN, in partnership with leading Indian and global App providers, for a complete connected experience in the car.
o    Allows users to access mySPIN compatible Apps and services directly from the car's touchscreen. Only solution in India with smart phone Apps in all relevant driver centric categories
o    First smartphone integration solution to introduce 4 top rated Indian Apps in the market – MapMyIndia, Hungama, NDTV, Zomato
o    mySPIN will be able to provide location based personalized recommendations and services in the future
The latest Apps include:
India:
Moneycontrol in Car – Finance App from Network 18
–          User can find live stock prices, market indices, TV audio feeds, news and interviews
Justdial in Car – Search engine from Justdial
–          Allows users to find nearby or location specific restaurants, doctors, emergency services, ATMs, petrol pumps
–          Complete search engine of Justdial is available
Car Radio – Internet Radio App from AppSmartz
–          Allows users to play from thousands of LIVE radio stations across the globe.
UrSafe – In-car driver and passenger safety App from UST Global
–          UrSafe comes integrated with a Panic Button to alert an user's emergency contact via a call of their whereabouts during a crisis. The alert call is followed by a navigation map to help the emergency contact navigate and reach the user location. The app also lists nearby emergency services.
Overdrive – Auto publication for Cars and Bikes from Network 18
–          India's largest auto media for the bike & car community for the last 19 years. News, reviews, specs and comparisons
Global:
–          AccuWeather – Weather forecast, from local to international
–          Familo – Locator and private messaging for families and groups
–          Speaking Email – Email read out
–          mySMS (Android) – SMS read out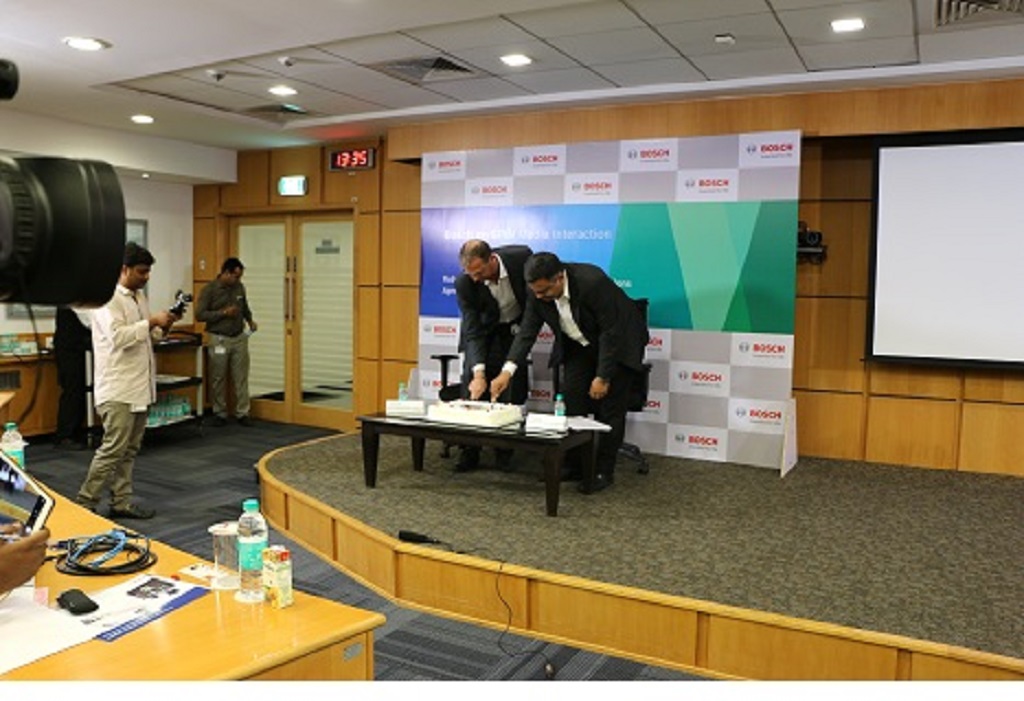 Entertained, informed, and connected. The mySPIN solution connects smartphone with the car, regardless of whether the device uses iOS or Android. Bosch collaborated with Indian and Global App providers, choose driver centric smartphone Apps and carefully adapted to use on car's audio head unit via the touch screen without picking up your smartphone.
The number of apps enhanced to include mySPIN functions globally has been rising steadily since 2013. Special focus is on navigation and applications such as news, music, shopping and safety. mySPIN helps vehicle user to check emails, meetings and daily news. Without much effort user can listen to favorite songs, while checking the weather and choosing a location to 'navigate to'. Users can request a list of top restaurants, hotels to book and any point of interest on the go. All the above use cases are possible through mySPIN in car without compromising on-road safety.
Making vehicle data usable. Thanks to the unique structure of mySPIN, carmakers retain at all times full control over the selection of the apps that their customers can use and what happens with the resultant data made available. "This is also an advantage for drivers because they have a trusted partner in their car-maker," says Torsten Mlasko, managing director of Bosch SoftTec GmbH. In the future, automobile manufacturers could use the mySPIN interface to make vehicle data available to apps. Data such as tire pressure or fuel level can be used as input for the apps. A gas station offering low prices, for instance, will be suggested only if the fuel gauge has reached the reserve level.
Increased focus on safety. All of the apps approved for mySPIN have been specifically developed for use while driving so that there is as little distraction as possible – assuring greater safety. Around the world, there is a great demand for safe and convenient ways to integrate smartphones into vehicles, due in part to legal regulations. Bosch mySPIN is committed to make in-car experience more exciting yet in a safe and secured way. This smartphone integration solution will create high impact on common man day-to-day life and widen the market space for App providers.
With more than 18,000 associates, Robert Bosch in India is a powerhouse of technology and innovation. Engineers here are responsible for high-end technology innovation and delivering world-class solutions. But just as importantly RBEI and its engineers are committed to creating solutions that improve the quality of life.
App companies talk about their partnership with Bosch
"Overdrive is excited about Bosch's innovative in-car mySPIN platform, and is proud to be an early adopter in partnering with them. As India's largest auto media, we are convinced that connected cars will soon be very popular in the ever-evolving automobile market, and provide an interesting platform to extend our core audience reach." – Mr. Amit Seth, Vice President – Sales & Marketing, Network 18.
"We are proud to partner with Bosch for their mySPIN platform. UST Global is at the forefront of innovation and digital disruption. Through our cutting-edge, consumer focused innovation, we deliver real-world solutions that enable our clients to profitably transform their businesses and the lives of their customers. UrSafe is one example of the commitment to our mission of transforming lives through our pillars of accelerating possibilities for digital transformation through human centered innovation." – Mr. Gilroy Mathew, GM – APAC, UST Global.
"We at Moneycontrol are always looking at ways and means through which we can stay ahead of the curve by pushing the pedal of innovation. We are extremely proud to be the first finance app on the Bosch- mySPIN marketplace. To fulfil our vision of making India financially smart, we have always endeavoured to ensure our content and tools are available to users, wherever they would want to access it. By leveraging technology, we have created an additional touch-point for them, whereby they can access live stock prices, market indices, TV audio feeds, news and interviews whilst driving their cars." – Mr. Manish Maheshwari, CEO, Network18 Digital.
"We are delighted to partner with Bosch MySpin platform. Integrating with MySpin have helped us to adapt our app beautifully to in-car experience for users, both in terms of UI and UX. We believe this partnership will help us bring our app to next generation of Car Infotainment systems." – SK Arora, Co-Founder and Director – Marketing & Strategic Alliances.
"Justdial is the number 1 search engine in India and we are happy to partner with Bosch for their mySPIN platform. We believe this partnership helps us to get in to connected car world and offer our best services to Indian consumers. Justdial offers your favorite restaurants, specialized doctors, emergency services required to keep customer connected always." – Vishal Parikh CTO, Justdial.