The Indian Group strengthens Its global presence in sports by supporting ATK Mohun Bagan FC, Hyderabad FC, NorthEast United FC and SC East Bengal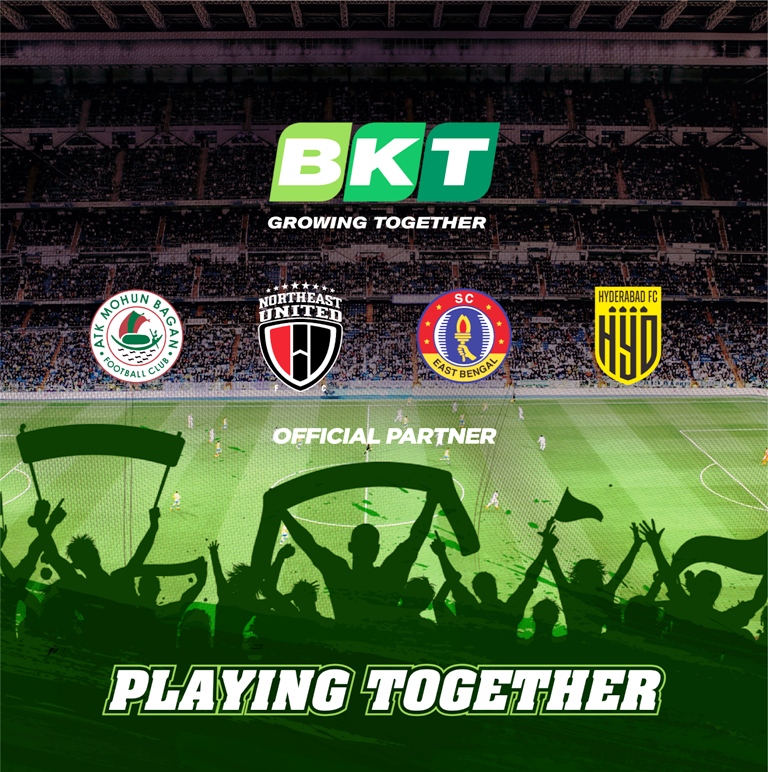 India, November 23, 2020: Balkrishna Industries Ltd. (BKT Tires), the Indian multinational group and global player in the Off-Highway tire market has announced its partnership with four out of the eleven teams in the upcoming edition of the Indian Football League. The teams are ATK Mohun Bagan FC, Hyderabad FC, NorthEast United FC and SC East Bengal. The partnerships mark BKT's maiden association with professional football in India ahead of Season 2020- 2021 and symbolize yet another triumph in the sporting world.
BKT has actively supported and championed several sporting events around the whole world and has heavily contributed to the global football fever through its renowned international collaborations. Through the years, it has become the title sponsor of several European football competitions, including the Serie BKT, the B football league in Italy, the Ligue 2 BKT in France, and last but not least, the company has become the Official Global Partner of LaLiga, the top tier Spanish football division.
BKT's corporate ethos deeply reflects its love for sports, owing to the shared ideal of Growing Together and encouragement of discipline, self-realization, and goal setting. Football is a sport that reflects the many principles that BKT has stood for since its inception, such as leadership, resilience, team building and generosity of spirit. The multinational group aims to further these ideals through the proud affiliations with the four teams.
"Football is synonymous with bringing people together and inspiring character, something we deeply believe in at BKT. We, as a brand, have always passionately supported leading sports all over the world and it gives us great pleasure to be an integral part of such a grand football event in India. The BKT Family is indeed super excited to be partake in the surreal football experience back home, after key-collaborations with the biggest global leagues." Mr. Rajiv Poddar, Joint Managing Director of BKT, said.
In India, apart from sponsoring six teams for the T20 Cricket League, BKT has also previously partnered with eight out of twelve teams of the country's leading Kabaddi League for its 2019 edition and has also collaborated with the Tamil Nadu Premier League. BKT has been the Official and Exclusive Tire Manufacturer for Monster Jam, the thrilling American motor show, since 2014. It is also partner of the KFC Big Bash League, Australia's largest cricketing event, since September 2018. All sport events are selected based on a precise strategy aiming at greater user proximity and increased brand awareness, assisted by IMG Reliance, the exclusive sports consulting agency for BKT in India.