Famous Bollywood actor & the company's brand ambassador, Sunny Deol attends glittering launch ceremony
Balkrishna Industries Limited, also known as BKT, India's leading off-highway tire manufacturing company announced its entry into the two-wheeler tire market of the country at a press conference on 10th August, 2016. After having established its leadership position in tire manufacture for agriculture, construction, industrial vehicles as well as earthmoving, port and mining, ATV, and gardening applications, BKT Tires is now set to tap the booming market for two-wheeler tires in India.  In a glittering ceremony attended by the 'macho man' of Bollywood & BKT's brand ambassador Sunny Deol, BKT announced its foray into the new category and also showcased its two new product offerings in this segment.
With an estimated total market size of 840 lakh tires per annum and a replacement market size of 360 lakhs per annum, the two-wheeler vehicle market in India will receive a great boost with the entry of BKT Tires. The company aims to make significant headway in rural transportation through the rapid proliferation of the highest quality two-wheeler tires across the remotest villages and areas in India.  The entry of BKT in this category has been further aimed to provide continuous business opportunities to existing BKT dealers on a round-the-year basis. Furthermore, foraying into a massive market such as the two-wheeler tire segment would enhance BKT's visibility in rural markets across India.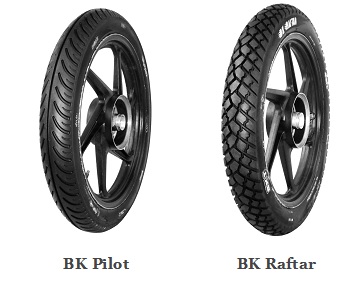 Two flagship pattern types -BK Pilot and BK Raftar, were launched during the event. Both the tires are fully-equipped with features that make a journey safer, faster and more enjoyable. While the former are front tires equipped with features such as directional grooves for better steering, wide shoulders to establish firm on-road contact and high-performance, BK Raftar are rear tires that combine aggressive design with rigid looks. Made of a high-performance compound, BK Raftar provides an excellent wet grip on the road.
Commenting on the foray, Rajiv Poddar, Joint Managing Director, BKT Tires, said, "The two-wheeler tire industry has reported a compounded annual growth rate of 8.5%. Considering the tremendous potential of the market and its reach in rural India, we plan to introduce our flagship tires at sizes that permeate more than 70% of the total market scope. We also plan to introduce tires in other sizes to provide complete services to our buyers and gather at least a 10% market share of the Indian agricultural transportation market within the next few years."
Headquartered in Mumbai, Balkrishna Industries Limited (BKT) has operated with great success for the last 29 years in the off-highway tire segment. Its proficiency, quality of products and superior services has endeared BKT to customers and its entry into the two-wheeler tire market segment provides users with further reasons to rejoice.
About BKT Tires :
Headquartered in Mumbai, India, Balkrishna Industries Limited (BKT) is a leading manufacturer in the Off-Highway tire market.
Since its founding in 1987, BKT has successfully focused on specialist segments such as agricultural, construction and industrial vehicles as well as earthmoving, port and mining, ATV, and gardening applications. As a result, BKT has developed into a global player in the Off-Highway tire industry with a 6% market share and a sales volume of around Rs. 3500 Crores.
Presently, we have four subsidiaries in Europe and North America assisting our head office in sales and marketing activities: BKT Europe S.r.l. in Seregno, Italy, BKT Tires USA Inc. in Akron, BKT Tires, Inc. in Brentwood, Tennessee and Ohio, BKT Tires Canada Inc. in Toronto. We sell our products in 130 countries worldwide through a network of national distributors. Our five state-of-the-art production sites in Aurangabad, Bhiwadi, Chopanki, Dombivali and Bhuj employ more than 7,000 people.
Two Wheeler Tires
2.75-17 4PR BK-PILOT (41 P) TT
3.00-17 6PR BK-RAFTAR (50 P) TT
2.75-18 6PR BK-PILOT (48 P) TT
2.75-18 6PR BK RAFTAR (48 P) TT
3.00-18 6PR BK-RAFTAR (52 P) TT