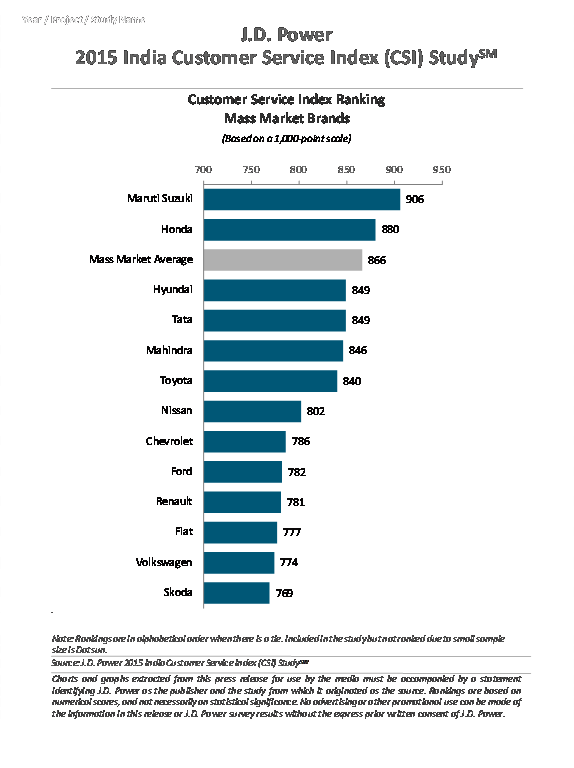 Maruti Suzuki Ranks Highest in Customer Satisfaction with Dealer Service for a 16th Consecutive Year 
Rigorous implementation of processes, faster vehicle turnaround and enhanced customer facilities at service workshops by auto manufacturers have resulted in an increase in satisfaction with after-sales service, according to the J.D. Power 2015 India Customer Service Index (CSI) StudySM —Mass Market released today.
The study, now in its 19th year, examines satisfaction among vehicle owners who visit an authorized dealership service center for maintenance or repair work between the first 12 to 24 months of vehicle ownership. The study measures overall satisfaction in five factors (listed in order of importance): service quality (43%); vehicle pick-up (17%); service advisor (14%); service facility (14%); and service initiation (11%). Overall customer satisfaction is measured on a 1,000-point scale, with a higher score indicating higher satisfaction.
Overall service satisfaction in the mass market segment improves by 10 points to 866 in 2015 from 856 in 2014. The increase is attributed to strong improvements across all factors, with the greatest improvement in service initiation (+14 points).
"Vehicle manufacturers aren't just servicing cars today; they're going the extra mile to provide an after-sales experience that is truly memorable and satisfying for their customers," said Mohit Arora, executive director, J.D. Power. "We're seeing an increase in manufacturers that are focused on delivering a high-quality after-sales experience to customers. With enhanced dealership facilities, better network reach and rigor in process implementation, dealerships have been able to effectively manage and deliver on customer expectations."
Rankings
Maruti Suzuki ranks highest in satisfaction with after-sales customer service among mass market brands for a 16th consecutive year, with a score of 906. Maruti Suzuki performs well across all factors, with the greatest improvements in service initiation followed by service facility. Honda (880) ranks second and is the most improved nameplate in the study.
Just 1 in 6 customers indicate their dealership picked up and dropped off their vehicle from their desired location. Providing the pick-up and drop-off service has a significant impact on satisfaction, rising 20 points above the overall mass market average when this occurs (886 vs. 866, respectively). Additionally, dealerships are offering more amenities at their service centers for their customers' convenience, including air-conditioned waiting lounges, Internet access, TV, comfortable seating space, refreshment counters and valet parking. Satisfaction among customers who experience one or more of these amenities increases by 42 points to 908, compared with 852 when they don't.
The study finds that 85 percent of customers receive their vehicles back on the same day of service, up from 70 percent in 2014. Same-day delivery has a significant impact on satisfaction. Satisfaction among customers who receive their vehicle on the same day of service is 873, compared with 822 among those whose vehicle is not delivered on the same day.
KEY FINDINGS 
Notifying customers for routine maintenance has improved, as 86 percent of customers indicate they were reminded about vehicle servicing via phone, letter or SMS/ text in 2015, up from 79 percent in 2014.
Delivering a clean vehicle post service—an important driver of satisfaction—has improved by 5 percentage points from 2014. Satisfaction among customers who receive their car back cleaner than when they brought it in for service averages 879, which is 44 points higher than among those whose car is about as clean as when they brought it in for servicing.
More than half (51%) of customers indicate they finished the paperwork and picked up the vehicle within 10 minutes after servicing, which improves overall satisfaction by 22 points.
Nearly twice as many customers who are highly satisfied (satisfaction scores of 977 or higher) say they "definitely would" recommend their service dealer to family and friends as those who are highly dissatisfied (scores of 797 or lower) (93% vs. 38%, respectively). Additionally, highly satisfied customers are three times more likely to say they "definitely would" revisit their service dealer for post-warranty service than dissatisfied customers (92% vs. 29%, respectively).
The 2015 India Customer Service Index Study is based on evaluations from 7,468 vehicle owners. The study was fielded from May through August 2015 and includes owners who purchased their vehicle between May 2013 and August 2014.