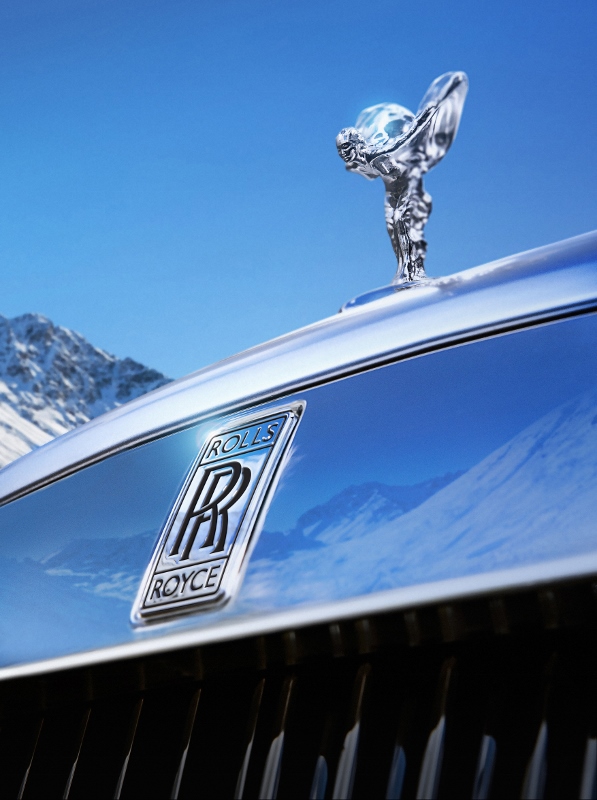 The launch of Phantom in 2003 marked the beginning of the renaissance of Rolls-Royce Motor Cars. Since then, we have set a new benchmark for what a super-luxury car should be – unique, hand-crafted, beautiful and rare. Often imitated, Phantom has never been equalled and continues to be hailed as 'The Best Car in the World' by our customers and media alike.
Twelve years later, after the introduction of successful new models like Ghost and Wraith, Rolls-Royce stands proudly at the pinnacle of British luxury manufacturing, confirming our custodianship of this precious marque.
Now we have reached another seminal moment in Rolls-Royce's 111-year journey.
Today we confirm that we are developing an all-new Rolls-Royce with exceptional presence, elegance and purpose:
A car that offers the luxury of a Rolls-Royce in a vehicle that can cross any terrain
A car that meets our customers' highly mobile, contemporary lifestyle expectations
A Rolls-Royce that is as much about the pioneering, adventurous spirit of Charles Rolls as it is about Sir Henry Royce's dedication to engineering and innovation
A car that appropriately reflects Rolls-Royce's brand promise of effortless luxury
A high-bodied car, with an all-new aluminium architecture
A unique new motor car worthy of carrying the Spirit of Ecstasy into the future
his new Rolls-Royce will be Effortless …. Everywhere.
Many of our discerning customers have urged us to develop this new car – and we have listened. At Rolls-Royce Motor Cars we are uniquely focused on the desires of our customers and are driven by our own thirst to innovate. So we challenged our engineers and design team, led by Director of Design Giles Taylor, to create a different and exceptional new car.
This car will embody all the values and capabilities that drove our two Founding Fathers to secure Rolls-Royce's reputation, early last century, by taking top honours in rigorous overland adventures such as the Scottish Reliability Trials, the London to Edinburgh event and the Alpine Trials.
Rolls-Royces conveyed pioneers and adventurers like Lawrence of Arabia across the vastness of unexplored deserts and over mountain ranges. In other parts of the world including Australia, India and the Americas, Rolls-Royces carried their owners over challenging terrain with absolute reliability and comfort.
History sets our precedent and our future calls us to action.
This new journey begins now. We will take our time in developing and perfecting this new concept in luxury. We will include our customers, enthusiasts and media along the way and will keep you informed of our progress.
Until then, rest assured, we are creating a motor car in the greatest traditions of our marque.
Sir Henry Royce famously said: "When it does not exist, design it".
We are doing just that.
Peter Schwarzenbauer, Chairman                        Torsten Mueller-Oetvoes, Chief Executive
Note to Editors
Rolls-Royce Motor Cars has confirmed that it will develop an all-new Rolls-Royce with exceptional presence, elegance and purpose. This motor car will be Effortless…Everywhere.  This car will be built on an all-new aluminium architecture specific to Rolls-Royce. This announcement is a seminal moment in the marque's 111-year history, and is the most significant product announcement since the introduction of the Phantom in 2003.
Chief Executive of Rolls-Royce Motor Cars, Torsten Mueller-Oetvoes said, "I am proud to confirm that Rolls-Royce Motor Cars is developing an all-new, high-bodied Rolls-Royce designed to satisfy the contemporary, highly mobile lifestyles of our discerning clients around the world.  I am confident that this new Rolls-Royce will fully deliver on our brand's promise of supreme luxury while at the same time being Effortless … Everywhere.  The journey towards this all-new Rolls-Royce begins now and we will keep our customers, enthusiasts and media informed of our progress along the way."
"We will announce what we are calling this new motor car closer to the time of its launch. I wouldn't call it an SUV as Rolls-Royce is neither sport nor utility. The words 'sport' and 'utility' do not fit comfortably into the marque's very special brand promise.  This new model will deliver presence, elegance and purpose wherever its owners choose to be in the world.  "
Chairman of Rolls-Royce Motor Cars and Member of the Board of Management of BMW AG, Peter Schwarzenbauer said, "The BMW Group stands proudly behind this announcement.  The Group's continuous investment into the Rolls-Royce Motor Cars brand is paying considerable dividends.  Rolls-Royce is the ultra-luxury cornerstone of the BMW Group's premium brand strategy and we will continue to strongly support Rolls-Royce Motor Cars as it moves, confidently, into this new phase in its development."
Reference Notes: Fifth Successive Annual Sales Record 2014
Historical sales:        
| | | | | | | | | | | | |
| --- | --- | --- | --- | --- | --- | --- | --- | --- | --- | --- | --- |
| 2003 | 2004 | 2005 | 2006 | 2007 | 2008 | 2009 | 2010 | 2011 | 2012 | 2013 | 2014 |
| 300 | 792 | 796 | 805 | 1010 | 1212 | 1002 | 2711 | 3538 | 3575 | 3630 | 4063 |
 Rolls-Royce regions by sales in 2014:
North America
Middle East
Europe
China
Asia Pacific
Largest markets in the world for Rolls-Royce in 2014:
United States
China, mainland
UAE
UK
Saudi Arabia
 Super-luxury segment definition. Above Euros 200,000 net.
To view the letter, please click on the link given below: