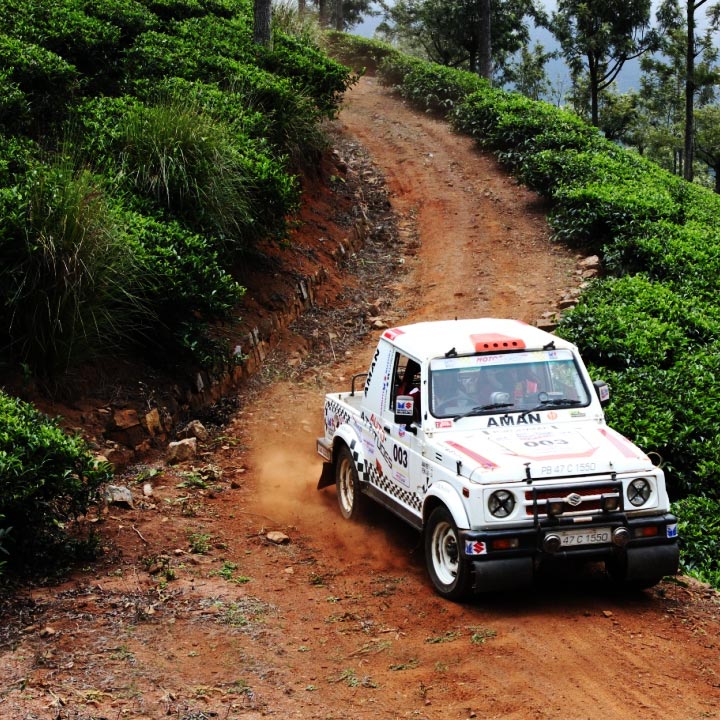 Suresh Rana drops to second place, Sanjay retains third spot
Kathik Maruti maintains lead in Endurance, Sudip overtakes Satish in Ranking
Coimbatore, Aug 7, 2013: As Maruti Suzuki Dakshin Dare continues to become tougher by the day, participants are literally facing the heat both on the tracks and on the ranking table. The 'Craig Leg' organized on day 3 of the rally stretched over lush green tea plantations on the eastern side of Nilgiri coming down Ooty, had some of the participants in The Dare spirit, while others were humbled and concentrated on driving safe and completing with man and machine intact.
Overnight leaders Delhi driver Amanpreet Ahluwalia and his Coimbatore based Navigator Venuramesh managed to extend their lead by a slight margin over Manali lad Suresh Rana/Parminder Thakur and the difference now stands at 00.04.16 Hrs.
While Amanpreet/Venuramesh driving a Maruti Gypsy have a cumulative timing of 3.05.37 Hrs while Suresh Rana/Thakur in their Maruti Suzuki Grand Vitara have clocked 3.09.53 Hrs. With over 106 kms of special stages yet to go, a photo finish is on cards.
Major upset of the day was pull out by Sanjay Agarwal/Shiva Prakash, whose car hit a boulder resulting in a broken oil tank. With his pull out, Imran Khan/Gagan Vijay now occupy the third slot with a cumulative time of 3.57.56 Hrs but more than 52 minutes behind the leader.
In the bikes category, R Nataraj is leading with a cumulative timing of 3.30.03 Hrs. Another below 260 cc bike of Saratha is on second place with a 3 day total of 3.47.05 Hrs. Akshay is on the third spot clocking 4.03.33 Hrs in the last three days.
On day 3, the Craig Valley Leg, the rally took upon the challenging Nilgiris with two super stages of planned after 24 kms of transport stage from Ooty. The first stage was full of mud and tiny rocks, which were exposed due to incessant rains, and making the drive bumpy and difficult to maneuver.
The second stage, on the other hand, had more of mud, but very narrow tracks making the drive very challenging. The participants then covered a transport stage of 101 kms to end the day at Coimbatore.
In the Endurance category, Bangalore couple Satish Gopalakrishnan /Savera D'Souza made a come back to the second spot in their Grand Vitara, narrowing the margin from over 44 seconds to just 5 seconds. Karthik Maruti/Shakar Prasad now lead with a cumulative penalty of 0.01.17 Hrs, followed by Satish/Savera at 0.01.22 Hrs.
Sudip Ghosh/Amandeep Ghosh are now to the third spot with 0.01.28 Hrs and just 11 seconds behnd the leader. This is making the Endurance category a really tough challenge to watch in the next two days.
Cumulative Results After Day 2:
Extreme Cars: Amanpreet Ahluwalia/Venuramesh: 3.05.37 Hrs, Suresh Rana/Parminder Thakur: 3.09.53 Hrs, Imran Khan/Gagan: 3.57.56 Hrs
Extreme Bikes: R Nataraj: 3.30.03 Hrs, Saratha: 3.47.05 Hrs, Akshay: 4.03.33 Hrs.Endurance Cars: Karthik Maruti/Shankar Anand, Satish Gopalakrishnan/Savera D'Souza , Sudip Ghosh/Amandeep Ghosh 0.01.28 Hrs