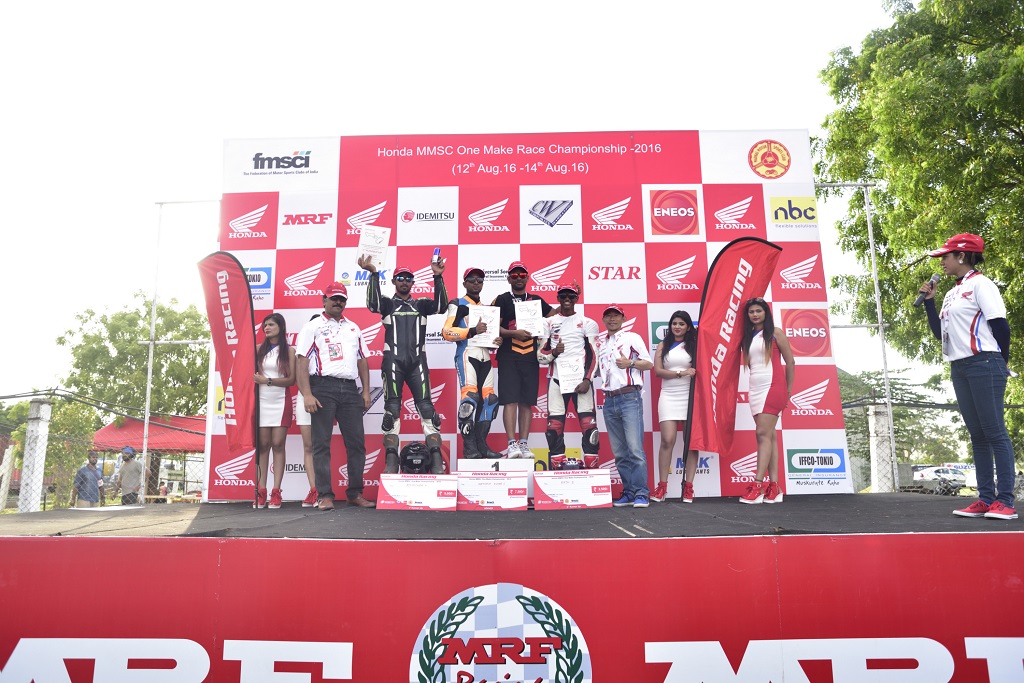 Anish D Shetty, Soorya P M and Mahesh Murali finish first, second & third respectively in both CBR 150 NOVICE Race 2 & Race 3
Mathana Kumar rules CBR 250R Open Race 2, followed by Abhishek V (2nd) and Rajiv Sethu (3rd)
Sunday proved to be a high adrenaline conclusion to the Round 2 of National Championship which took place at the Madras Motor Race Track, Chennai over the weekend.
CBR 250R Open Race 2 results:
The grid for Honda's flagship CBR 250R Team Championship saw India's top notch 12 racers. Team Ten10 Racing was the early pace setters in the CBR 250R Open category as its riders Mathana Kumar and Abhishek V clinched the first 2 podiums places in the Race 2. The excitement filled race was keenly fought between the two, Trichy's Mathana Kumar eventually took the lead with a timing of 00:12:28:709 minutes.  Abhishek V finished a close second with a timing of 00:12:35:636 minutes. Rajiv Sethu finished third clocking 00:12:35:995.
Congratulating the winners, Mr Prabhu Nagaraj, Vice President, Customer Service, HMSI said, "The second round of the National Championship was a great success. I would like to congratulate Mathana Kumar for his splendid performance and on a well-deserved victory."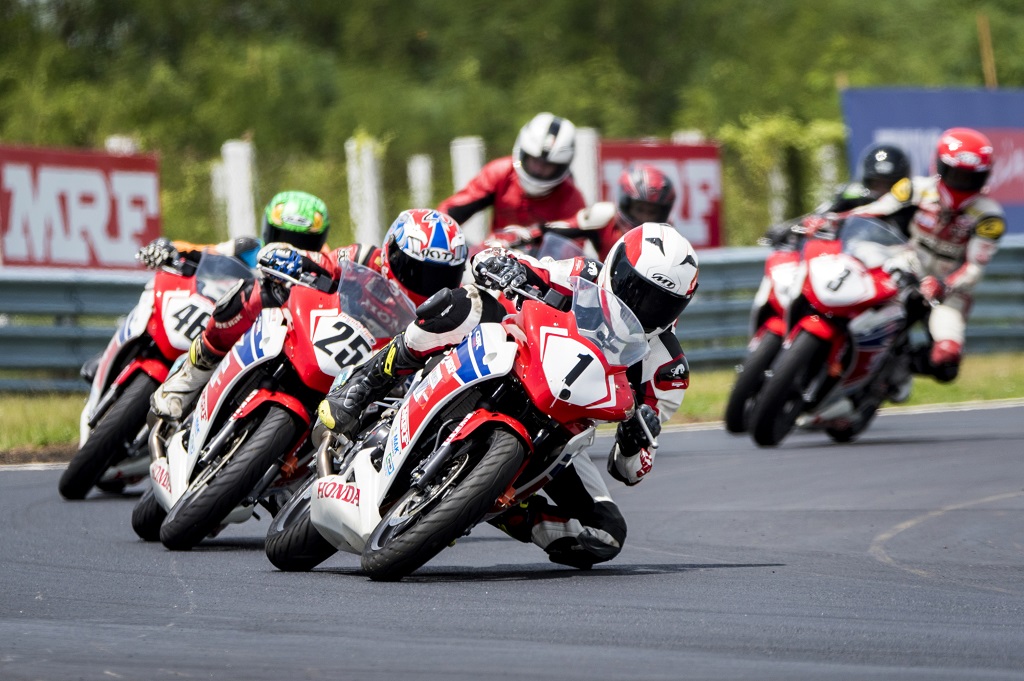 CBR 150R Novice category:
The CBR 150 R Novice was won by Anish D Shetty, Soorya P M and Mahesh Murali.  Anish D Shetty clocked 00:08:54:867 and stood on the first position, followed by Soorya who finished second taking a total time of 00:08:54:918.
Honda racers make impressive strides in Open categories:
The Madras Motor Race Track also witnessed scintillating action in the Race 2 of three new categories of National Championship – Stock up to 165cc, Pro Stock 165cc and Super Stock 165cc.
The Pro-Stock 165 witnessed 2 CBR 150R's on the grid with Asia Dream Cup winner Hari Krishnan securing first position (00:10:43:727 minutes) and Rajiv Sethu finishing at Second position (00:10:44:730 minutes)
The Round 3 of Honda One Make Race is scheduled to take place in the month of September 2016 at MMRT, Chennai