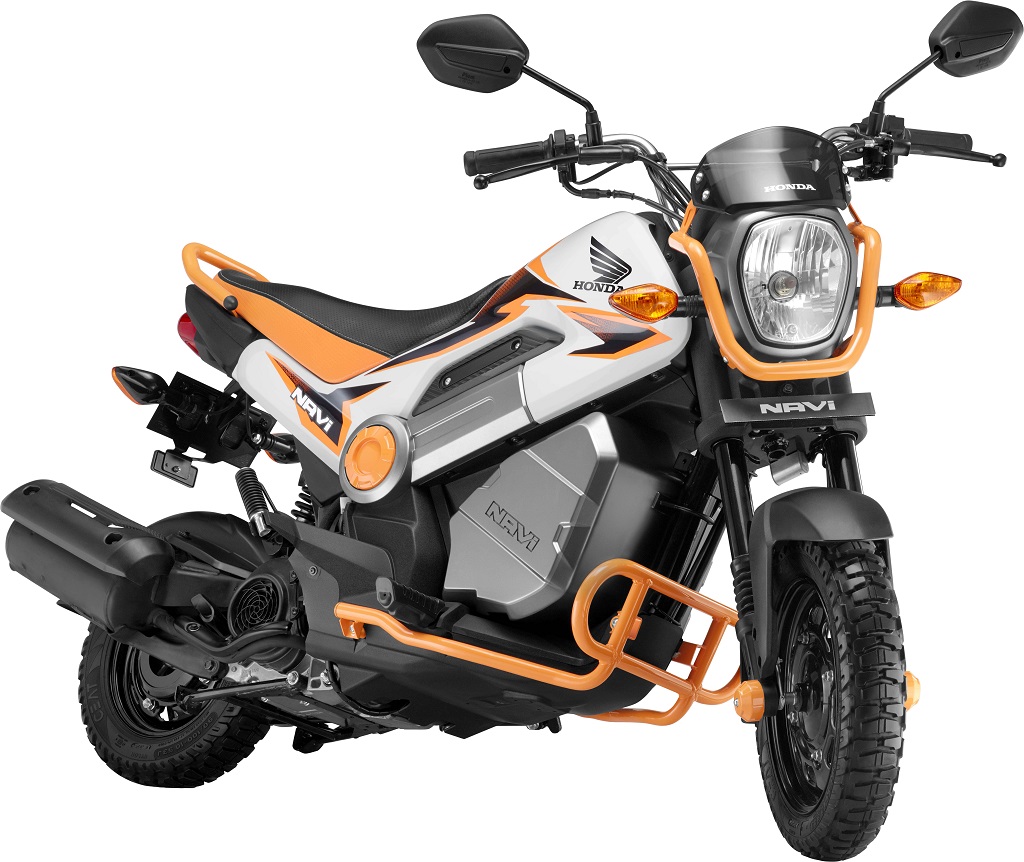 Vrooms from 'Race Track to Road'; showcases 10 new models at Auto Expo 2016
6 new planned production models slated for India launch announced 
NAVI -> New Additional Value for India NEW

Honda disrupts Indian 2Wheeler industry -> Creates a new segment in FUN riding
NAVI – A revolutionary 'new kind of ride' providing unlimited possibilities & unmatched freedom
FUN TO SEE (Fun-tastic design concept) & FUN TO RIDE (powered by a peppy 110cc Honda HET engine with automatic transmission)
For 1st time, future is limitless for Indian youth as they transform their dreams into reality – the way they like
Honda showcases 3 possibilities – NAVI street, NAVI adventure & NAVI off-road at the Expo
NAVI is first 100% Honda R&D India model – from concept development to commercial production
Youth across all cities in India can book their NAVI through the android application.
To be available in 5 colours, start NAVIgating your life from Rs. 39,500 (Ex-showroom, Delhi)
CRF1000L Africa Twin NEW
Expands its 'Make in India' commitment with 2nd offering – the 1000cc legacy CRF1000L Africa Twin
A true off-road model CRF1000L Africa Twin to ride into India
Four exciting 2016 editions:
Refreshed motorcycles – CB Unicorn 160, Dream Neo, CD 110 Dream Deluxe (self-start)
Unveils Matt grey Dio with premium 3D logo
On popular demand, iconic 150cc premium motorcycle CB Unicorn returns
To reinforce Honda's market position in premium segment along with CB Unicorn 160 and CB Hornet 160R
4 Concept models redefine the exciting future of mobility
NEOWING : A global concept
A 3-wheeled sport hybrid wonder which combines fun of cornering a large motorcycle with a stable feel
EV Cub Concept : A global concept
The legacy of Honda's globally iconic Cub motorcycle evolves in an environmentally friendly concept
The next generation motor-equipped personal commuter for short distances
CX-02
Concept Cross 02 or CX-02-> 2nd concept motorcycle developed 100% by Honda's R&D team in India
Conceptual interpretations of NAVI
Showcases endless possibilities of NAVI WORLD with 7 design concepts
Witness the Fun DNA of Honda at the Auto Expo pavilion
Take a 360 degree selfie with ultimate MotoGP weapon RC213V – the pinnacle of Honda's engineering
Witness the intriguing world of Honda R&D at the Design Zone
Become a Safe and skilled rider at Honda's Road Safety Zone in the outside area
Come enjoy the Fun Weekend with Honda-> Revel with Honda's brand ambassadors (Akshay Kumar & Tapsee Pannu) and kids to learn about road safety the fun way with Chhota Bheem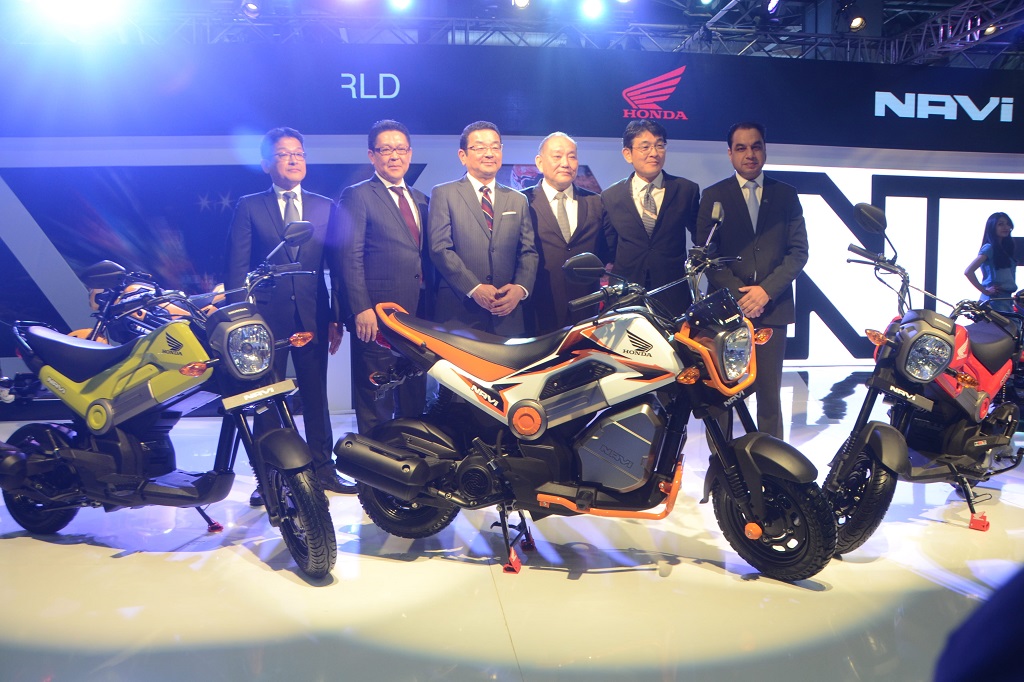 Revving up the excitement Honda Motorcycle & Scooter India Pvt. Ltd. (HMSI) today announced Aggressive and Ambitious Roadmap for India at a high voltage 13th Auto Expo 2016 press conference.
Reiterating India's status as a priority market for Honda worldwide, Mr. Takahiro Hachigo, President, CEO & Representative Director, Honda Motor Co., Ltd., Japan, said, "Honda met a total of 17.1 million two-wheeler customers across the globe last year. India, with its fast growing economy, is the largest two-wheeler market in the world and our Indian operation became the largest volume contributor to Honda's global production in 2015. I would like to re-iterate here that India is one of our priority markets, where we have strong intention to grow further. Honda's fourth two-wheeler plant in Gujarat will be ready to commence its operation soon, and our operations here in this country further deliver lots of joy and excitement."
Giving insight on the spirit of Honda to always build a new value across the world Mr. Keita Muramatsu, President & CEO- Honda Motorcycle & Scooter India Pvt. Ltd. said, "2016 will be the historic year for Honda. Led by increased capacity with 4th plant, we will cross the threshold of 5 million two-wheeler sales in India for the first time. More importantly, we are confident that Honda's 6 new models led by NAVI will reinvent 2wheeler mobility in India. With the NAVI, the game is ON and Young India is going to play with their two wheels like never before."
NAVI leads 'Make in India' line-up
Elaborating on the origin of NAVI and how this fun revolution will change the way India rides on two-wheels, Mr. Yadvinder Singh Guleria, Senior Vice President – Sales & Marketing, Honda Motorcycle & Scooter India Pvt. Ltd, said:  "With India having the world's youngest population, it is imperative for Brand Honda to connect with the youth. NAVI will take forward Honda's Fun DNA in India. From business point of view, almost 70% of 2wheelers sold in the country today have engine displacement upto 110cc. However most of the models here, irrespective of their segment – Motorcycle or Scooter – are lookalike without much differentiation in specs or features. Considering the potential & moving away from the Syndrome of Sameness, Honda R&D India challenged to create "New additional Value for India" – NAVI."
NAVI is the first 100% Honda R&D India model – from concept development to commercial production.
NAVI's unconventional design is its uniqueness – a concept is very Mechanical & Clean. In its standard form, the design statement is FUN TO SEE and pure FUN TO RIDE. Providing endless possibilities in expression & Customization for the young customers – NAVI is designed in such a way, that it opens up a significant opportunity to modify & customize it to suit ones taste. And therefore pure FUN to Create.
Honda dealerships will provide a totally new environment and FUNtastic experience to the youngsters with a vibrant range of customized parts inside the showroom.
The standard NAVI will come in 5 colour options – Patriot Red, Hopper Green, Shasta White, Sparky Orange and Black.
Taking forward Honda's marketing initiative in the digital world, an exclusive android mobile booking application 'NAVI' was launched today especially for the generation hooked to social media. The application can be downloaded from Google PlayTM store by searching for 'NAVI' in the search bar and then installing it.
Starting today, youth across all cities in India can book their NAVI through the android application and enter the fun world of Honda.
The delivery of NAVI will start from April, 2016 onwards.
Indian youth can start NAVIgating their life from Rs. 39,500 (Ex-showroom price, Delhi).
CRF1000L Africa Twin – A true adventure model ready to cross the desert or cruise the highway.
The overwhelming success of CBR 650F has paved the way for launch of Honda's next higher displacement "Make in India" model. The CRF1000L Africa Twin, undoubtedly one of the world's most celebrated adventure motorcycle which has proved its mettle in the world's toughest race – The Dakar rally.
With the concept of "Adventuring across open country", Honda designers set out to create a big adventure model that would perform exceptionally well off-road yet be convenient for everyday riding. Offering outstanding traction, the newly developed 998cc engine is a compact liquid-cooled, 4-stroke, 8-valve, parallel twin with a 2700 crank. The lightweight steel semi-double frame helps the bike deliver excellent cruising performance off-road and nimble, stable handling on the street.
Excitement continues with 4 new 2016 editions
Continuing to evolve and deliver superior value to Indian customers, Honda also showcased the new 2016 editions of its four current models.
New CB Unicorn 160 will now be available with more aggressive sporty styling (body colour side panels, grab rails) and an additional ultra-modern Matt Grey colour for the style connoisseurs.
Honda's most affordable motorcycle in India – the 2016 edition of CD 110 Dream will now come in a new additional variant – the CD 110 Dream Deluxe with self-start. Increasing the attractiveness will be the new colour (Black with Green Stripes) and Honda red coloured logo on the engine.
Also delighting customers will be the new 2016 edition of Dream Neo with refreshing new body graphics premium chrome muffler protector and 3D wing mark emblem.
Honda's youthful moto-scooter Dio too will get a stylish makeover in the new matt grey colour option with 3D logo.
CB Unicorn 150: An icon returns on public demand
With a history of delighting over 13 lac customers, a legacy product is set to make its return on Indian roads. Chased with irresistible customer demand, Honda is bringing back its best-seller 150cc motorcycle CB Unicorn. Together, the trio of CB Unicorn, CB Unicorn 160 and new CB Hornet 160R shall lead to Honda gaining a strong foothold in the premium segment.
At the Auto Expo 2016, Honda also gave a glimpse into the future with its 4 sporty and Fun concept models.
NEOWING – Global concept showcased in India
Delivering sporty, lean cruising with big bike-style cornering and a stable ride feel, this 3-wheel sport hybrid with a 4 cylinder petrol engine is like nothing before!
The NEOWING combines the mechanical appeal of a motorcycle with advanced, futuristic styling. With a view to helping more people enjoy the thrill of an open vehicle and active riding, this concept model looks to the future while adding a new kind of value.
EV-Cub Concept – Global concept showcased in India
The EV Cub Concept is a short-distance personal commuter by Honda aiming to be environmentally friendly, loved by all and lifestyle-enriching, while maintaining the spirit of the original Super Cub in being an easy to handle, economical motorcycle.
By positioning the battery's weight low in center of the bike, mounting and dismounting is easy for the rider, and bike is easy to handle mass concentration and a low center of gravity. A plug within the leg shield allows easy recharging from household power outlets.
Indian R&D flexes its muscles
Spearheading innovation from India is Project CX-02 – the Second concept model fully developed by Honda R&D India at Technical center, Manesar. (CX for Concept Cross and 02 for second design model by HRID for India).
With this model, the styling design team at HRID has responded to emerging need of urban Indian youth enjoying global exposure.  CX-02 has more of everything… looks, style & aggression to take on any challenge.
The FUNtastic world of NAVI comes with endless possibilities. Witness 7 vibrant design concepts by Honda R&D in the NAVI WORLD.
From 'Racetrack to Road', fun and technology converge at Honda pavilion
Honda's indoor pavilion in Hall No. 6 at the Auto Expo is conceptualized around the theme "Racetrack to Road". For Honda, motorsports act as a "lab on wheels" for where the technology developed and tested in the demanding environs of the sport, are then filtered down to motorcycles produced for mass-production.
For racing buffs, Honda has brought its ultimate MotoGP machine RC 213V to India at the Auto Expo 2016. What's more, for the first time enthusiasts will get the opportunity to mount and relive the MotoGP action and make the experience memorable with a 3600 selfie opportunity.
At the Design Zone, audience can witness the secretive world of R&D with Indian team demonstrating sketch preparation and the clay modeling led by the concept model CX-02.
The working model of Combined Braking System or CBS will unravel how Honda's proprietary CBS – a front and rear wheel combined braking system with equalizer brings more convenience to their daily commuting.
Do not miss the scale model of Honda's upcoming 4th plant at Gujarat. See for yourself how state-of-the-art, World's Biggest Scooter only manufacturing plant will look like.
The Merchandize Corner is a must visit section for true blood Honda fans seeking genuine Honda merchandize and pride of association with the World's No. 1 two-wheeler brand.
Step into the outside pavilion and get to understand the concept of safe riding with a Fun twist. There is an opportunity for all ages – CRF 50 training bike for kids, riding stimulator training for new riders and an exclusive safe riding activity for females.