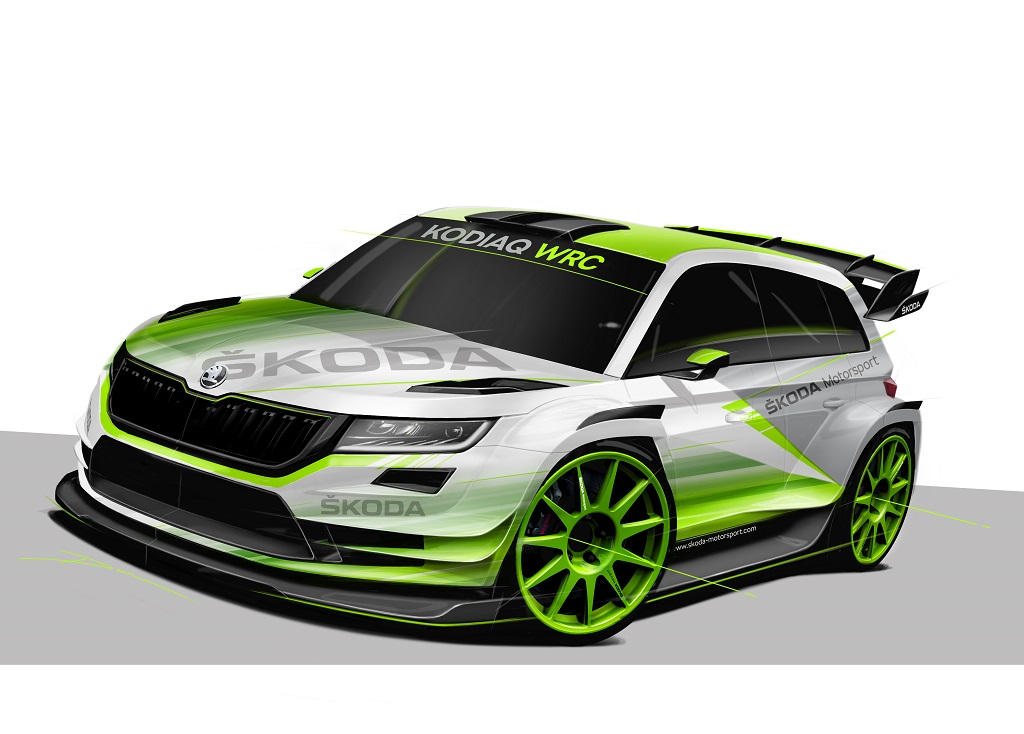 › ŠKODA Motorsport is entering a new category in the FIA World Rally Championship
› The successful FABIA R5 will be joined by the KODIAQ WRC destined for the new WRC SUV class
› The KODIAQ WRC will premiere at the 2018 Rally Monte Carlo
Mladá Boleslav, 1 April 2017 – ŠKODA is expanding its participation in top-tier world rally sport. The brand of the world champions is entering the newly established WRC SUV category with the ŠKODA KODIAQ WRC.
The ŠKODA Motorsport works team will be starting in two categories for the first time in the FIA World Rally Championship next year. In addition to the successful ŠKODA FABIA R5 in the WRC 2 category, it also will compete in the new WRC SUV category.
The category was established by the championship promoter to answer the ever-increasing popularity of SUVs. Starting from the next racing season, a new class of racing vehicles – WRC SUV – will compete alongside the current WRC and WRC 2 categories. It is reserved exclusively for vehicles derived from production SUV models.
ŠKODA will enter its own representative in the new category in the form of a modified ŠKODA KODIAQ. The new large SUV is just entering the international market and is enjoying universal acclaim.
The KODIAQ WRC meets all of the necessary technical criteria. FIA regulations dictate the use of a turbocharged engine with a displacement of 2.0 litres and a minimum vehicle weight of 1,650 kilograms.
Two electronic assistance systems are also onboard and carried over from the standard model. Driver Alert can recognise drive fatigue, while Blind Spot Detect warns the driver of vehicles travelling in the blind spot of the driver´s rear-view mirror.
The ŠKODA KODIAQ WRC is built upon the experience of the same team which took the ŠKODA FABIA R5 to the World Championship title in the WRC 2 category. The excellent performance of ŠKODA Motorsport continues. The FABIA R5 won 13 of the past 14 races in the current and previous season. Most recently, in March, Pontus Tidemand won the Rally Guanajuato México.
The ŠKODA Motorsport Team is looking forward to the new challenge and intends to follow the successful track record of the Fabia R5 with the KODIAQ WRC. The team's management, designers and technicians have plenty of work still ahead of them, but everyone believes that they will cover all bases and that the new vehicle will be in top form and best prepared for competition.
The ŠKODA KODIAQ WRC will debut on a racecourse in January 2018 at the Rally Monte Carlo. The names of the drivers and co-drivers who will crew the two ŠKODA KODIAQ WRC rally cars will be announced by ŠKODA Motorsport in September.