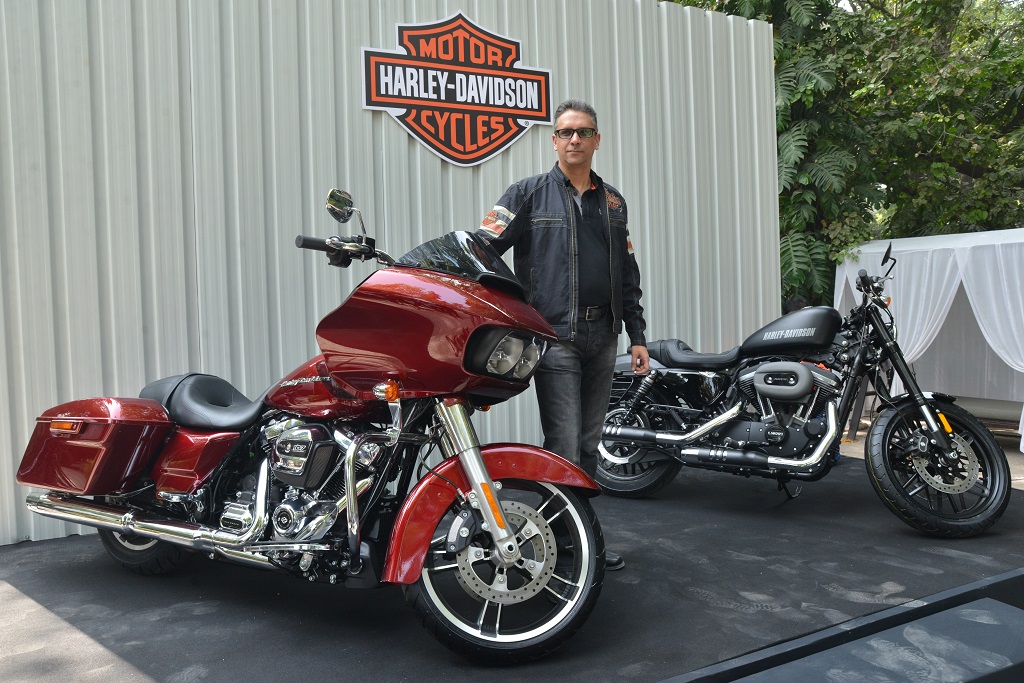 Harley-Davidson® Roadster™ and Road Glide® Special debut in India
Harley-Davidson® unveils Milwaukee-Eight™ Engine for its touring motorcycles
Harley-Davidson India, today launched its 2017 model-year lineup with the addition of two new exciting models – Harley-Davidson Roadster™ and Road Glide Special®.
As the latest member to the Harley-Davidson's Sportster family, the Roadster™ combines power, agility and garage-built custom style that epitomizes nearly 60 years of Sportster spirit and with the introduction of the Road Glide Special® to the Touring family, that offers the all-new Milwaukee-Eight™ engine, the ninth edition of the Big Twin since its inception; is also the most powerful collection of cruisers in the brand's 113 year history.
The 2017 models also come equipped with anti-lock braking system, an added feature across all 13 Harley-Davidson motorcycles in India.
Speaking at the launch, Vikram Pawah, Managing Director, Harley-Davidson India said, "Our latest offerings demonstrate Harley-Davidson's unwavering commitment to delivering world-class products that cater to our customers' demands in India and reinforce our position as the leader in the premium motorcycle segment. With the introduction of the Milwaukee-Eight engine in our Touring lineup, is a direct response to the voice of Harley-Davidson customers around the world and we are thrilled to bring the same to India."
2017 Harley-Davidson Motorcycle Highlights
New Milwaukee-Eight Engine
The all-new Harley-Davidson Milwaukee-Eight engine, ninth in the lineage of the company's iconic Big Twin engines, delivers more power, quicker throttle response, purer sound, a smoother ride and an improved motorcycling experience for riders and passengers while retaining the iconic look, sound and feel of its predecessors. The Milwaukee-Eight name pays homage to its 8-valve design (4 valves per cylinder) and Milwaukee, Wisconsin, the home of Harley-Davidson and location of the factory where the engines are produced. Milwaukee-Eight engines is offered in two displacements and two variations:
Milwaukee-Eight 107 (107 CID, 1745cc) featuring precision oil-cooled cylinder heads for the Street Glide® Special, Road Glide Special® and Road King®.
Twin-Cooled Milwaukee-Eight 114 (114 CID,1870cc) featuring liquid-cooled cylinder heads for the CVO™
New Touring Suspension
All-new front and rear suspension components enhance the comfort, control and performance of all 2017 Harley-Davidson® Touring model motorcycles. New emulsion-technology rear shock absorbers offer 15 to 30 percent more pre-load adjustment than previous standard Touring shocks, with a single knob to hydraulically adjust pre-load. The front suspension features new Showa® SDBV™ suspension technology that delivers the damping performance of a racing-style cartridge fork with linear damping characteristics and reduced weight.
Harley-Davidson® Anti-Lock Braking System
With MY17 Harley-Davidson Anti-Lock Braking System is now standard across all families – Street, Sportster, Dyna, Softail and Touring models in India.
2017 Harley-Davidson Roadster™
Launched at a price of INR 9, 70, 000 (ex-showroom Delhi) the Harley-Davidson Roadster is the newest addition to the popular Sportster family of motorcycles and will be assembled at Harley-Davidson's plant in Bawal, Haryana. With a minimalist, fastback design inspired by classic racing motorcycles, the nimble Roadster is designed to inspire a new generation of riders to take to the streets.
2017 Harley-Davidson Road Glide Special®
With its all-out aggressive style, the Road Glide Special motorcycle takes the touring must-haves making it the motorcycle of choice for the high-mileage road warrior. The Road Glide Special is priced at INR 32, 81, 000 (ex-showroom Delhi).
2017 Harley-Davidson Street 750 Motorcycle
Priced at INR 4, 91, 000 (ex-showroom Delhi) 2017 Harley-Davidson Street® 750 motorcycle model now comes with a new tank badge and optional two-tone schemes which include Vivid Black Deluxe and Fire Red Deluxe in addition to being available with ABS.
Screamin' Eagle® Performance
Harley-Davidson Screamin' Eagle® Performance will offer a selection of performance components for the Milwaukee-Eight engines, including Screamin' Eagle® Milwaukee-Eight™ Stage I, II and III kits that deliver up to a 24 percent increase in torque over the stock engine.
The new 2017 Harley-Davidson® motorcycles and accessories are now available at Harley-Davidson® dealerships. Visit H-D.com to see all 2017 Harley-Davidson models® and to find a local authorized Harley-Davidson dealer.