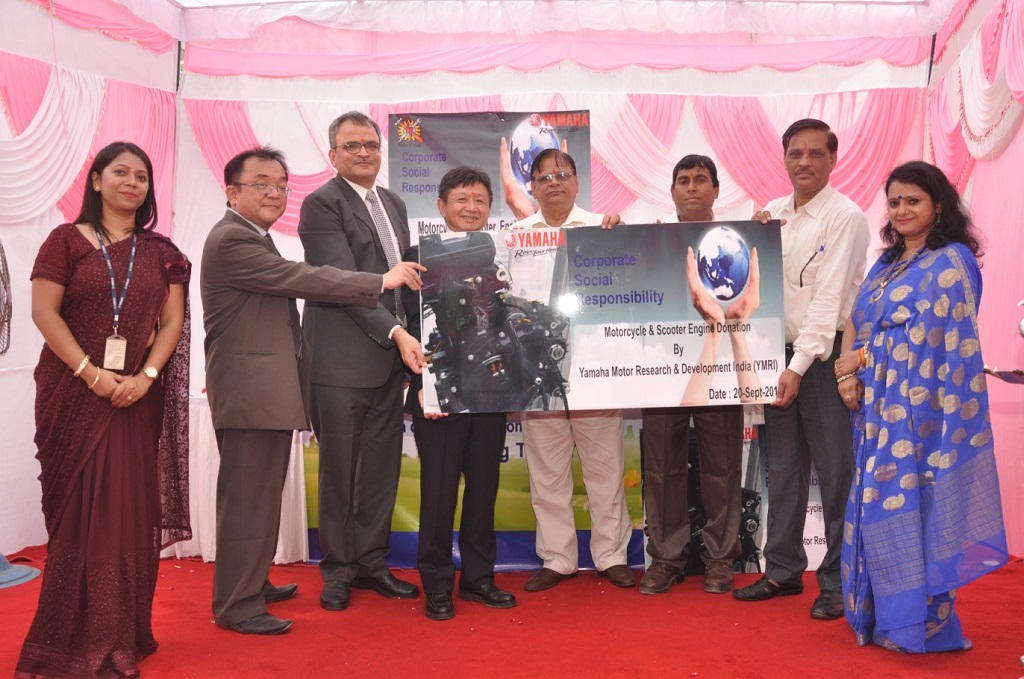 Noida, September 20, 2017: As a part of the Corporate Social Responsibility and in an effort to empower youth through skill development, Yamaha Motor Research & Development India (YMRI) on Wednesday donated six cut section engine models to three Industrial Training Institutes located in Uttar Pradesh. The purpose of donating these models is to support the infrastructure of the government institutions and also provide students with an opportunity to get better training facilities.
The donation ceremony was organized at the Government Industrial Training Institute located in Sector 31, Noida. ITI colleges from Muradnagar in Ghaziabad & Hapur were also part of the ceremony. Mr. Yasuo Ishihara, Managing Director, YMRI donated 6 cut section engine models including one FZ bike Engine & one Ray Z Scooter Engine to Mr. Vipin Kumar, Principal, Government Industrial Training Institute, Muradnagar, Mr. Mukesh Pratap Singh, Principal, Government Industrial Training Institute, Hapur and Mr. Sunil Kumar, Principal, Government Industrial Training Institute, Noida. All the three colleges received 2 cut section engine models each.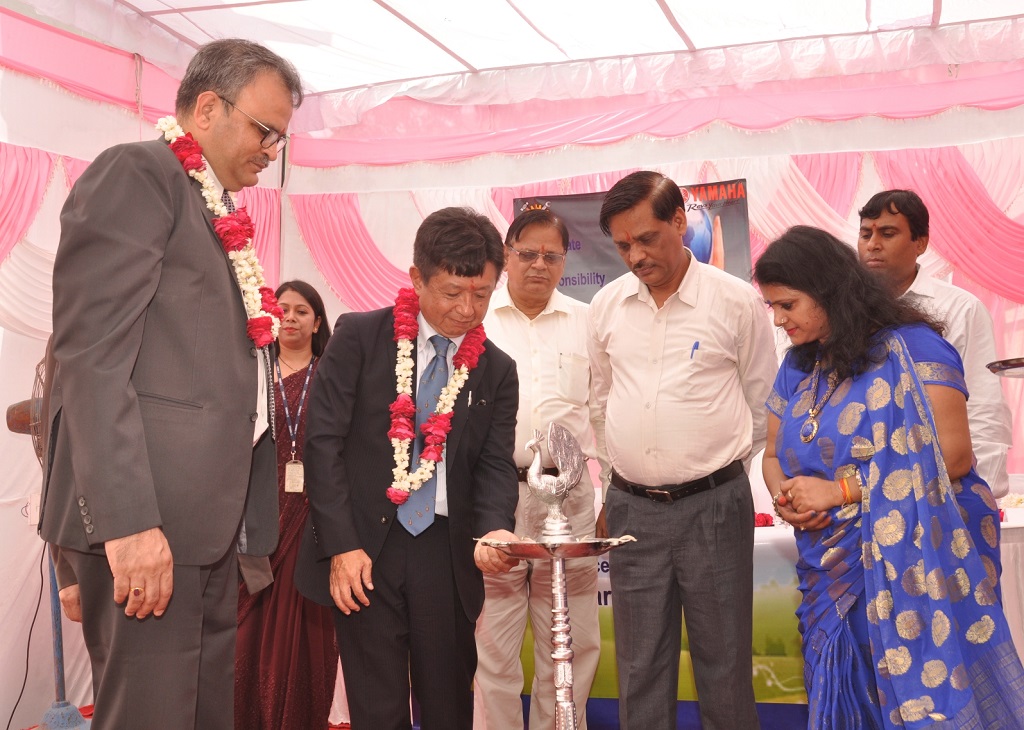 Speaking on the occasion, Mr. Yasuo Ishihara, Managing Director, YMRI said, "As a responsible entity, we have always believed in the upliftment of the marginalized and under-privileged sections of the society. These industrial training institutes are the gateway to their bright future. Every corporate must come forward in some way or other to support these institutes and help them train the students with a better infrastructure. These initiatives will not only encourage the youth to join the automobile industry but will also help address the industry's need for a trained workforce."
He further emphasized that Yamaha is totally commitment towards the continuous development of the local talents and contribution towards the Skill India Mission launched by the Indian Government. The senior management of YMRI also interacted with the students at the ITI College and shared their experience in the automobile industry. The college authorities stated that contribution by corporates will help them in creating a better infrastructure and providing a better environment for the students to learn and train.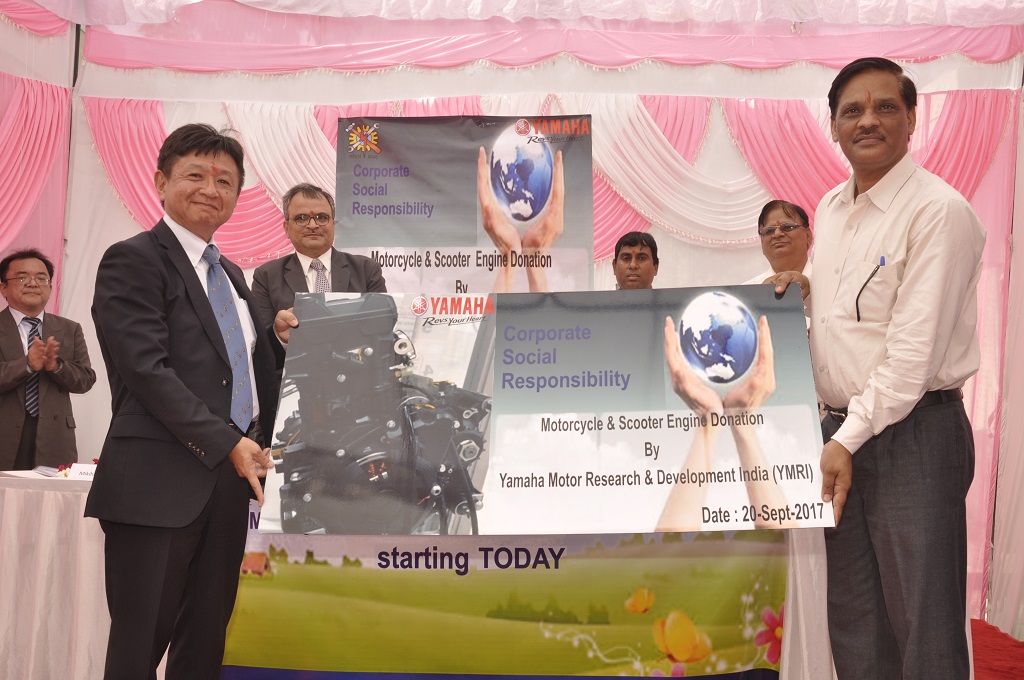 IYM has been engaged in several CSR activities across India with an objective to contribute towards the development of the society as a whole. Recently, IYM inaugurated a technical training institute – Yamaha NTTF Training Centre (YNCT) at its Chennai Factory to impart training to youth from the rural areas of Tamil Nadu on the Japanese manufacturing methods. Similarly, IYM has been running Yamaha Training Schools (YTS) across India with an aim to provide technical training to the economically weaker youth, school dropouts enabling them to become an expert 2-wheeler technicians and thereafter, they could be employed gainfully at Yamaha Dealerships and become productive member of the society.
About India Yamaha Motor Pvt. Ltd.
Yamaha Motor made its initial foray into India in 1985 as a joint-venture. In August 2001, it became a 100% subsidiary of Yamaha Motor Co., Ltd, Japan (YMC). In 2008, Mitsui & Co., Ltd. entered into an agreement with YMC to become a joint-investor in India Yamaha Motor Private Limited (IYM).
YMRI has been established by YMC to provide R&D and Product development services to IYM for its domestic as well as export markets. YMRI is the fifth overseas R&D headquarters for Yamaha Motor Group following Italy, Taiwan, China, and Thailand.
IYM's manufacturing facilities comprise of 3 State-of-the-art plants at Faridabad (Haryana), Surajpur (Uttar Pradesh) and Chennai (Tamil Nadu). The infrastructure at both the plants supports production of motorcycles and parts for the domestic as well as overseas markets.
IYM is highly customer-driven and has a countrywide network of over 2,900 customer touch-points. Presently, its product portfolio includes: Sports models such as YZF-R15 version 2.0 (149 cc), YZF-R15S (149 cc); Blue-Core Technology enabled models such as FZ 25 (249 cc), FAZER 25 (249 cc), FZ-S FI (Fuel-Injected, 149 cc), FZ FI (Fuel-Injected, 149 cc), Fazer FI (Fuel-Injected, 149 cc), SZ-RR version 2.0 (149 cc), Saluto (125 cc), Saluto RX(110 cc), Cygnus Ray-ZR(113 cc), Fascino (113 cc), Cygnus Alpha (113 cc), Cygnus Ray Z (113 cc); latest superbike MT-09 (847 cc) as well as imported models comprising of VMAX (1,679 cc), YZF-R1M (998 cc) and YZF-R1 (998 cc).