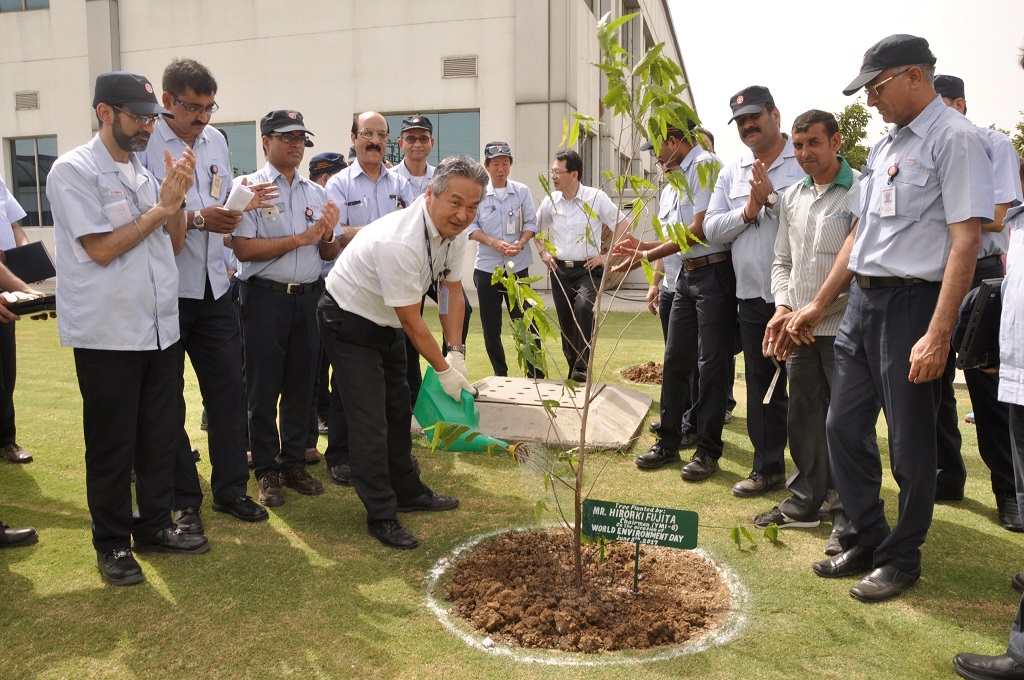 10000 saplings distributed to employees & customers
Pollution Check-up camps at 25 dealerships across India
New Delhi, June 5, 2017: India Yamaha Motor on Monday celebrated the World Environment Day at all its offices, plants and dealerships across India. The group organized several activities for creating awareness among the employees, dealers and customers on the importance and urgency of saving and protecting our environment. The activities were conducted keeping in tune with the United Nations Theme this year "Connecting People to Nature."
On the occasion, senior management members along with all the employees took the pledge to protect the environment and adopt environment-friendly processes to make this planet a better place for the community and future generation. Various employee engagement activities were conducted within the group companies including signature campaign, tree plantation activity in the plant premises, distribution of environment booklet, display of banners and environmental quiz to create a consciousness for a greener & better environment.
"As a two wheeler manufacturer, we have a responsibility towards the society and the environment. Without a healthy environment, we cannot have a healthy society. Yamaha is committed to adopt environment-friendly & energy-efficient technologies in operations and create products which balance economic needs with environmental well-being. Through these activities, we aim to encourage worldwide awareness about environmental importance and its protection", said Mr. Hiroaki Fujita, Chairman, Yamaha Motor India Group Companies.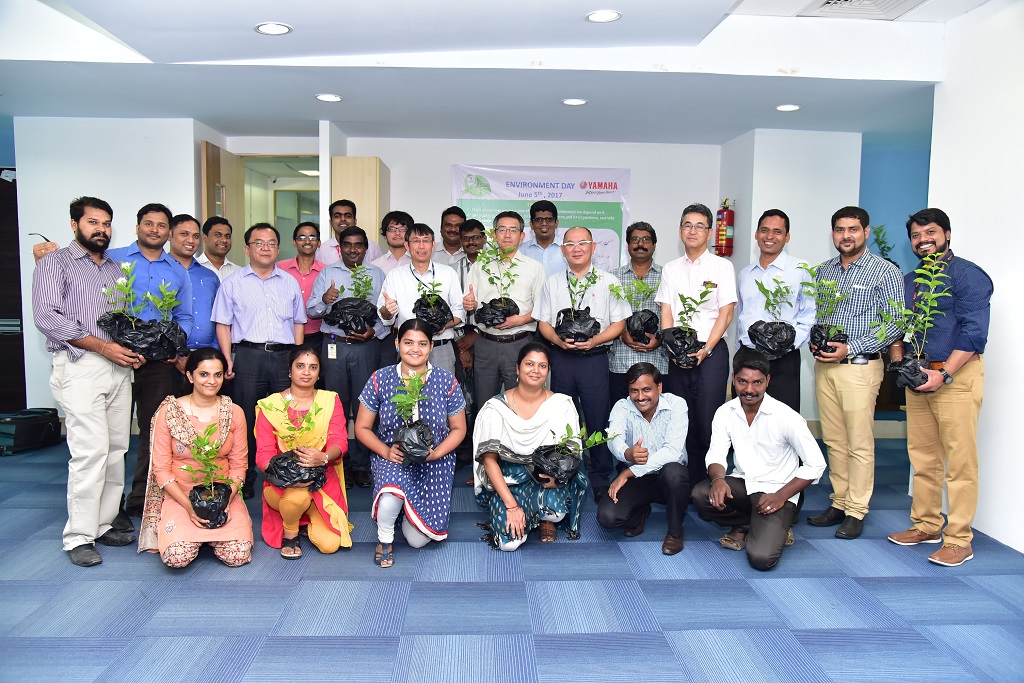 Over 10,000 'Tulsi' saplings were distributed to the employees, dealers and customers across India. In addition to this, Free Pollution Check-up camps were conducted at IYM's 25 dealerships in various cities including Delhi, Hyderabad, Ahmedabad, Bengaluru, Guwahati etc. IYM also associated with Grow-Trees.com, an online service for tree plantation on community or public lands.  The employees came out in full support towards this initiative and donated trees to benefit the rural communities, wildlife and forests.
The Yamaha Motor Group aims to maintain harmony with the environment and society based on Yamaha Motor Group Environmental Plan 2020, formulated in 2010. The Group Environmental Plan 2020 encompasses four aspects of Eco Products, Eco Operations, Eco Management and Eco Mind which serve to promote environment protection through green product development, operations with minimum environmental impact and reinforcement of Group environmental governance systems to create a sustainable environment.
About India Yamaha Motor Pvt. Ltd.
Yamaha Motor made its initial foray into India in 1985 as a joint-venture. In August 2001, it became a 100% subsidiary of Yamaha Motor Co., Ltd, Japan (YMC). In 2008, Mitsui & Co., Ltd. entered into an agreement with YMC to become a joint-investor in India Yamaha Motor Private Limited (IYM). IYM's manufacturing facilities comprise of 3 State-of-the-art plants at Faridabad (Haryana), Surajpur (Uttar Pradesh) and Chennai (Tamil Nadu). The infrastructure at both the plants supports production of motorcycles and parts for the domestic as well as overseas markets.
IYM is highly customer-driven and has a countrywide network of over 2,900 customer touch-points. Presently, its product portfolio includes: Sports models such as YZF-R15 version 2.0 (149 cc), YZF-R15S (149 cc); Blue-Core Technology enabled models such as FZ 25 (249 cc), FZ-S FI (Fuel-Injected, 149 cc), FZ FI (Fuel-Injected, 149 cc), Fazer FI (Fuel-Injected, 149 cc), SZ-RR version 2.0 (149 cc), Saluto (125 cc), Saluto RX(110 cc), Cygnus Ray-ZR(113 cc), Fascino (113 cc), Cygnus Alpha (113 cc), Cygnus Ray Z (113 cc); latest superbike MT-09 (847 cc) as well as imported models comprising of VMAX (1,679 cc), YZF-R1M (998 cc) and YZF-R1 (998 cc).