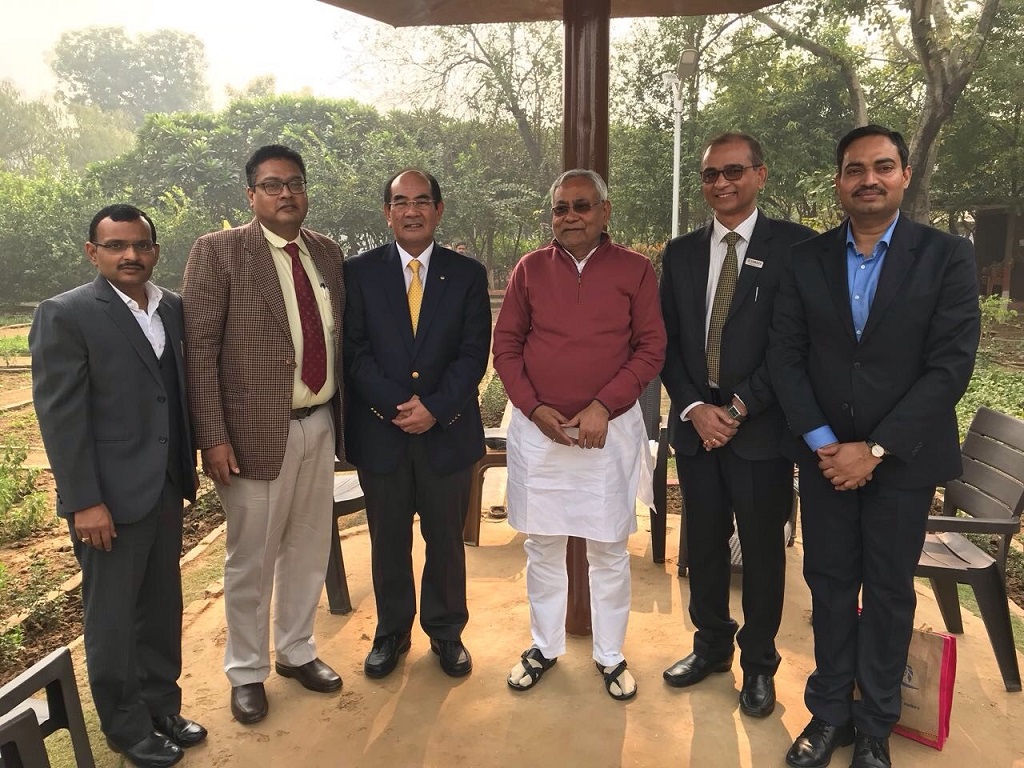 Patna, December 4, 2017: In an effort to contribute to the Skill India Mission and create a pool of trained manpower for the manufacturing units in India, the leading two wheeler manufacturer, India Yamaha Motor (IYM) on Friday signed a Memorandum of Understanding (MoU) with the Bihar Government. The aim is to provide the youth of Bihar with an opportunity to get On-the-Job Training in IYM factories at Greater Noida, Uttar Pradesh and Faridabad, Haryana.
The MoU was signed in the presence of IYM senior management including Mr. Takashi Terabayashi, Managing Director, Mr. Om Prakash, Vice President and senior officials from Bihar Government including Mr. Vijay Kumar Sinha, Hon'ble Minister for the Labour Resources Department, Mr. Deepak Kumar, Principal Secretary, Labour Resources Department, Mr. Pankaj Kumar, Director, Employment & Training.
Speaking on the occasion, Mr. Terabayashi, MD, IYM said, "As part of its Corporate Social Responsibility Initiative, India Yamaha Motor is committed towards Indian Society, Government, Industry and is supporting Make In India initiative and National Skill Development Mission of Government of India. This training program will create future Shop Floor leaders equipped with Japanese style of manufacturing and working methods. The two-year training program will make these youth employable and it will improve their livelihood and standard of living."
IYM has already started the first Japan-India Institute of Manufacturing (JIM) in Chennai earlier this year. JIM is a collaboration between the Governments of Japan and India along with Japanese companies to create a pool of skilled manpower for manufacturing units in India. JIM has been established from a Memorandum of Cooperation (MoC) signed in Tokyo on November 11th, 2016 between Ministry of Economy, Trade and Industry, Government of Japan (METI) and Ministry of Skill Development and Entrepreneurship, Government of India (MSDE), for a "Manufacturing Skill Transfer Promotion Program". Under this initiative, Japanese Endowed Courses (JEC) will also be introduced in existing engineering colleges to train 30,000 Japanese standard shop floor leaders and engineers over the next ten years.
Mr. Vijay Kumar Sinha, Hon'ble Minister, Labour Resources Department, Bihar Government, said, "The efforts taken by India Yamaha Motor towards Skill Development is commendable. Such initiatives shall enhance employment opportunities for our youth, boost the Skill India Mission and is an important step towards the realization of Hon'ble PM's vision of transforming India into the skill capital of the world."
IYM has been engaged in several CSR activities across India with an objective to contribute towards the development of the society as a whole. Recently, Yamaha inaugurated a technical training institute – Yamaha NTTF Training Centre (YNTC) at its Chennai Factory to impart training to youth from the rural areas of Tamil Nadu on the Japanese manufacturing methods. Similarly, the company has been running Yamaha Training Schools (YTS) across India with an aim to provide technical training to the economically weaker youth, school dropouts enabling them to become an expert 2-wheeler technicians and thereafter, they could be employed gainfully at Yamaha Dealerships and become productive member of the society.
About India Yamaha Motor Pvt. Ltd.
Yamaha Motor made its initial foray into India in 1985 as a joint-venture. In August 2001, it became a 100% subsidiary of Yamaha Motor Co., Ltd, Japan (YMC). In 2008, Mitsui & Co., Ltd. entered into an agreement with YMC to become a joint-investor in India Yamaha Motor Private Limited (IYM). IYM's manufacturing facilities comprise of 3 State-of-the-art plants at Faridabad (Haryana), Surajpur (Uttar Pradesh) and Chennai (Tamil Nadu). The infrastructure at both the plants supports production of motorcycles and parts for the domestic as well as overseas markets.
IYM is highly customer-driven and has a countrywide network of over 2,900 customer touch-points. Presently, its product portfolio includes: Sports models such as YZF-R15 version 2.0 (149 cc), YZF-R15S (149 cc); Blue-Core Technology enabled models such as FZ 25 (249 cc), FAZER 25 (249 cc), FZ-S FI (Fuel-Injected, 149 cc), FZ FI (Fuel-Injected, 149 cc), Fazer FI (Fuel-Injected, 149 cc), SZ-RR version 2.0 (149 cc), Saluto (125 cc), Saluto RX(110 cc), Cygnus Ray-ZR(113 cc), Fascino (113 cc), Cygnus Alpha (113 cc), Cygnus Ray Z (113 cc); latest superbike MT-09 (847 cc) as well as imported models comprising of VMAX (1,679 cc), YZF-R1M (998 cc) and YZF-R1 (998 cc).