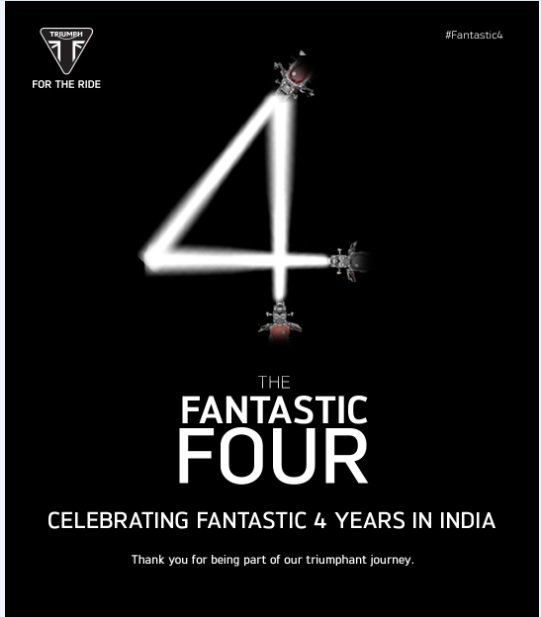 4 years of Triumph Motorcycles in India

 

Some of the milestones:

I.            37 major industry award wins

II.            More than 16 different motorcycles launched across 5 categories

III.            14 Experience Centres

IV.            Celebrating 4,500 proud customers

V.            Over 24 Rider skills enhancing programmes in India such as TTA

VI.            Promotion of road safety and safe riding skills
November 28th, 2017 "It has been a delightful ride for us in India with a great response from not only our customers and partners but also the entire riding fraternity who share our passion and enthusiasm. In fact we are proud to say that Triumph Motorcycles has been instrumental in bringing back another chapter of riding amongst thousands on enthusiast who had hung up their riding gear due to non-availability of exciting bikes here in India." Said  Vimal Sumbly, managing director.
Four years ago a handful of passionate motorcycle enthusiasts came together to start the Triumph Motorcycles India journey. While the Triumph brand was popular across the world, its recognition in India was still in the nascent stages. We started with a single dealership in Bengaluru, setting it up to showcase the unique Triumph experience – the perfect balance of power, handling and style that keeps the rider at the heart of its bold design and purposeful engineering. We kept an ear to every customer's pulse, carefully planning the road ahead, multi-tasking to fortifying ourselves for the challenges yet to come, but never losing sight of our one unified goal which was to make Triumph Motorcycles one of the most loved premium motorcycle brands here in India.
From there on, all roads led to Triumph's growth in India – Since 2013, we have grown to a full-fledged team with various specializations.  The dealership network has grown to 14  cities across the country, and an unmatched portfolio of 16 different motorcycle models across five premium categories.
As any biker worth his/her salt will tell you – biking is not just a hobby. It is a religion! We wanted the Triumph religious experience to stand for a few core values – those of uncompromising quality, of putting safety before thrill and of making each unit customizable to such an extent that it would be the extension of the rider, and the rider alone. We partnered with California Super School, RACR Academy and above all started our very own training sessions in the form of Triumph Tiger training to train riders in the art of making the most of riding with safety in mind. Our dealers got together to organize Triumph Rider's Groups where our beloved customers come and ride together for a cause. Right before our eyes, we saw the Triumph family growing and our ties with the riders in the country growing deeper.
In our race towards our goal, Triumph Motorcycles India also made sure that our potential  customers felt part of the family. Our dealerships will always let you take that test drive (with safety gear on of course!) even if we know you aren't going to take the plunge just yet. And when you are ready, we help ease out the process with our easy financing schemes especially curated by HDFC. If you want to own a piece of the engine that will scorch the tracks at MOTO 2, we are right there to make it happen. If that's not your speed, our well curated Tiger Trails will act as a unique platform to not only explore India but also better your skills while you are at it. Above all you can also join in the conversation with us across our social media platforms on Facebook, Twitter, and Instagram.
This journey is not of a lick and promise, it is not of us playing to the gallery. Accolades aside, we have a foot firmly planted in the rich history that defines us and an ear firmly planted to the ground to know which direction to move forward in. Triumph Motorcycles India is here to stay!