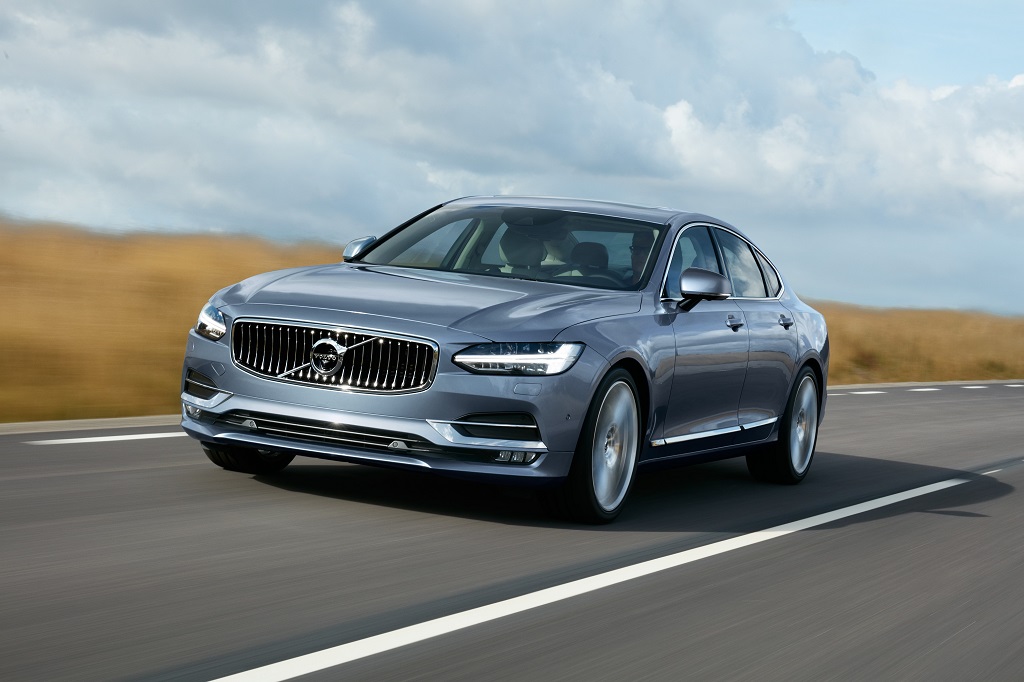 The new Volvo S90 is Volvo Cars' entry ticket to the premium sedan club
The S90 marks a giant step forward for Volvo Cars. The Swedish car maker is better known for its SUVs and estates, but with the launch of the S90 Volvo is clearly intent on shaking up the premium sedan segment with its distinctive executive class sedan.
Equipped with a host of new technologies ranging from cutting edge safety to cloud-based apps and services, the S90 is further proof of the Swedish brand's continuing transformation.
"With the launch of the XC90 we made a clear statement of intent. We are now clearly and firmly in the game. With $11 USD billion of investment over the past five years we have not only reimagined what Volvo Cars can be – we are now delivering on our promise of a resurgent and relevant Volvo Cars brand," said Håkan Samuelsson, President & CEO, Volvo Car Group.
The new Volvo S90 comes equipped with an advanced semi-autonomous drive feature, Pilot Assist. The system gives gentle steering inputs to keep the car properly aligned within lane markings up to motorway speeds of around 130 km/h and no longer needs to follow another car. Pilot Assist is another step towards full autonomous drive – a key innovation area for Volvo.
The S90 will also come with a clean and powerful T8 Twin Engine plug-in hybrid powertrain and one of the most luxuriously appointed interiors and connected infotainment systems in the large sedan segment.
Tom von Bonsdorff, Managing Director, Volvo Auto India says, "We in India are very excited with the global unveiling of the S90.  After the success of the XC90, we are confident that the All-New S90 will capture the imagination of the discerning luxury sedan customer in India. S90 flagship luxury sedan features the brand's new design language with Thor's Hammer LED light signature. In India, we will unveil the car and price in the 4th quarter of 2016 and the deliveries are planned thereafter."
"Our idea was to bring something entirely new to this rather conservative segment and deliver a visual expression that exudes leadership and confidence on the exterior. On the inside we have taken the S90 to the next level, delivering a high-end luxury experience that promises comfort and control," said Thomas Ingenlath, Senior Vice President Design at Volvo Car Group.
The S90 also introduces a world first function to City Safety – large animal detection – a system capable of detecting large animals such as elk, horses or moose, night or day. The technology offers an intuitive warning and brake support to help avoid a collision. The S90 has also benefitted from Volvo Cars' recent investment in a highly advanced chassis simulator.
"The S90 has taken a big stride forwards in terms of driving dynamics, performance and ride. We have completely redesigned the Volvo driving experience from the ground up to deliver a sense of precision, engaging control and comfort," said Dr Peter Mertens, Senior Vice President, Research & Development at Volvo Car Group.
Volvo Auto India
Swedish luxury company Volvo Auto India (VAI) established its presence in India in 2007 and has since then, worked intensively to market the Swedish brand in this country. Volvo Cars currently markets products through its dealerships in South Delhi, West Delhi, Gurgaon, Ahmedabad, Surat, Mumbai, Chandigarh, Coimbatore, Hyderabad, Chennai, Bangalore, Kochi, Vishakhapatnam, Pune and Kolkata.
The company sells six luxury models.
Volvo S60 – A sporty sedan
Volvo S80 – An exquisitely elegant saloon
Volvo V40 – Luxury hatchback
Volvo V40 Cross Country – The adventurous cross country
Volvo XC60 – A technologically advanced luxury SUV, apt for Indian roads
Volvo XC90 – A 7-seater luxury SUV which is sturdy and apt for Indian families 
Volvo's Brand Philosophy
'Designed Around You' is the brands translation of going an extra mile to understand customers better. This human-centric approach enables Volvo Cars to know the pulse of the customers and gauge what they desire in a product. With this thought the brand places the customer at the heart of its design. Every Volvo car boasts of cutting-edge technology with engineering that is executed around human values.