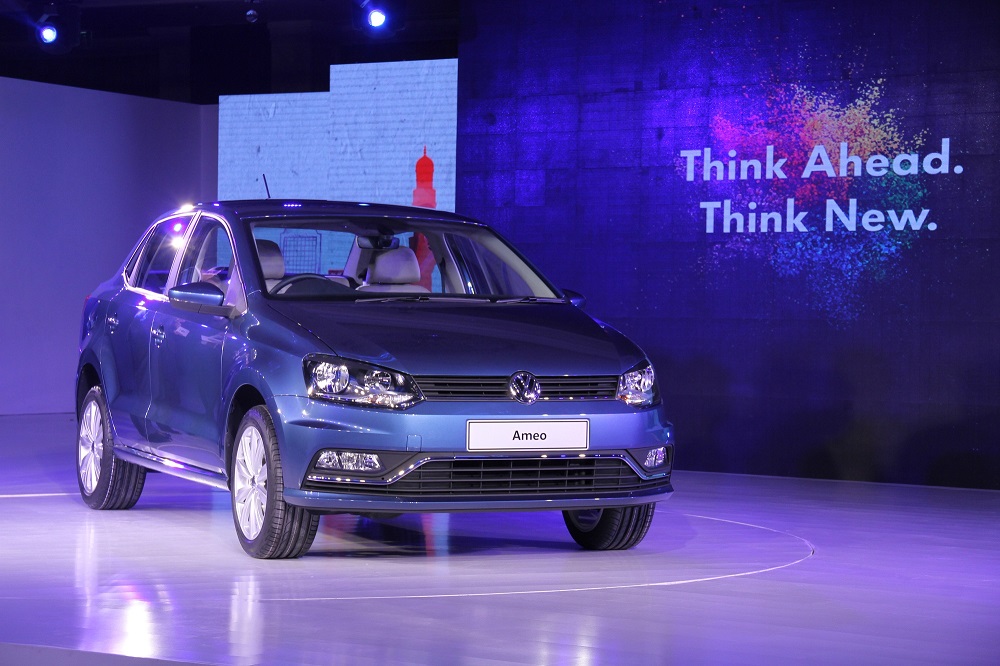 Volkswagen India will showcase its brand new car, the Ameo, and its highly successful export product, the Vento, at the exhibition
Dual Mechatronics Apprenticeship Programme run by Volkswagen India Academy, that focusses on skill development, will be part of the display
Volkswagen India will participate in the upcoming 'Make-in-India Week' in Mumbai at the MMRDA Grounds in Bandra Kurla Complex from 13th to 18th February 2016. Volkswagen reiterates its commitment towards India and manufacturing in India by showcasing made in India cars and Dual Mechatronics Apprenticeship Programme at its pavilion during the 'Make In India Week' 2016.
Volkswagen has a long term commitment to India. With a total investment of approximately €795 million, Volkswagen India has set up a full manufacturing facility in Chakan, Pune. The German company has invested heavily in developing suppliers in India and localising parts and components. These efforts have also been extended into the Engine Assembly Plant where 1.5-litre TDI engines are being assembled.
Emphasising on the commitment towards India, Volkswagen recently unveiled the all-new Ameo – a car specifically made for India and made in India. Volkswagen Ameo has been designed keeping in mind the compact sedan segment in India and the needs of an Indian customer. This car, which will be manufactured at the Pune Plant, will take centre stage at the Volkswagen pavilion during the 'Make In India Week'.
Alongside the Ameo will be the Vento in a left-hand drive configuration. Manufactured at the Pune Plant, this Vento will be exported to Mexico and is the highest selling Volkswagen there. Volkswagen produces Polo and Vento at its Pune Plant for domestic market as well as for over 35 export markets across four continents of Asia, Africa, North America and South America.
Volkswagen India will also showcase its efforts undertaken through the Volkswagen Academy at the Pune Plant towards skill development. With the Dual Mechatronics Apprenticeship Programme, Volkswagen is graduating young and talented workforce which is ready to take on the challenges of tomorrow's modern manufacturing industry.
Dr. Andreas Lauermann, President and Managing Director, Volkswagen India Private Limited, commented "Volkswagen has a long term commitment towards India. We have established ourselves in the country with a full-fledged state-of-the-art manufacturing facility and are catering to domestic as well as export markets from here. India offers a great potential in terms of manufacturing capabilities and this is why we support 'Make In India'. This initiative will help in making India one of the largest automotive markets in the world."
About Volkswagen Group India: The Volkswagen Group is represented by five passenger car brands in India: Audi, Lamborghini, Porsche, ŠKODA, and Volkswagen. TheVolkswagen Group has been present in India for the last 14 years and began its India journey with the entry of the ŠKODA brand in 2001. The Audi brand and Volkswagen brand entered India in 2007, while Porsche brand and Lamborghini brand followed in 2012. Each brand has its own character and operates as an independent entity in the market.Volkswagen Group India has over 25 models in India, over 240 dealerships and is operating two plants – Pune and Aurangabad. The Pune Plant has a manufacturing capacity of 130,000 cars per year (in current two-shift system) and is currently manufacturing Volkswagen Polo and Vento and ŠKODA Rapid. The Aurangabad Plant assembles various premium and luxury models of Audi, ŠKODA and Volkswagen sold in India and has an annual capacity of approximately 89,000. Volkswagen Group India is a part of VolkswagenAG, which is globally represented by 12 brands – Audi, Bentley, Bugatti, Ducati, Lamborghini, Porsche, Scania, SEAT, ŠKODA, Volkswagen Commercial Vehicles, MAN andVolkswagen Passenger Cars.