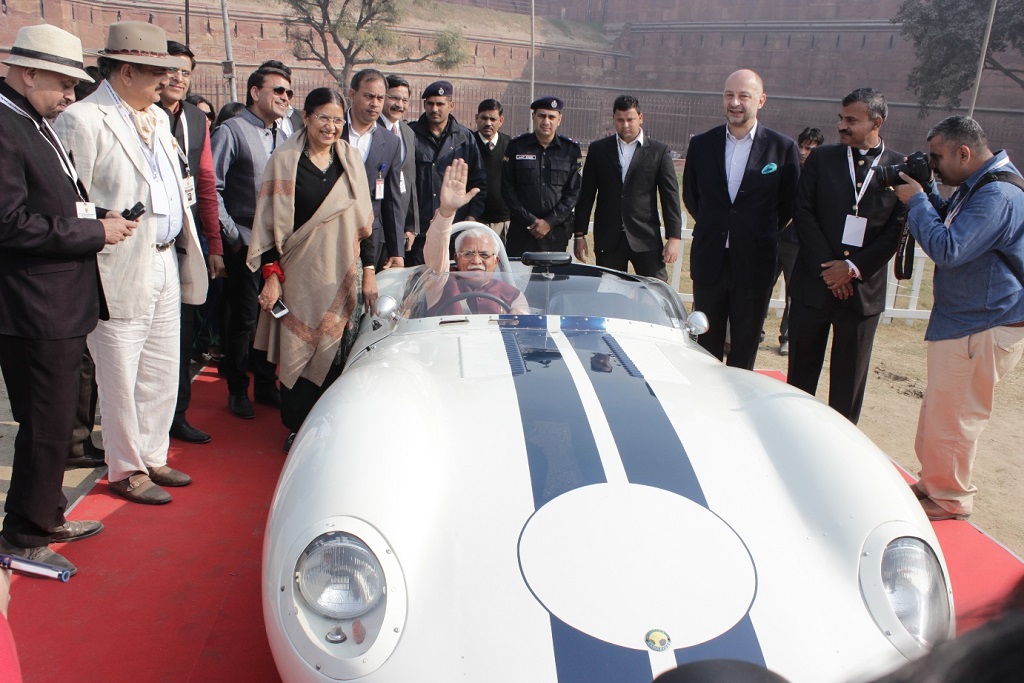 India's most premium Vintage car event, the 21 Gun Salute International Vintage Car Rally & Concours Show, 2016 was inaugurated amongst renowned national & international car aficionados & connoisseurs of culture, art & history.
A grand celebration with dances, cuisines, arts and culture, the sixth edition of The21 Gun Salute International Vintage Car Rally &Concours Show, welcomed thousands of visitors from around the globe and many eminent guests & renowned personalities that included Mr. Suman Billa – Joint Secretary, Ministry of Tourism, Govt. of India, Shri Narendra Kumar Sinha – Secretary, Ministry of Culture, Govt. of India and esteemed members of the Royal Families of India, graced the event.
The Chief Guest for the first day of this 2-day mega event, Shri Manohar Lal Khattar – Hon'ble Chief Minister of Haryana inaugurated the display of Vintage & Classic cars and the Concours Show on the on 6th February, 2016 at Red Fort.
Sharing a cogent & influential message,  Mr. Madan Mohan Founder & Managing Trustee – 21 Gun Salute Heritage & Cultural Trust said, "Through this event, I take forward my passion and my dream that aims at establishing India as a world-classing Motoring Tourism destination & through the 21 Gun Salute International Vintage Car Rally & Concours Show, we will surely make a mark on the Global Vintage Rallies Map, attracting lakh of international tourists from all over the world, in the future editions of the event."
The true picture of the vast cultural diversity of the country in the wake of promoting motoring tourism in India, came to life with Classical dance performances like Kathak Performance – A dance form that originates from Ancient Northern India, Kathakali Classical Dance Performance of Kerala State, Gudumbaja of Madhyapradesh State, Cultural dance performance of Jharkhand State, Bharatnatyam Dance of Tamil Nadu State & other Cultural performances from various states like  Bhangra of Punjab State, BrajLoknrutya of Uttar Pradesh State. Each beautiful dance performance had its own distinct style &elegance that was a sheer delight to watch.
The International beauties like the MAYBACH SW 38 1937, Horch 780 Cabriolet, 1959, Lister Costin Jaguar, 1933 Jaguar SS1 Coupe, JAGUAR XK 120, Mercedes 630 Murphy, Rolls Royce – Silver Ghost and many more saloons and convertibles from the imperial houses of Rolls Royce, Stutz, Buick, Ford, Chevrolet, Austin Martin and Bentley were the center of attraction.
Vintage & Classic Cars like the 1939 Mercedes TYP 230 from Jaipur, Jaguar Mark V, 1949 from Ahemadabad, 1935 3.5 Litres, Bentley along with 1938 Cadillac Series 90 & 1935 Rolls Royce Phantom II Continental from Mumbai, 1929 Mercedes Nurberg from Bangalore, Mereceds benz cabriolet 1935 from Rajkot, 1923 ROLLS ROYCE from Kolkata, 1966 Jaguar MK II from Chennai, Dodge 1940-7 Seater limo from Pune and so many other cars from different parts of the country, won applauses as the visitors walked by.
The most precious automobile on display was the Benz Patent Motorwagen– the first car invented by Karl Friedrich Benz – pioneering founder of Mercedes-Benz & the Quadra cycle by Henry Ford.
Besides, showcasing the rich automotive heritage to the world, the rally also took up a social cause. This year, the rally promoted the message of 'Save the Girl Child', there was a special promotion of "BetibachaobetiPadhao" on cars, to promote the message of saving and empowering the girl child.
The 21 Gun Salute Vintage Car Rally &Concours show, 2016 made each attendee, revisit vintage in a unique manner. The event incorporated a full day of colorful cultural fest, representing India's pride, glory & cultural elegance, along with an exclusive display of vintage & classic cars at the historic Red Fort. An impressive fleet of more than 100, handpicked masterpieces of the bygone era and the magnificent display of rich heritage of India through various cultural performances that enthralled the spectators.
The brain child of Mr. Madan Mohan – one of the country's biggest vintage car collector, inspired us with his words & passion that aims at establishing our nation as a world-class Motoring Tourism destination & the 6th edition of the 21 Gun Salute Vintage Car Rally &Concours Show, has made a mark on the Global Vintage Rallies Map.
History, heritage & culture along with the rare collection of machines of yesteryears attracted major visitors from the city who enjoyed the grand festivity that showcased the rich Indian legacy & narrated a vintage car-fable at India's most celebrated-historic site, The Red Fort, Delhi.