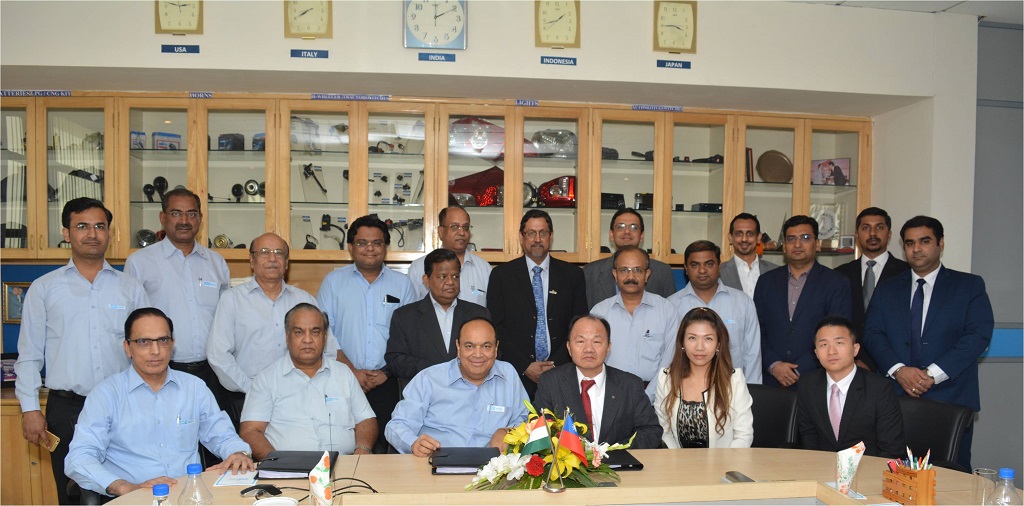 In the Photo – Mr. N K Minda,Chairman & Managing Director, UNO MINDA and  Mr. Scott Chen,CEO & Chaiman, TTE alongwith other Team Members of UNO MINDA & TTE
New Delhi – April 27, 2017:  Minda Industries Limited, the flagship company of UNO MINDA Group, leading Auto-Component Group in India has joined hands with Tung Thih Electronic Co. Ltd. ("TTE"), to form a 50:50 Joint Venture in India.  Tung Thih Electronic Co. Ltd. is a premier Taiwanese player engaged in manufacturing & Sale of Driving Assistance Products & Systems (DAPS).
The Joint Venture (proposed to be named Minda TTE DAPS Private Limited) will supply DAPS, including Rear Parking Aid Systems, Auto Parking Aid Systems, Cameras, Around View Monitor Systems, etc. to Indian automotive OEMs.  TTE is already an approved supplier to Maruti Suzuki. Future plans include venturing into niche technology products like Lane Departure Warning Systems amongst others.
The JV will set up state of the art Greenfield manufacturing facility in NCR which will have a world class paint shop and assembly line.
This Joint Venture will help both partners to make a deeper foray into the fast growing and dynamic Indian automotive electronic space with a specific focus on passenger and pedestrian safety products.
Mr. Nirmal K Minda, CMD, Minda Industries Limited while announcing the JV said, "With advancement in technology, the content of electronics in automobiles will continue to rise. This Joint Venture will help UNO MINDA Group to further strengthen its product portfolio and offer products in line with market/ customer demand. This JV will have a head start in terms of offering technologically superior products and is in line with our strategy to expand product offering in electronic segment."
Mr. Scott Chen (Shin-Chung Chen), CEO and Chairman of TTE, who was in India to sign the Joint Venture agreement echoed Mr. Nirmal K Minda's optimism on the anticipated penetration of electronics in the Indian automotive market and expressed TTE's commitment to bring advanced technology products at price point suitable for the Indian market through this Joint Venture.
BMR Advisors acted as the sole financial advisor to Tung Thih Electronic Co. Ltd.
About Tung Thih Electronic Co. Ltd:
Tung Thih Electronic Co. Ltd. is a Taiwan-based company principally engaged in the manufacture and distribution of automobile electronic products and components. The Company's products include Rear Parking Assists, Auto Parking Aids, Blind Spot Detection Systems, Side Distance Guard, Around View Monitor, Lane Departure Warning System,  Ultrasonic Car Auxiliary Systems, Vehicle Alarms, Door Locked Actuators, Multi-function Display Indoor Rear-View Mirror Systems, Vehicle Imaging Systems, Wireless Tire Pressure Detection Systems and Body Control Modules (BCMs). The Company distributes its products within domestic market and to overseas markets, including Asia, Americas and Europe.
About Minda Industries Limited:
Minda Industries Limited (MIL) is a flagship Company of UNO MINDA Group. UNO MINDA, a technology leader in Auto Components Industry is a leading supplier of proprietary automotive solutions to OEMs as Tier-1. It manufactures automobile components for Original Equipment Manufacturers (OEMs). It is an INR 44 billion (US$ 662 million) Group as in 2015-16 and is rapidly expanding with increased market share in all its product lines.
The Group is a global player in the automotive sector with overseas manufacturing facilities in Indonesia, Vietnam, Spain & Colombia as well as Design Offices in Taiwan, Japan & Spain. It has 40 manufacturing plants in India and has JVs/Technical Agreements with world renowned manufactures from Japan, Italy and India. Its endeavor is to deliver high technology and quality products to its valued customers globally.