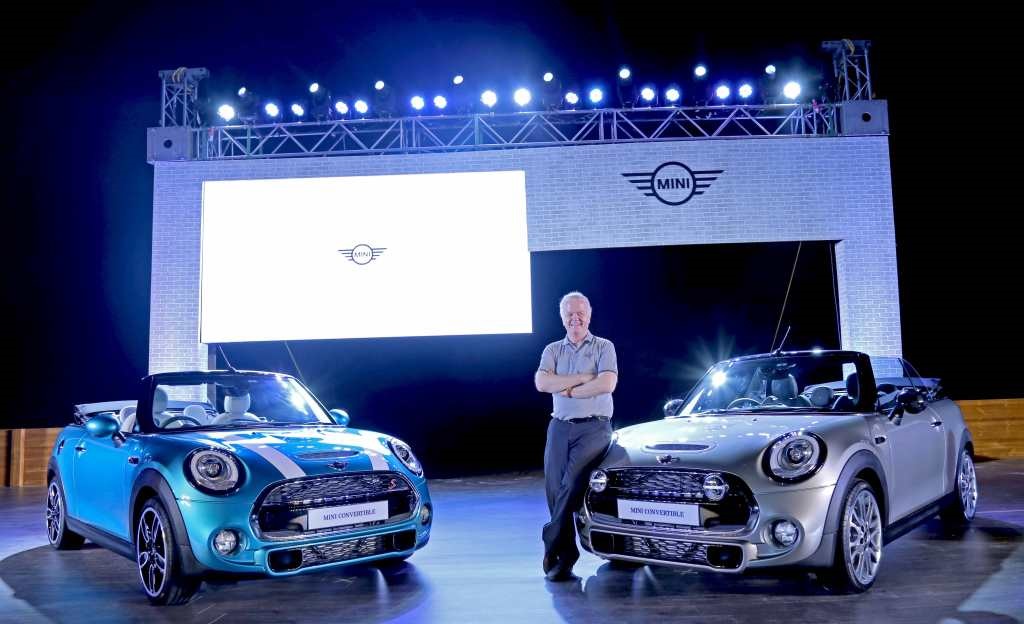 Original MINI genes raring to go for an even stronger emotional experience with a new fully electrical soft top.
Always ready to explore the sunny side with more space, high-end interiors and generous luggage space.
The all-new MINI Convertible was launched today in India at an exclusive sunset fiesta on a pristine Goan beach, the perfect place to experience the free spirit of MINI.
The all-new MINI Convertible is available at dealerships across India as a Completely Built-Up unit (CBU) from today onwards.
Mr. Philipp von Sahr, President, BMW Group India said, "The all-new MINI Convertible is unapologetically outgoing. It's a spontaneous and emotionally intensive way of savouring authentic MINI driving fun. A non-stop thrill behind the wheel for those who know there's always a little more to feel. It is able to seize and share those intangible moments of pure joy precisely because of its contagious enthusiasm and its impulsive streak. It creates a world in technicolour, packed with impulse, emotion and unbridled energy."
The all-new MINI Convertible is available at an ex-showroom price of INR 34,90,000.
*Price prevailing at the time of invoicing will be applicable. Delivery will be made ex-showroom. Ex-showroom price (inclusive of 12.5% VAT) as applicable in New Delhi and Maharashtra but excludes Road Tax, RTO statutory taxes/fees, Insurance and Octroi (if applicable).VAT over and above 12.5%, if applicable, will be charged extra. Prices and options are subject to change without prior notice. For further information, please contact your local Authorised MINI Dealer.
The all-new MINI Convertible is available in Pepper White and Volcanic Orange as non-metallic paintwork and in the following optional 11 metallic paintworks: Caribbean Aqua, Melting Silver, Moonwalk Grey, Blazing Red, British Racing Green, Iced Chocolate, Midnight Black, Deep Blue, White Silver, Thunder Grey, Lapisluxury Blue.
The range of fine upholstery combinations in all-new MINI Convertible include Cloth Double Stripe Carbon Black | Carbon Black, Cloth / Leather combination Diamond Carbon Black | Carbon Black, Cloth / Leather combination Diamond Satellite Grey | Carbon Black, Cloth / leatherette combination Black Pearl Carbon Black | Carbon Black, Leatherette Carbon Black | Carbon Black. The range of optional upholstery includes Leather Cross Punch Carbon Black | Carbon Black, Leather Cross Punch Dark Truffle | Carbon Black, Leather Chester Malt Brown | Carbon Black, Leather Lounge Satellite Grey | Carbon Black and Leather Lounge MINI Yours Carbon Black | Carbon Black.
The all-new MINI Convertible.
The exterior design authentically expresses the additional driving fun, technological advancement and refined premium characteristics of the all-new MINI Convertible. The all-new MINI Convertible is fitted for the first time with a fully automatic, electrically powered soft top operation system as well as fully integrated rollover protection. The cleverly designed Wind Deflector can easily be locked into position behind the front seats and comes in especially handy to avoid unwanted air turbulence during open-top driving. For a spontaneous reaction to sudden weather changes, the soft top can be opened and closed in just 18 seconds. For the first time, the soft top is also available in an optional MINI Yours version featuring an innovative woven Union Jack graphic. Another cool feature is the new MINI Excitement Package, which comprises LED interior and ambient lighting as well as a projection of the MINI logo on the ground on the driver's side when the door is opened.
The interior features a design that is high-end as well as harmonious and offers premium workmanship quality in every small detail. Multi-function Sport Leather Steering Wheel and Sports Seats for driver and front passenger enhance the unique 'go-kart' feel of the all-new MINI Convertible and are offered as standard. Expanded seat surfaces and increased headroom also contribute to optimised space comfort in the backseat. Vibrant colours and high-end leather upholstery in a multitude of exciting combinations make sure that every MINI stands out on its own.
The all-new MINI Convertible is always ready for long drives thanks to the spacious luggage compartment with Comfort Access and Easy Load Function that has a capacity of upto 215 litres which is approximately 25 percent more than the predecessor.
Driving excitement gives you a raft of tools to keep the adrenaline pumping. The 2-litre 4-cylinder engine with TwinPower Turbo Technology makes the all-new MINI Convertible higher on performance and lighter on fuel. It mobilises a peak output of 141 kW/192 hp and a maximum torque of 280 Nm torque. The car sprints from 100 km/hr in 7.1 seconds and the top speed is 233 km/hr.
With increased efficiency, enhanced shift comfort, optimised acoustic and vibration response, the newly developed 6-speed automatic transmission contributes to the sophisticated characteristics of the drive system. The optional 6-speed sports automatic transmission can be operated using shift paddles.
The MINI Driving Modes enable an individualised vehicle set-up focusing on either ride comfort, sportiness or efficiency, according to preference. In addition to the standard MID mode, the Sport mode is geared towards active driving fun while the Green mode supports fuel-efficient driving.
The all- new MINI Convertible is stacked with cutting-edge safety technology. The standard safety equipment comprises of Front and Passenger Airbags, Brake Assist, 3-Point Seat Belts, Dynamic Stability Control, Crash Sensor, Anti-lock Braking System, Cornering Brake Control and Run-flat Indicator.
The standard MINIMALISM technology includes an auto start/stop function, brake energy recuperation, shift point display and electromechanical power steering.
The optional Dynamic Damper Control further improves ride quality and suspension by stabilizing all irregularities on the road. The all-new MINI Convertible also comes with optional features like MINI Head-up Display, Harman Kardon hi-fi system and LED headlights with cornering function. The optional Wired Package includes Navigation System Professional, a bigger 8.8' screen with Touch Controller and Bluetooth mobile connectivity. The exciting world of MINI Connected is available with the optional Radio MINI Visual Boost.