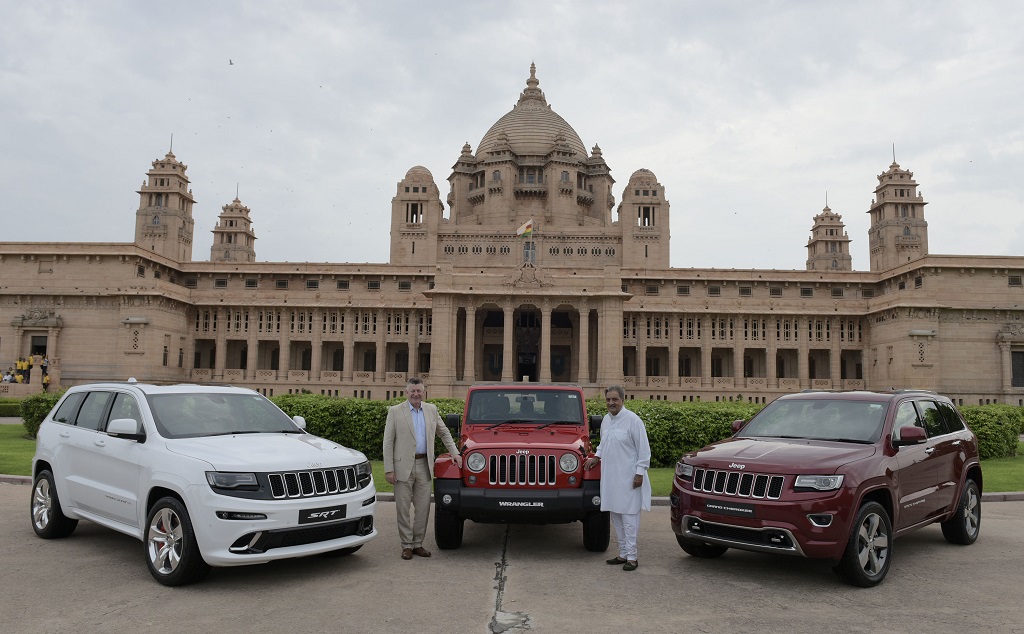 Local production in India of an all-new premium SUV to begin in 2017 
The legendary Jeep Wrangler comes to Indian customers with four-door, single trim version called Jeep Wrangler Unlimited
The Jeep® Grand Cherokee line-up will include the aggressive, fast and athletic Grand Cherokee SRT, the luxurious Grand Cherokee Summit and the classy and refined Grand Cherokee Limited
FCA India to open 10 new distribution outlets in nine cities by the end of this calendar year to sell Jeep products in India
AUGUST 30, 2016 | JODHPUR, INDIA – Fiat Chrysler Automobiles (FCA) India today announced the arrival of two global SUV icons: the Jeep® Wrangler and Jeep Grand Cherokee. FCA, which owns the Jeep brand globally, will bring the two models to India as direct imports (Completely Built Units). The company will add another vehicle to this line-up, an all-new, premium Jeep SUV, when local production starts at its Ranjangaon manufacturing facility, near Pune, next year.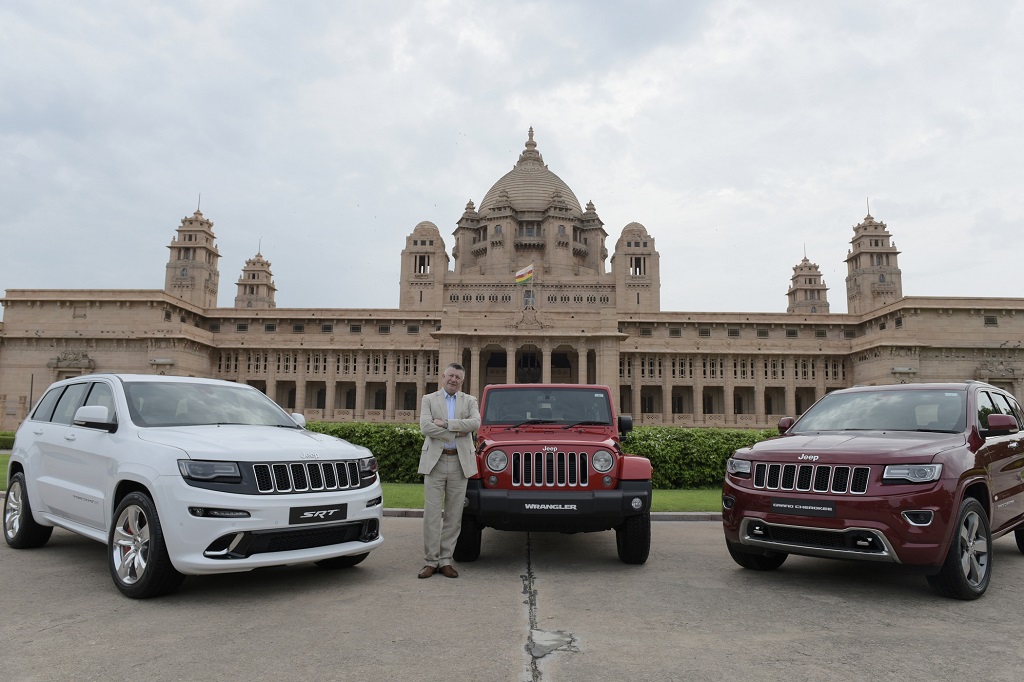 Commenting on the global heritage of the legendary Jeep brand, Kevin Flynn – President and Managing Director, FCA India said, "Jeep pioneered the SUV segment and the concept of off-roading . Now we are providing our Indian customers with access to what Jeep has to offer by launching the Jeep Wrangler, the most capable production 4×4 vehicle in the world and the luxurious Jeep Grand Cherokee, the most awarded SUV of all time. The launch of Jeep in India marks a double milestone in the history of the brand  as this year we are also celebrating the 75th anniversary of Jeep worldwide."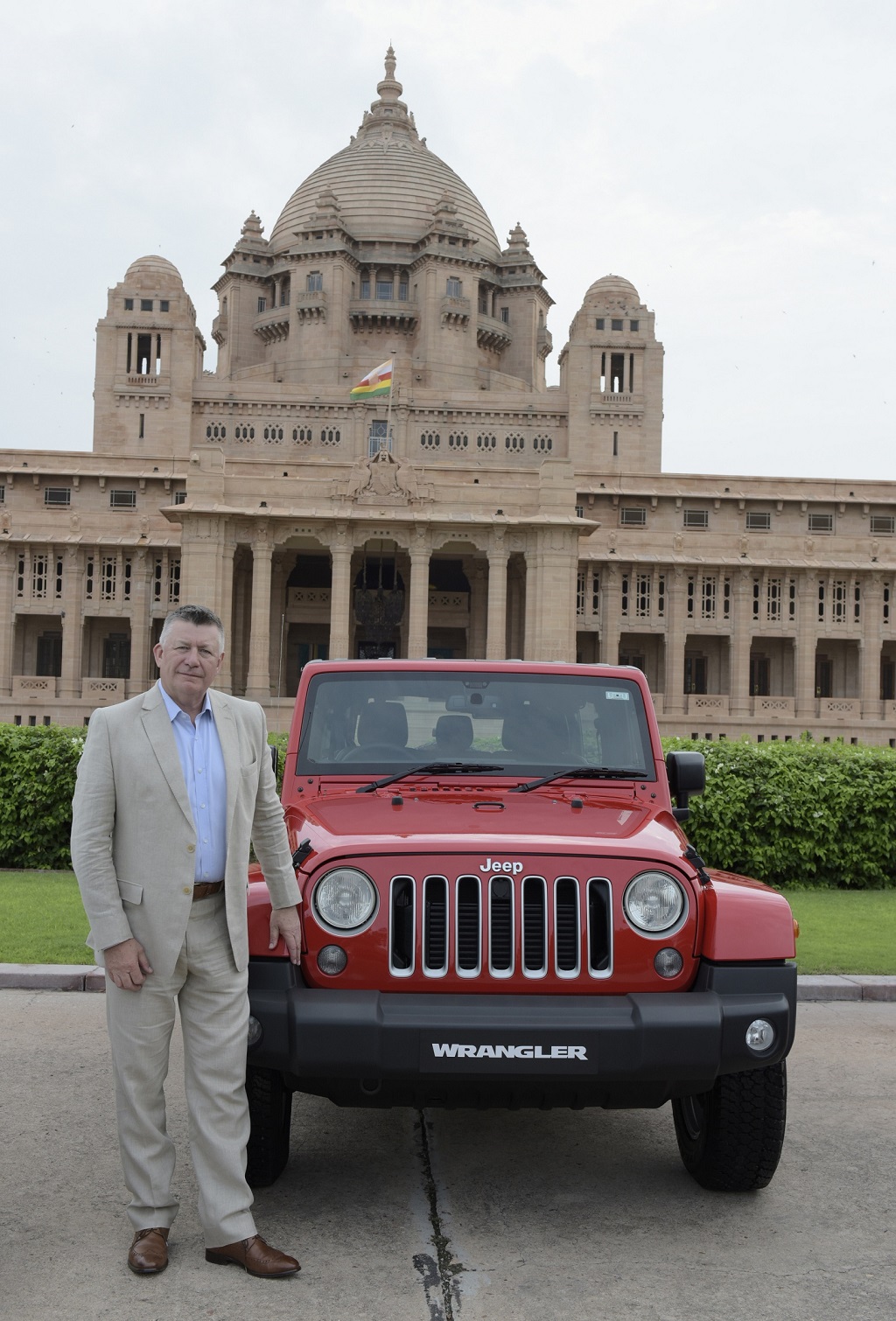 Jeep dealer network
The Jeep Wrangler and the Jeep Grand Cherokee will be sold through 10 Jeep distribution outlets called Jeep Destination Stores, in nine Indian cities by the end of this year. The Jeep Destination Stores are designed to be premium and world class, and have a high level of engagement with walk-in customers, prospects and visitors.
The Jeep Destination Store go live in Ahmedabad at the time of launch, followed closely by New Delhi and Chennai in September. The Mumbai outlet will open in October, along with a second outlet in New Delhi, both before Diwali, followed by Hyderabad, Chandigarh, Kochi and Bengaluru. The Jeep India website will have toll-free phone numbers where customers can inquire and they will be guided on the bookings process and the purchase.
FCA plans to focus a lot on providing the original Jeep experience to customers, as part of its retail strategy in order to bring them closer to the virtues of the Jeep brand and its Product Capabilities.
Jeep operations
Kevin Flynn commented on the business saying, "We have invested US$ 280 million in our facility at Ranjangaon, near Pune, to mobilize our localization strategy. We are on track with our plans to manufacture and roll out an all-new, premium Jeep SUV from our plant in 2017. After-Sales too plays a significant role in our India strategy. With the launch of the Jeep Wrangler and Jeep Grand Cherokee, we will set a strong foundation for all the aspects that will further strengthen our future in India."
FCA has focussed on After-Sales as one of its key drivers of growing business in India. For Jeep vehicles, the company has crafted innovative schemes that will give customers peace of mind and a satisfying Jeep ownership experience. The company will offer a two-year, unlimited mileage manufacturer's warranty as standard on both the Jeep Grand Cherokee and the Jeep Wrangler. The warranty will have international coverage and will be transferrable to the second owner.
Branded Jeep Assist, a 24/7 helpline and roadside assistance program is being offered which will cover the vehicles for a two year, unlimited mileage period. Toll free assistance will be provided 24/7 in case of accidents and breakdowns and additionally, customers will be provided with a return journey Business Class air ticket or a hotel stay. FCA's extended warranty on these Jeep vehicles is very competitive and offers  one and two year options. Besides this, customers will have access to an exciting range of Jeep branded merchandise and accessories.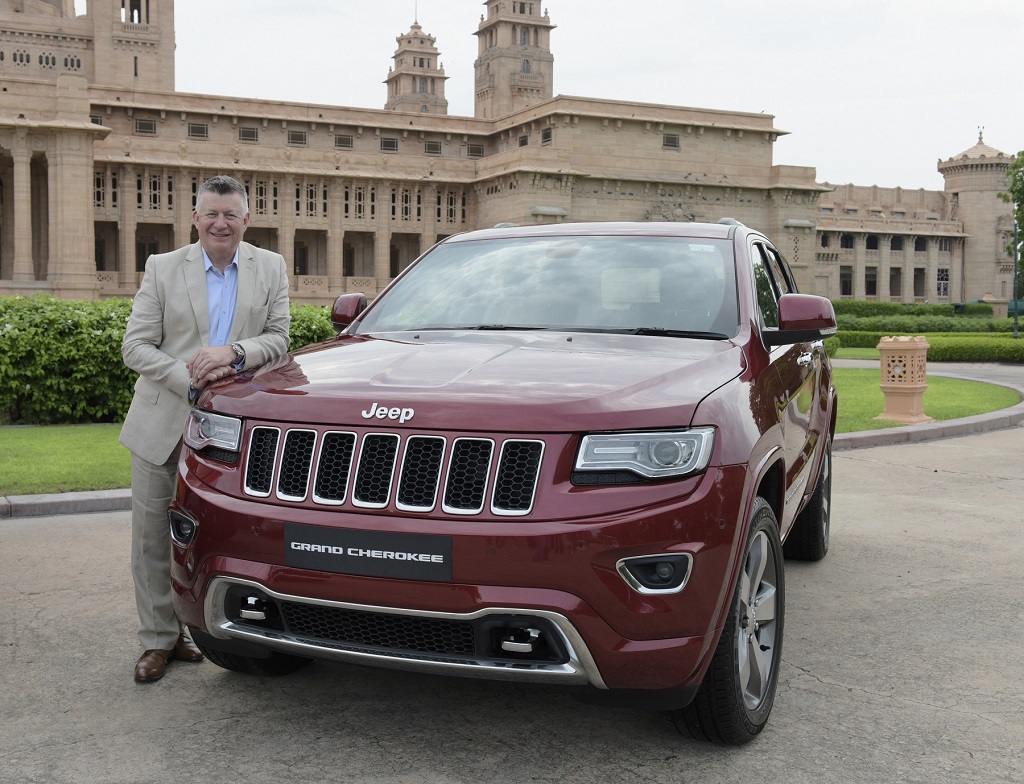 Jeep Brand
Jeep, a 75-year old brand that enjoys a rich heritage, is known the world over for its originality and authenticity. The Jeep capability quotient has been so impressive over the decades that consumers have unshakable faith in its go-anywhere character. While luxury and capability are the two primary product attributes that will connect consumers to Jeep in India, these are supplemented by two further core values of freedom and adventure that have been hallmarks of the Jeep brand throughout its 75-year history.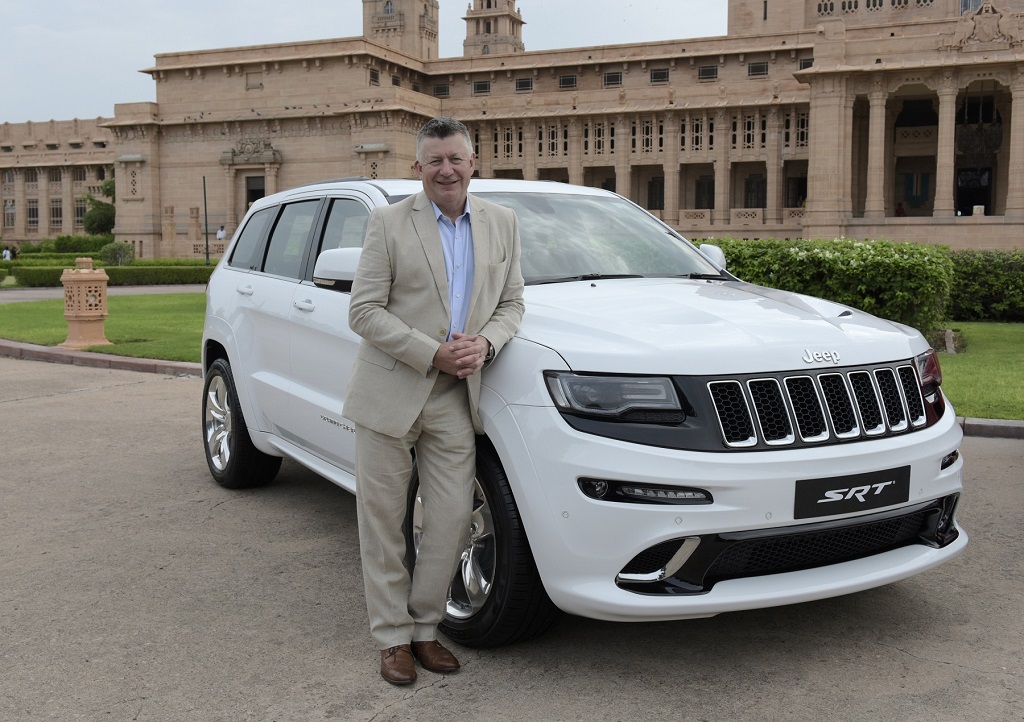 Commenting on the Jeep Brand, Kevin Flynn said, "The originality of the Jeep brand has been so alluring that the styling cues of Jeep have inspired many other brands around the world but the reality is 'There's Only One'."
To establish the Jeep Brand across the country, FCA India will launch a campaign with the brand promise 'There's Only One'. The campaign will largely use digital, print and outdoor mediums for amplification.
THE JEEP® WRANGLER
Price
Rs. 71.59 lakh (ex-showroom, New Delhi)
Variants
Single variant – Jeep Wrangler Unlimited 4×4
Engine
2.8-litre EcoDiesel, inline 4-cylinder,

Max power: 200 PS @ 3600 rpm

Max torque: 460 Nm @ 1600 – 2600 rpm

Transmission
5-speed Automatic
Seating
5 occupants
Key Notes for Jeep Wrangler Unlimited
The iconic Wrangler – the most capable production 4×4 vehicle in the world
An authentic off-roader that has inspired its owners to dream and delivers on the values of Freedom and Adventure time and time again
The iconic design of the Wrangler is legendary
Customers around the world immediately identify with its legendary styling cues – the vertical seven-slot grille, flanking round headlamps and the trapezoidal wheel arches
This off-roader exudes superior quality and sheer presence and conveys a sense of confidence in its stance and that it is able to 'go anywhere'.
The most exciting part of the Wrangler is in its personality – a fortress of a body shell that is protected by subtly inbuilt sport bars and it comes with wash-out interiors with drain plugs
It comes with removable doors, a three-piece modular, removable hard top as well as with a soft top – a standard addition to the Wrangler package
Interiors – McKinley leather seats with accent stitching, a lockable center console, anine-speaker Alpine music system, a 6.5-inch Uconnect touch screen navigation system that is accessible through voice commands
The Wrangler is the only Trail Rated SUV in the marketit comes with our legendary Command Trac 4×4 system with heavy duty solid axles, 18 bolt main case joint clamping to enable extreme capability and to round it off, 17-inch Silent Armour Goodyear Tyres
The Wrangler Unlimited will be available in six colours
THE JEEP® GRAND CHEROKEE
Variants and Price
Grand Cherokee SRT

Rs. 1.12 crore

(Ex-showroom, Delhi)

Grand Cherokee Summit
Rs. 1.03 crore

(Ex-showroom, New Delhi)

Grand Cherokee Limited
Rs. 93.64 lakh

(Ex-showroom, New Delhi)

Engine and Transmission
Grand Cherokee SRT
6.4-litre HEMI V8 (Petrol)

Max power: 475 PS @ 6250 rpm

Max torque: 624 Nm @ 4100 rpm

Transmission: 8-speed Automatic with Paddle Shift

Grand Cherokee Summit
3.0-litre V6 EcoDiesel

Max power: 243 PS @ 3600 rpm

Max torque: 570 Nm @ 2000 rpm

Transmission: 8-speed Automatic with Paddle Shift

Grand Cherokee Limited
Seating
SRT, Summit and Limited
5 occupants each
Key Notes for Jeep Grand Cherokee
Grand Cherokee SRT
The best of the best as the flagship on-road performance machine of the Jeep line-up for India
Zero-100 km/hr in five seconds, thanks to the SRT's 'Launch Control' button which is the trigger to unleash that raw power
Capability is complemented by technology – it comes with a Quadra-Trac full-time Active-on-Demand 4WD system linked to a five-mode Selec-Track system, supported by a high performance adaptive suspension, complemented by highly effective, high performance Brembo brakes with large, multiple-piston rotors
The SRT's capability is proven by high performance technology including –Quadra-Trac full-time Active-on-Demand 4WD system linked to a five-mode Selec-Track system, adaptive damping suspension, high performance Brembo brakes at all four corners.
It is just as dynamic inside the cockpit too –it gives feedback on G-force on the 7-inch instrument cluster and real time performance data on its 8.4-inch UConnect system
Ultra-luxurious Laguna leather seats that are crafted with leather sourced from the world's finest Swedish tanners
An 8.4-inch multimedia system is wired to a 19-speaker Harman Kardon sound system enhances the experience
The Grand Cherokee SRT will be available in five colours
Grand Cherokee Summit
Pampers occupants with seats stitched and wrapped in Nappa leather with a refined suede-like premium headliner
To keep the refinement consistent, the leather is carried forward to the instrument panel door, center console, shifter knob and the armrest
The use of open-pore wood tastefully enhances the interior matching the aesthetics to the SUV's impressive personality
Offers colour-coordinated interiors with the base, 'Limited' variant
It is equipped with a nine-speaker Alpine music system synced to the 8.4-inch UConnect infotainment system
Customisable 7-inch instrument cluster
Rear seat passengers can enjoy the Blu-ray entertainment system and the panoramic sunroof
Like the SRT, it offers Quadra-Trac II with the SelecTerrain traction control system
Offered with smart-looking 20-inch alloy wheels
Available in six colours