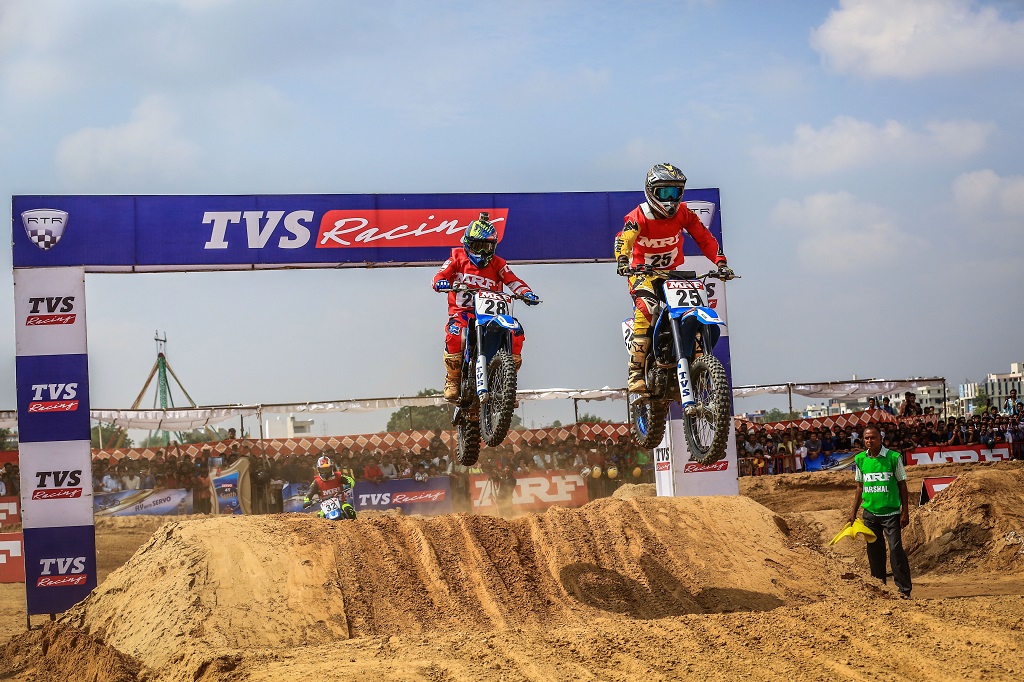 TVS Racing sweeps all key titles of 2017 edition of Raid De Himalaya
TVS Racing wins the Best Team & Best Tuner award
Abdul Wahid Tanveer wins Group A category; sets new lap record
Rajendra RE wins Group B race
Aishwarya Pissay wins the trophy for Ladies Class 
Bangalore, October 17, 2017: TVS Racing continued its winning spree at the recently concluded 2017 edition of Raid De Himalaya rally. Riders from the team Abdul Wahid Tanveer and R Nataraj secured 1st and 2nd place respectively in Group A category. Rajendra RE and Imran Pasha secured the 1st and 2nd position respectively in Group B. Aishwarya Pissay, the only woman rider competing for the team at Raid De Himalaya won the Ladies Class. She finished 4th in the overall Group B category, which is a notable achievement for a woman racer at the event.
One of the toughest motorsport event in India, this was the 19th edition of the rally spread across 1100kms with altitude variation of 2000m to 5500m. This year Raid de Himalaya 2017 negotiated world's highest mountain passes Shingo la (5081 m), Baralach la (4890 m), Taglang la (5328 m) and Kardung la (5369 m). Riders, motorcycles and service team members are severely tested against high altitude, grueling terrains, Sub-zero temperatures (as low as -15°C) and mental fatigue. This year only 15 of the 52 bikes finished the event this year.
The 6-day rally went through extreme weather conditions and very difficult terrains good enough to challenge the man and the machine. There were 7 riders representing the team for Raid De Himalaya from TVS Racing, who participated in 4 categories, Group A upto 450cc, Group B up to 250cc, ladies class and scooter class.
Commenting on the victory, B Selvaraj, Team Manager, TVS Racing said, "I am exhilarated with the performance of the team at the event. Our preparations and training helped us dominate the rally as our team was over an hour ahead of the nearest competition. The Raid rally has immense learnings not just for the riders but also the support crew team, who played a crucial role in these victories.
Teamwork and well thought of racing strategy helped the team utilise their full potential at the rally raid. Service strategy was very critical in this rally to make sure of the completion of rally motorcycles with its best and consistent performance.
About TVS Racing
TVS Racing is the first factory racing team in India with a legacy of over 34 years. In 1983 Sundaram Clayton Limited (A TVS Group company) introduced its 50 cc mopeds in the arena of road racing and the group was branded as TVS Racing in 1987. TVS Racing has supported over 100 riders since 1983 and the team has been actively participating in on and off- road racing events such as road racing, Super-cross and Motocross, Dirt Tracks, Rally etc. Some of the prominent riders who have raced for TVS Racing in the past include Gaurav Gill, Jagat Nanjappa, Sanjay Karkaria, Gurminder singh, etc.
TVS Racing is also the first Indian factory team to sign on a woman rider, Shreya Sunder Iyer. TVS Racing has over 15 racers in its team currently. The racers are chosen at multiple levels with some coming from local and national championships. The TVS Apache One Make Championship gives an opportunity for young racers to showcase their skills on the race track. TVS Racing was the first to start the One Make Championship in India, way back in 1994. The TVS Racing training School provides guidance for young racers to hone their skills. Experts oversee young racers who are provided race spec machines to give them a complete track experience.
TVS Racing participates in Supercross Championships, Rally and Road Racing events both in India as well as Sri Lanka. Some of the prominent racing events TVS Racing riders participate are Rally raid events like Desert Storm, Raid de Himalaya, Dakshin Dare, etc. TVS Racing also supports Alisha Abdullah Racing Academy for Women to encourage budding racing talent.
In early 2015, TVS Racing became the first Indian factory team to take part in the Dakar rally, which is the longest and toughest rally in the world. TVS Racing has forged a partnership with Sherco to form Sherco TVS Rally factory team and this team will participate in international rally events culminating to Dakar rally 2017. TVS Racing has announced an Indian rider, Aravind KP, to be a part of the Dakar Rally in 2017.
TVS Racing won eight championships across all forms of two-wheeler motorsport events Supercross , Rallies and Road racing in 2015-16. Our team won Sri Lankan Championship SLADA too consecutively for two years – 2016 and 2017.