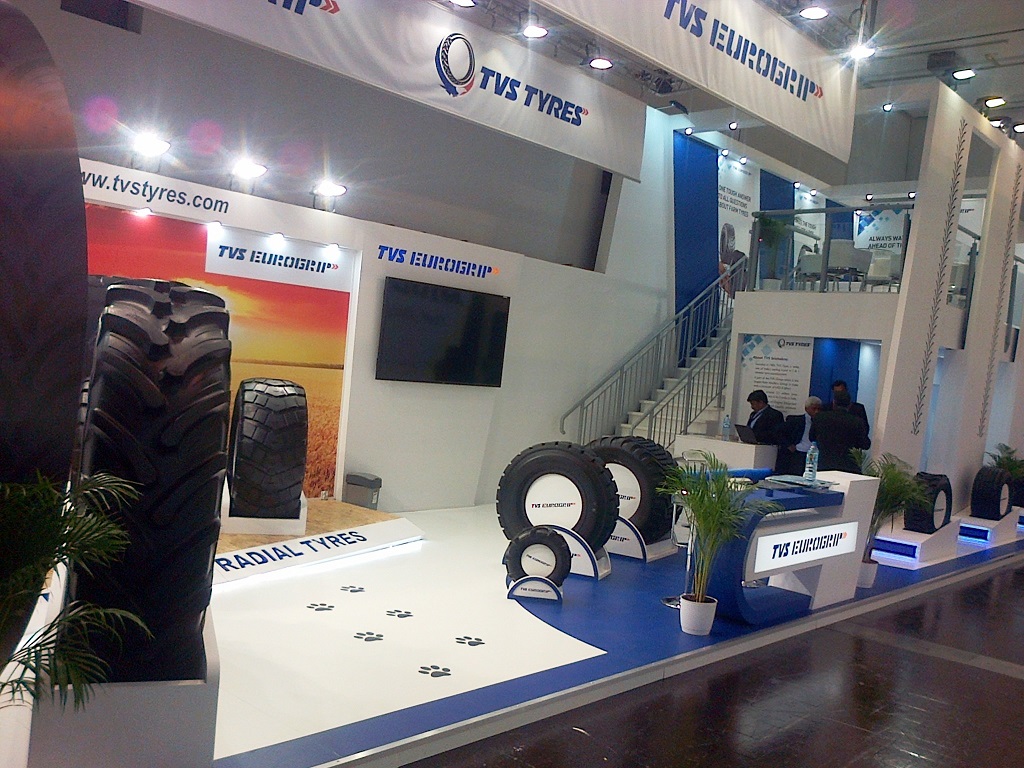 TVS SRICHAKRA, one of the largest manufacturers & exporters of Two & Three wheeler tyres and Off-Road Tyres in India, is showcasing their new product range – FLOTATION RADIAL OFF-ROAD TYRES and a select range of the two-wheeler tyres at the REIFEN 2016, Germany.
Organized by Messe Essen GmbH, REIFEN is one of the world's leading fairs of the tyre industry that is held once in every two years. This mega expo witnesses industry experts demonstrating latest innovations, developments and trends. This year starting from 24th to 27th May, this fair will see exhibitors from over 44 countries and trade visitors from more than 130 countries all over the world; truly proving that REIFEN is one of the undisputed and most sought-after expos of the tyre industries.
Marketed under the TVS EUROGRIP brand, 'TIGERTOUCH' and 'TIGERPAW' are specially designed FLOTATION RADIAL TYRES for spreaders, slurry tankers, trailers with 40% on-road application. This range of flotation radial tyre offers unique tread, assures low rolling assistance on the road and is equipped with good self cleaning property on the field. Additionally, the TIGERPAW variant comes with a strong radial casing with steel belted construction giving it an extra load carrying capacity at high speeds. This year, the customers are in for further delight, the brand is also showcasing its two-wheeler tyre range for the very first time in REIFEN alongside the TVS EUROGRIP range.
Speaking on the participation at REIFEN 2016 yet again, Mr. P. Vijayaraghavan, Director, TVS SRICHAKRA LTD., said, "We are very glad to be a part of REIFEN once more. This expo is undeniably one of the leading global platforms, which enables us to showcase our newest range of FLOTATION RADIAL OFF-ROAD TYRES. Both 'TIGERTOUCH' and 'TIGERPAW' are designed keeping in mind the latest technological advancements and innovation in tyre manufacturing."
Mr. P Vijayaraghavan further added, "We are extremely happy that our two-wheeler range makes its maiden entry at REIFEN this year. This range of tyres offers durability to deliver high performance on the roads and is craft-fully designed to fulfill growing customer needs."
Another attraction to watch out for at the stand will be an artist, who will create caricatures of people who visit the stall. What's more, those who will be sketched shall be presented with an instant print out of their sketches in an interesting fashion that will serve as a unique memorabilia.
TVS SRICHAKRA has strengthened its presence in Europe year on year with the TVS EUROGRIP range of Off-Highway Tyres and their participation in REIFEN with the latest product range showcase has further added to their portfolio of offerings.