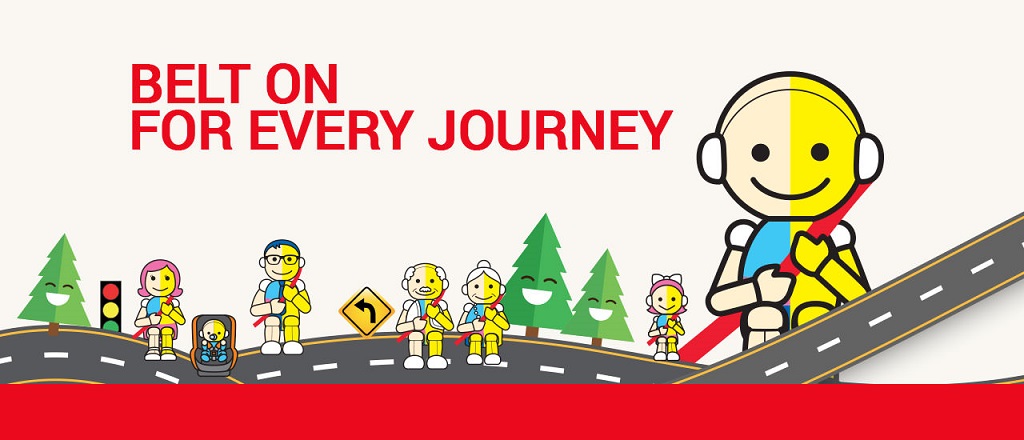 Toyota's regional safety campaign advocates the importance of wearing seatbelt
Toyota, one of the world's leading automotive manufacturers, launches the regional safety campaign for a third consecutive year. With a campaign tagline of "Be Safety Leaders", the automaker encourages both drivers and passengers to assume proactive leadership in traffic safety by beginning with the simple act of belting up.
This year, additional emphasis is placed on countering the public's prevailing mindset on the usage of seatbelt. While wearing a seatbelt should come almost as a reflex before each journey, according to a survey conducted in 2014, many people are still not belting up. The top 5 excuses of not wearing a seatbelt are existing presence of airbags in vehicles; confidence in one's own driving skills; short journey; discomfort, and causing clothes to be wrinkled1. Through this educational campaign, Toyota hopes to reinforce that seatbelts complement airbags and increase their effectiveness by 15 times2. Furthermore, seatbelts reduce the risk of fatal injury by up to 50% for front seat passengers and 75% for rear seat passengers3.
The regional safety campaign began in 2014 amidst high traffic accident fatality rates, low law enforcement and general low safety awareness that were becoming prominent issues in a South-east Asian region that was undergoing rapid motorization4. In the first year, Toyota focused on call-to-action for greater seatbelt usage. In 2015, the campaign continued to advocate seatbelt usage and additionally, aimed to empower the public with knowledge to be safety leaders. Given that long-term cultivation and continued reinforcement are needed for behavioral changes, Toyota hopes another year of this call-to-action for greater seatbelt usage will further increase awareness of its importance. This year, it is hoped that the public will be leaders-in-action, assuming proactive leadership in traffic safety and spreading the word about seatbelt importance in the community.
"Traffic safety is Toyota's top priority. We believe in contributing to achieving a society with zero traffic accident fatalities. Through our regional safety awareness campaign, we urge drivers and passengers to belt up to keep themselves and their families safe," said Hiroyuki Fukui, President of Toyota Motor Asia Pacific Pte. Ltd., at the campaign launch event.
In addition to last year's interactive online campaign activities such as Toyota Seat Selfie App and "Go Go Buckle Up" Game, a new campaign video is introduced this year. The video features an emotional narrative of a child urging the parent to belt up for safety. Toyota hopes that the message "Belt On For Every Journey" will raise greater awareness that there should be no excuses to ignore one's safety. These activities will be extended to all ASEAN countries, including India, Pakistan and four new Southwest Asian countries of Bhutan, Bangladesh, Sri Lanka and Nepal.
Sharing his views during the regional safety campaign, Mr. N Raja, Director & Senior Vice President (Sales & Marketing) – Toyota Kirloskar Motor, said, "Safety has always been of utmost importance to Toyota. Be it passenger safety or road safety, Toyota has always been in the forefront in creating awareness about the same. We were the first brand in India to standardize dual front SRS airbags across all models and in all grades and this initiative has been very well appreciated by our customers as well as the market alike. This can be further reiterated by the fact that the Toyota Etios was awarded 4-stars in the Global NCAP crash test.
As a responsible automobile manufacturer, we are committed to seeking solutions for traffic safety challenges in India as much as we focus on passenger safety.  Our venture on traffic safety management began with T-SEP in 2008 <Toyota Safety Education Program>, a program designed to inculcate traffic safety mind among school children, which was regarded as one of its kind in the industry. Then we moved on to expand, joining hands with NGOs and Government on many other safety initiatives. As we progressed, we realized the dire need of having quality driving school in India to address the alarming number of accidents and casualties on the roads, predominantly due to poorly trained drivers. This led us to initiate "Toyota Driving School" a program designed to develop a complete driver who can wheel on the road safely with confidence and pleasure", continued Mr. N. Raja.
Toyota's Safety Technology
Toyota continuously strives to develop advanced safety technology and apply them in its vehicles. Features, such as the 'Pre-collision System' for supporting collision avoidance or mitigating damage, 'Lane Departure Alert' for helping to prevent deviation from traffic lanes and 'Automatic High Beam' to enhance front visibility at night, help drivers to avoid accidents.
Toyota's virtual human computer model, THUMS (Total Human Model For Safety), has also come alongside Toyota's safety journey to become one of the smartest virtual crash test dummies ever designed. THUMS not only outlines a human being's shape, but also models the bones, muscles, ligaments, tendons and internal organs. THUMS' close resemblance to the actual human body helps safety engineers analyze impact to vital organs during crash simulations, identify safety issues and find their solutions. In June this year, new models representing children aged ten, six and three, were also added to the THUMS line-up to further improve Toyota's research on injury analysis and safety technology. For more information, please visit the official campaign website www.besafetyleaders.com.