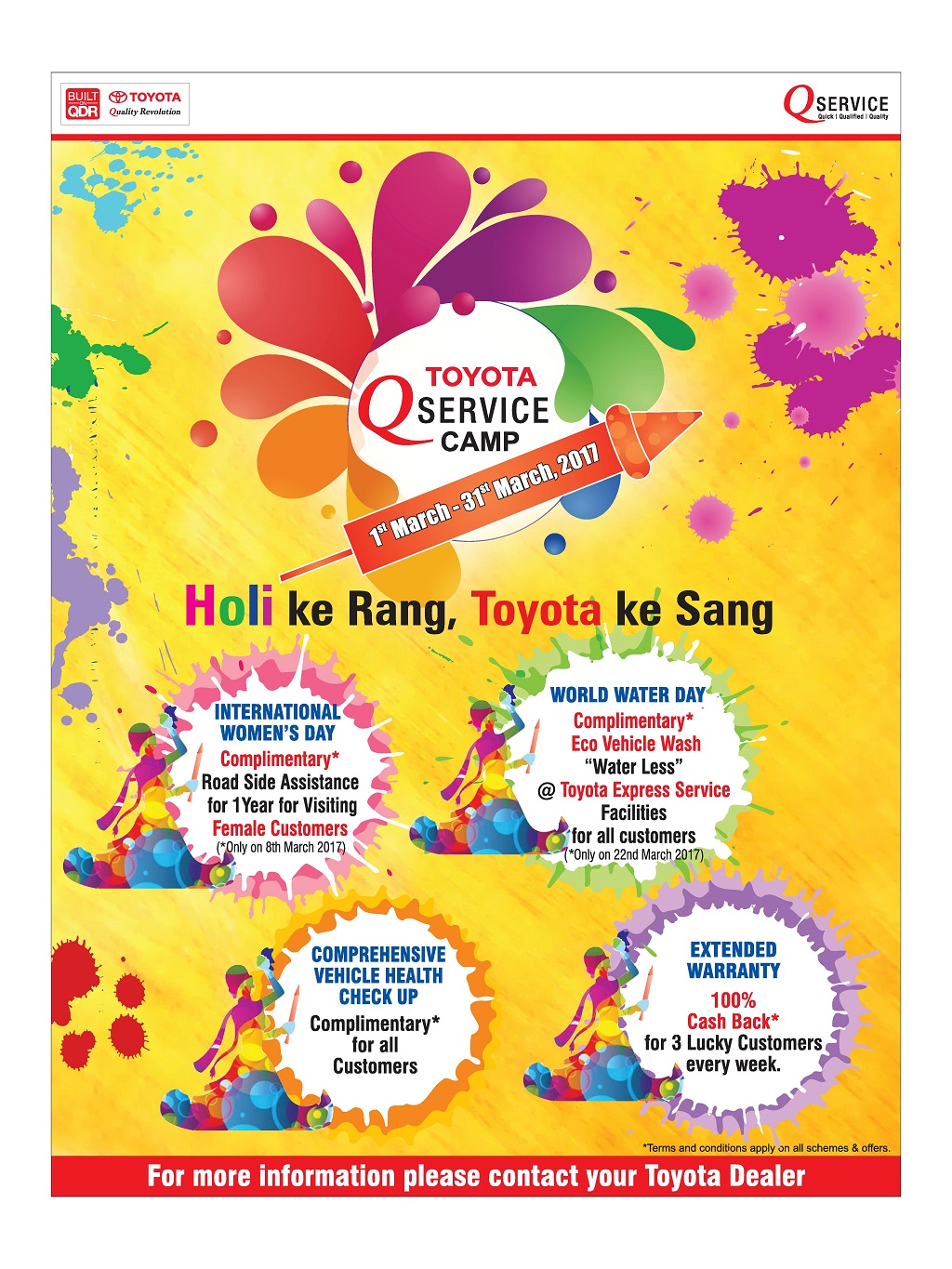 –       Exclusive festive service campaign for Toyota customers
–       Unique packages & offers for Toyota customers in North region
–       Customer First philosophy – Toyota value's customer time
Delhi, 10th Mar 2017 – Toyota Kirloskar Motor (TKM) announced the start of its 'Q Service – Holi Campaign' with free vehicle Health check-up for all Toyota models, for all its esteemed customers in Delhi NCR, Punjab, Haryana, Himachal Pradesh and Jammu & Kashmir. The campaign will run through this March month till 31st Mar '17. Toyota has set a benchmark in the automobile industry for its quality products and more so for Q Class Service Experience.
The campaign's key focus is to connect with the customers to ensure their vehicles are thoroughly checked & prepared for the upcoming festive period and also summer season, so that they continue to enjoy a safe & comfortable journey.
The campaign has an assortment of exciting packages & offers like:
·        Free Vehicle Health Check –up*
·        World Water Day Celebration: 22nd March, 2017 – Complimentary ECO vehicle wash "Zero Water Use"across Toyota Express Service facilities for visiting customers ( Applicable for 22nd March only)*
·        Toyota Extended Warranty – 100% cash back for 3 Lucky Customers every week*
Toyota's philosophy of 'Customer First' and the revolutionary Quality, Durability and Reliability (QDR) representing the company's core values and aspirations throughout the world, has timed this service campaign to correspond with the festive season in India. Also, the campaign will help our customers to gear up their vehicles for long journeys, ensuring safe, comfortable and trouble free drives during summer.
Speaking on the launch of Toyota's Q Service – Holi Campaign, Mr. B. Padmanabha, Vice President (Customer Service Group) – Toyota Kirloskar Motor, said, "Once again this year, we are happy to offer the special festive service package for our valued customers. Toyota values customer's time and has various product offerings through its world class facilities which provides Quality service in Quick time. To enhance customer convenience, we have come up with the exclusive Express Service facilities where timely regular maintenance service can be met to achieve customer expectations, saving their precious time. Customer can also avail EM60 (Express Maintenance 60), wherein the vehicle get its periodic maintenance and selected general repairs are met in mere 60 minutes, wherein 3 technicians work simultaneously with special tools & techniques.
During this campaign period, dealers will be inviting the customers for complete vehicle Health check and also compliment with attractive offers. We are sure to fuel a positive sentiment amongst our customers with this exclusive Q Service Holi campaign during the festive period", further he added.
Toyota constantly engages with the customers to deliver the best products & services.  With the festive season round the corner, we hope this exclusive Q service campaign will further add to the customer delight.
*Conditions Apply. Please contact your nearest dealership for more details