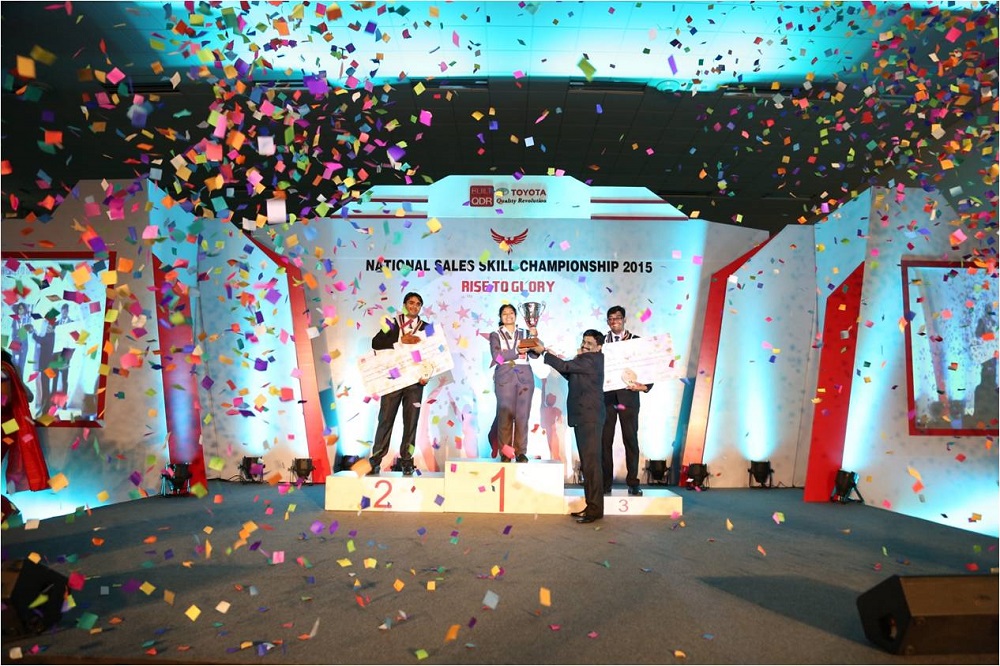 Organizes 2nd edition of 'National Sales Skill Contest'
Toyota Kirloskar Motor (TKM) today conducted the 2nd edition of the 'National Sales Skill Contest' – an annual initiative which provides TKM's sales personnel a platform to showcase their sales skills, identify gaps and improvise. Held at three levels – across dealership, regional and national levels, the contestants were evaluated on various parameters such as knowledge, process demonstration, soft skills and role plays among others.  The initiative is in pursuance of the company's strong commitment towards the Skill India initiative. The Skill Contest organized by TKM is another step to enable development of skilled manpower to meet the skill gap in the dynamic changing auto market.
This year witnessed an encouraging participation from 1680 new and used cars sales personnel from Toyota dealerships at regional and national level. The grand event was graced by senior Management from TKM, representatives from Toyota Motor Asia Pacific. The Dealer Principals and Dealer Sales heads joined to motivate the participants. The contest recognizes the expertise of Toyota dealer sales staff from diverse geographical locations and provides an opportunity to set a benchmark to test their knowledge and skill against their peers.
Mr. N Raja, Senior Vice President & Director, Toyota Kirloskar Motor Pvt. Ltd expressing his delight at the performance of the contestants said "It has been an exhilarating experience to see the dealer personnel put their best foot forward, each one of them deserves appreciation for their dedication and enthusiasm.  Customer Satisfaction is the cornerstone principle for Toyota,  to achieve this it's very essential to hone the skill sets of our personnel and motivate them on a regular interval  At Toyota Kirloskar Motor (TKM), we identify raw talent to  hone their skills and develop them through rigorous on the job training program to transform them into world class skill champions. We have undertaken dedicated initiatives such as establishing the Toyota Technical Training Institute (TTTI), Toyota Technical Education Program (TTEP) in addition to an in-house Gurukul and other comprehensive training programs to develop highly skilled manpower with great career prospects.  Skill Contest brings in a lot of insight as to how our dealer personnel across India work towards providing the best customer experience. It also helps us analyze what should be our focus for the future to make our trainings more effective to boost up our sales and after sales."
A total of six winners, 3 each in new and used car categories were awarded with a gift cheque, medal and a trophy each. The details of the winners are
NEW CAR SALES PERSONNEL
POSITION
NAME
DEALER NAME
LOCATION
Winner
Ms. Sumita Bairagi
Nandi Toyota
Bengaluru
1st Runners Up
Mr. Purushottam Vats
Grace Toyota
Gurgaon
2nd Runners Up
Mr. Sohail Shaikh
DSK Toyota
Pune
USED CAR SALES PERSONNEL
POSITION
NAME
DEALER NAME
LOCATION
Winner
Mr. Roy Kuriakose
Nandi Toyota
Bengaluru
1st Runners Up
Mr. Jagjit Singh
Pioneer Toyota
Panchkula
2nd Runners Up
Mr. Suraj C
Nandi Toyota
Bengaluru
The winners from each category received Rolling Trophies; Plaques; Medals and Cash prize of upto 50,000Rs; The Champion from each category will be attending the National Champions Assembly to be held at Nagoya, Japan. The Champions assembly is organized by Toyota Motor Corporation inviting champions of Toyota Distributors across the globe. It is a week long event attended by dealer champions from 52 countries along with their distributor counterparts. TKM is the first affiliate of Toyota to have initiated Sales Skill Contest globally.
However, service skill contest has been taking place in TKM for the last 14 years under different disciplines like Technician-General, Body & Paint, Service Advisor, Service Parts and Customer Relations. In Sales category it comprises of New Car Sales category and newly introduced (this year) for Used Car Sales category. The levels of the contest for both Sales and Service are 1) In Dealer Contest   2) Zonal Skill Contest 3) National Skill Championship.
Toyota Kirloskar Motor continually undertakes training initiatives for its sales personnel in areas such as dealership, selling skills, reviewing and coaching skills for team leaders, negotiation skills for used car sales consultants and also provide its sales personnel a comprehensive e-Induction module which has modules on topics such as basic auto technology, products, sales SOP and value added services.
In 2007, TKM also established the Toyota Technical Training Institute (TTTI) which offers a three year rigorous full-time training in – Automobile Assembly, Automobile Paint, Automobile Weld and Mechatronics (a combination of mechanical and industrial electronics). Additionally, Gurukul, a well equipped learning center at TKM imparts diverse training to employees at all levels which helps them to improve their abilities and thoroughly fulfill their roles. Everyone who works at Toyota experiences 70% of their development through the job itself; and the experience serves as a driving force in developing the next generation. To ensure that only the highest level of automotive professionals work on Toyota vehicles, Toyota has partnered with industrial and technical training institutes all across India to create the Toyota Technical Education Program (T-TEP). The program aims at providing technical know-how training to ITI students across India along with providing hands on real time experience within Toyota dealerships. After a span of 10 years, TTEP is now associated with 37 training institutes under the program.