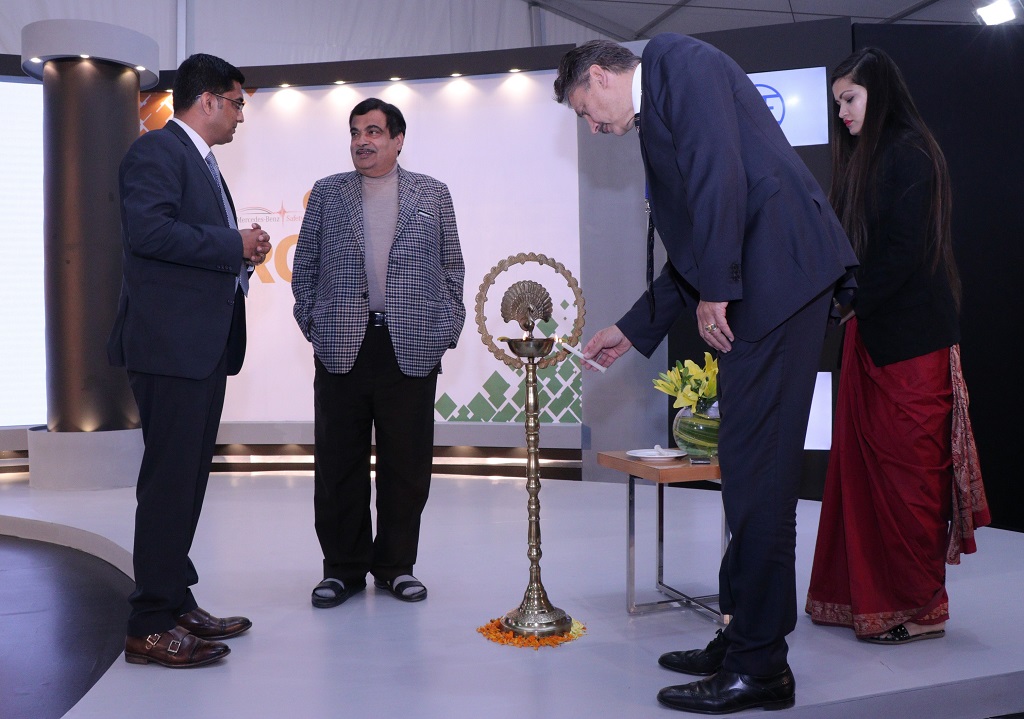 Government of India aims at 50 percent reduction of road accident fatality by the year 2020
• Mercedes-Benz and its group of companies continues to promote awareness on road safety by sponsoring Safe Roads India Summit 2017 in New Delhi
• 'Safe Roads,' a unique initiative educates traffic safety through physical demonstrations, visual aids and research reports
• Safety experts from the automobile industry and NGOs discuss on measures to improve road safety for children
• 'Safe Roads' is a collaborative initiative of Mercedes-Benz group companies along with Autliv, Bosch, britax Romer and ZF.
New Delhi – Continuing with the efforts to create awareness on roads safety in India, Mercedes-Benz and its group of companies Mercedes-Benz India (MBIL), Daimler India Commercial Vehicles (DICV), Mercedes-Benz Research and Development India (MBRDI) and Daimler Financial Services India (DFS) organized 'Safe Roads India Summit 2017', in New Delhi today in the presence of Shri Nitin Gadkari, Minister for Road Transport & Highways, Shipping and Water Resources, River Development & Ganga Rejuvenation, Government of India.
Speaking on the occasion Shri Nitin Gadkari, Minister of Road Transport & Highways, Shipping, Water Resources, River Development and Ganga Rejuvenation said that the Government of India is committed to reducing road accident fatality by 50 percent by the year 2020. He further added that, road accidents are caused by both by both human error and infrastructural factors like defective road design, inadequate signages, lack of underpasses etc. The Road Transport Ministry has therefore employed a multi pronged approach to tackle this problem by addressing engineering and design issues, driver training and mass awareness.
In order to reduce human error Shri Gadkari stressed upon the need for scientific training of drivers. He said India has a shortage of 22 lakh drivers. The Government has decided to set up 2000 Driver Training Centers to fill this gap, 100 have already been set up. Most of these driver training centres will be set up in rural and tribal areas where they will also create employment opportunities for the local youth.
Regarding infrastructure he said India has 52 lakh kms of road length out of which only 2% are national highways, and these carry 40% of the nation's traffic. The Government of India has decided to increase the length of national highways from the present 96000 kms to 2 lakh kms. 1.7 lakh kms of national highways have already been sanctioned and these will be of international standards. Safety features have been made an integral part of road design. 730 accident black spots have been identified across the country and these are being rectified.
In addition to improving highways the Government is also focussing on generating road safety awareness among people through campaigns like SAFE ROADS. The Minister commended Mercedes-Benz for taking up the SAFE ROADS campaign as their CSR initiative. He said that in order to achieve the target of 50% fatality reduction by 2020 the Government needs the support of programs like Mercedes-Benz SAFE ROADS.
Since last two years, Mercedes-Benz and its entities organized multiple impactful and successful road safety awareness road-shows in most major cities like Delhi, Ahmedabad, Mumbai, Pune, Bangalore, Kochi, Hyderabad and Kolkata that touched more than 50,000 lives through physical demonstrations, visual aids and research reports.
The Safe Roads Summit is conceptualized to take the road safety awareness to another level. The first Safe Roads Summit this year focuses on safety of children as they are the most vulnerable on the streets.
Safety is a core competency and a core value for Mercedes-Benz and its automotive brands. Mercedes-Benz, in particular, is renowned worldwide for developing highly sophisticated safety systems. However, implementation of effective safety systems remains a challenge, as the road users often do not comply with traffic rules or do not use the safety systems onboard their vehicles. On Indian roads, approximately 150,000 people die every year of road accidents, largely caused due to ignorance of safety norms and rules. That's an equivalent of 17 people per hour. 'Safe Roads' was hence conceptualized by Mercedes-Benz, in an effort to reduce this startling fatality rate on Indian roads, by creating more awareness on road safety. Mercedes-Benz is convinced that such initiatives can begin an era of road safety awareness that supports a new culture of road safety for Indians. Over 70 per cent of the fatalities can be reduced by 2025 through education and enforcement of safety rules and by creating awareness.
Every year, thousands of young children are killed or seriously injured in accidents in India. According to Ministry of Road Transport and Highway reports, around 27 children die on Indian roads every day.
At the Summit, 300 school children and 200 college students from New Delhi attended the event. The college students were given a 'First Responder Training' by NGO partner Indian Head Injury Foundation.
Prof. Dr.-Ing. Rodolfo Schöneburg, Mercedes-Benz Cars Development Director, Safety/Durability/Corrosion Protection – Daimler AG mentions, "For Daimler, safety is a priority and core value. We constantly work and develop concepts to make our vehicles safer – not only for the drivers and their passengers, but also for vulnerable road users. We completed two impactful editions of 'Safe Roads' that touched thousands of lives in India. This year, we shifted our focus on child safety and vulnerable roads users in India. Children are our future and they deserve our full attention. With the initiative, we hope that parents understand how important it is to protect their children inside and outside of cars. We hope that SAFE ROADS will continue to bring a massive and drastic change on road safety awareness and support a new culture of road safety among the people in India."
Manu Saale, MD & CEO, MBRDI states, "With already a sustainable platform laid, the Safe Roads initiative is beginning to transform the outlook of road safety awareness keeping the Indian roads scenario. Children are the future, train them on road safety measures and it makes a great impact on their lives. Keeping the future in mind, these key measures complemented with the state-of-the-art safety technologies would be play a vital role in reducing causalities."
Roland Folger, Managing Director and CEO, Mercedes-Benz India adds, "The 'Safe Roads' initiative that was flagged off two years ago has been phenomenal. We are proud of this nationwide initiative and especially in the market we are making business. Considering the rate of accidents on Indian roads has been alarming and undoubtedly it becomes our moral responsibility being both – as a premium automobile manufacturer and corporate citizen to do our bit to reduce this. There will never be a compromise on safety as Mercedes- Benz marque firmly believes in the principle of safety first."
About Safe Roads:
'Safe Roads' is a road show that spreads the message of road safety through physical demonstration, visual aids and research reports. The physical demonstration will be undertaken with the use of exhibits that have been imported from Germany providing a real life experience of safety measures that can potentially save lives during road accidents:
Belt-Slide:
The exhibit enables people to experience the impact of seat belts in a simulated crash environment at low speed. The aim is to increase the percentage of seat belts usage for front row passengers including driver.
Child Safety Seat:
It is one of the most important purchases you'll make for your child when you buy a car. A child safety seat is designed specifically to protect children from injury or death during collisions. We'll show you how to correctly install child seats into your car and how to safely restrain the kids inside their seats.
• All children aged 12 and under should ride properly buckled in the back seat
• Airbags can kill young children riding in the front seat
• Never place a rear-facing car seat in the front seat or in front of an airbag
• Appropriate child seats should be used based on child's size and weight
Crashed Mercedes-Benz C-Class:
The passenger compartment of the C Class remained stable in the frontal offset barrier test. The car scored maximum points for its protection of the front passenger dummy, with good protection of all critical body areas. Dummy readings indicated good protection of the knees and femurs of both the driver and passenger.
Safety Demo Vehicle (new E-Class):
An absolute highlight is the new Mercedes-Benz E Class vehicle. The E Class showcases a glimpse of future of safety. The E Class illustrates trailblazing innovations in the field of safety like PRE-SAFE®,
Alcohol goggles:
Alcohol changes your perception. These special goggles provide a unique experience. They simulate the common 'walk-the-line' activity which causes loss of balance and delayed reaction times. Visitors will feel their susceptibility to impairments and realize the potential severe consequences due to alcohol consumption.
'Safe Roads' is a collaborative initiative of Mercedes-Benz group companies along with Autliv, Bosch, britax Romer and ZF. The partner organizations have supported the initiative with in-depth research information and data on the existing scenario of road safety in India. These research reports also provide indicators of how the scenario can be improved through education and enforcement of traffic rules.
According to the World Health Organization (WHO) estimation, India is ranked second in the world when it comes to the highest number of road traffic fatalities in 2015, and this made up about 11%of global road traffic fatalities. There has been some good work undertaken by the National Road Safety Council (NRSC) and WHO's Decade of Action for Road Safety 2011-2020, where a declining road traffic fatality trend was observed in India for the first time, since 2012. However, road traffic injuries remain a concern as about half a million are reported each year.
If 2011 is taken as base year, the fatality trend will reach about 250,000 by the year 2025 if business as usual continues with respect to road safety. However, 38% fatality reduction could be achieved with strong enforcement on drunk driving, overloading and load protruding and 80% fatality reduction could be achieved with strong enforcement on driver related factors – including over- speeding. By 2025, the projected number of fatalities could be reduced to about 50,000, following the above enforcements (as shown in Figure 1).
According to a sample study, in 50% of the accidents, there were no accident avoidance manoeuvres from the drivers. Only in 30% of the accidents, drivers performed a brake or swerve manoeuvre or a combination of both. Also, the percentage use of seat belts by car drivers and front passengers is low (about 16%). There is a need to show case and make road users understand the impact; a typical seat belt will have in a crash scenario.
Sponsors of Safe Roads India Summit:
 Daimler AG (Main Sponsor)
 Autoliv Inc.
 Robert Bosch GmbH
 Britax Romer
 ZF Friedrichshafen AG
Established in 1994, Mercedes-Benz India Pvt. Ltd. pioneered the luxury car market in India and boasts of more than 130 years of cutting edge innovation in the luxury automobile industry globally. Set up in 2009, Mercedes-Benz India's world class production facility is spread over 100 acres in Chakan near Pune. Since June 2015, Mercedes-Benz India also commenced production from its new expanded production facility located in the same premises. Mercedes-Benz India is part of Mercedes-Benz's Global Production Network. It plays an important role in the CKD/MVP production network in Brazil, Indonesia, Malaysia, Thailand and Vietnam. At these locations, Mercedes-Benz produces vehicles in various extension levels for domestic markets.
The production facility now carries an investment of INR 1000+ crores and has the largest installed production capacity for any luxury carmaker in India. Mercedes-Benz India also has the largest network spread amongst any luxury carmaker, with presence in 42 Indian cities through 87 outlets. Through the exclusive AMG Performance Centers located in 7 cities including Delhi, Mumbai, Hyderabad, Bangalore, Kochi, Chennai and Pune; the AMG performance sub-brand of Mercedes-Benz also boasts of a strong retail network presence in the country.
Mercedes-Benz India's flagship programme, 'My Mercedes, My Service' launched in 2016, aims to completely redefine the after-sales experience by digitalizing service process and create unparalleled benchmark in the luxury car service domain. The launch of 'Mercedes-Benz Approved Tyres' in February 2017, and the 'Approve Advanced Programme' in May 2017, is also integral to the 'My Mercedes, My Service' campaign. 'My Mercedes, My Service' aims at enhancing the customer's vehicle ownership experience manifold, making after-sales experience as the new differentiator in the luxury car segment. With the use of big data and in-depth knowledge of the driving pattern of Indian customers, Mercedes-Benz has been able to drive successfully, low cost of ownership for its customers.
Mercedes-Benz India product portfolio comprises the locally produced Mercedes Maybach S 500, S-Class, E-Class, C-Class, CLA luxury sedans and the GLA, GLE and the GLS luxury SUVs.
The CKD GLC was the 9th product added to Mercedes-Benz's local production portfolio. Completely Built imported cars portfolio includes the A-Class, B-Class, CLS, E-Class Cabriolet, S-Class Coupé, C-Class Cabriolet, S-Class Cabriolet and the S 600 Guard a range of other Guard vehicles etc. The product portfolio also comprises the iconic off-roader Mercedes-AMG G 63 as well as a wide range of other Mercedes-AMG performance cars like the AMG CLA 45, AMG C 63 S, AMG S 63 Coupe, AMG S 63 Sedan, AMG GLA 45, AMG GLE 43 Coupe, AMG GT S, AMG GT R and AMG GT Roadster sports car, AMG SLC 43 and AMG C 43.
The long wheel base new E-Class is Made in India, for India, the first new generation car to be locally produced since market launch. India is the first country to get an RHD version of the LWB E-Class in the world.
Mercedes-Benz India registered the sales of 11,869 units in the January–September 2017 period. In 2017, 'One Team, One Goal' will be Mercedes-Benz's philosophy, towards achieving best customer experience. The company will have fascinating product introductions, innovative luxury retail experience, value driven finance programmes and innovative after-sales service experiences. With 'One Team, One Goal' philosophy, Mercedes-Benz India will continue the 'winning' momentum it has created for itself in the diverse Indian market.