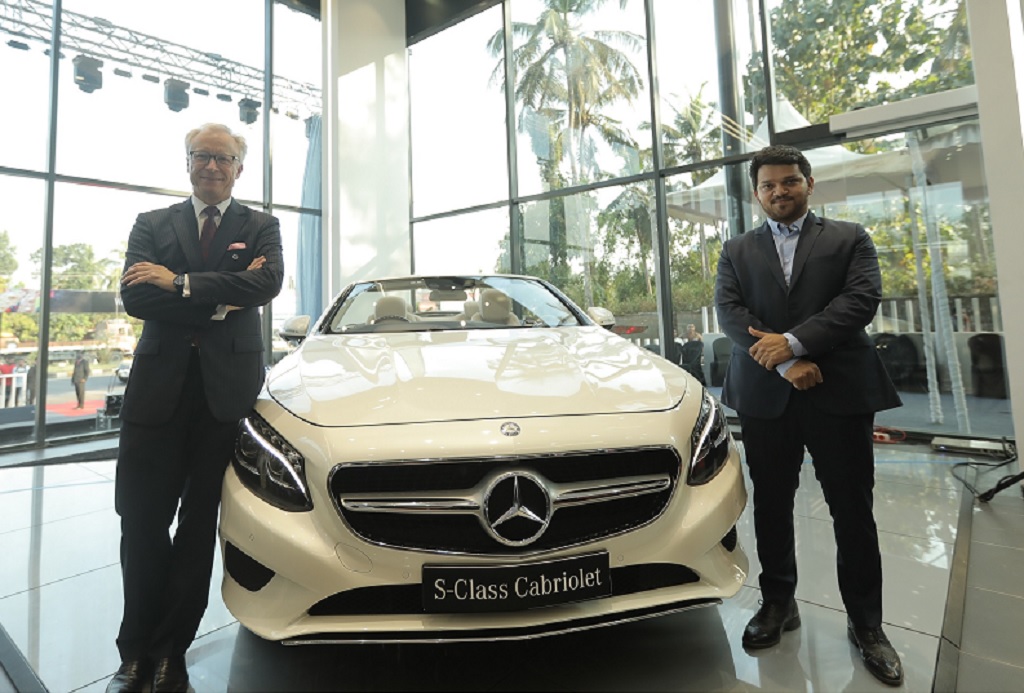 Thrissur gets a world-class Mercedes-Benz 3S (Sales, Service & Spares) luxury dealership that exudes modern luxury
The state-of-art luxury dealership is spread across 16,000 sq. ft. and has a 5 car display to showcase the range of Mercedes-Benz cars
Strong service infrastructure with 8 bays dedicated for maintenance and repair
37 professionally trained and highly skilled staff to ensure superlative customer satisfaction by providing the famed Mercedes-Benz ownership experience
The 3S luxury dealership was built in a record time of 5 months
Bridgeway Motors Thrissur has been created with a total investment of INR 7.5 Crores
Bridgeway Motors Thrissur, will cater not only to Thrissur but also to neighbouring cities like Palakkad, Gurvayoor, Irinjalakuda, Chalakkudi
Mercedes-Benz continues its comprehensive network presence among luxury car makers with 90 outlets across 44 cities
Thrissur: India's largest luxury car manufacturer Mercedes-Benz continued its focused network expansion strategy by foraying into yet another Tier II market, Thrissur. Mercedes-Benz inaugurated Bridgeway Motors Thrissur, a state-of-art 3S facility in one of the most important emerging markets in Kerala. This world-class 3S facility is strategically located in the automobile hub of Thrissur providing easy access and convenience to customers from nearby areas. The luxurious 3S facility was inaugurated by Mr. Roland Folger, MD & CEO, Mercedes-Benz India and Mr. Ajmal Abdul Wahab, Managing Director, Bridgeway Motors Pvt. Ltd.
Speaking on the occasion, Mr. Roland Folger, MD & CEO, Mercedes-Benz India said, "We believe in the India growth story and firmly underline the fact that Tier II markets like Thrissur will be future growth drivers for the brand. We are glad that our network expansion strategy is bearing fruits and we have been able to penetrate to newer markets and unlock their potential. Mercedes-Benz has been successful in offering luxury experience to customers beyond the established metros and hence, cement our position as the luxury marquee with the most comprehensive network presence. South India continues to remain one of our key markets and will witness continued network expansion and focused growth."
Mr. Folger further added, "2017 has been a successful year for Mercedes-Benz as we launched 12 new products and will inaugurate 12 outlets across India, Thrissur being the 8th inauguration as a part of our 'Go to customer strategy'. We have been expanding into new as well as established markets pursuing our customer centric approach, and this world-class luxury dealership in Thrissur is a result of this. There is a burgeoning demand for luxury cars in Kerala and Mercedes-Benz aims to capitalize this by offering a superlative product and service range. We are confident that together with our partners Bridgeway Motors we will be able to provide our customers an unmatched luxury experience that would enthrall the patrons of the Star."
Bridgeway Motors, Thrissur is spread over cumulative area of 16,000 sq. ft. where up to five cars can be displayed. The facility was built with an investment of INR 7.5 Crore in only five months. The facility is staffed with 37 trained technicians who are equipped with the latest tools and equipment to service all the existing and forthcoming models of Mercedes-Benz.
Ajmal Abdul Wahab, Managing Director, Bridgeway Motors said, "It gives us immense pride to deepen our association and be a part of the expansion journey of Mercedes-Benz India in Kerala. Bridgeway Motors, Thrissur is equipped with luxury elements aiming to deliver a world-class service, synonymous with Mercedes-Benz. The convenient location backed by top-notch infrastructure will make this is a landmark of luxury retail in entire of Thrissur. The luxury car segment growth in Kerala is on a rise, and customers have shown keen interest in Mercedes-Benz and with this new facility, we will be able to cater to that growth story."
Mercedes-Benz India has the most wide spread reach in the country among luxury car brands with 90 outlets in 44 cities. The strategic network expansion drive not only enables the brand to reach out to every potential customer but also serves the existing customer base by providing them the best from the world of Mercedes-Benz.
About Mercedes-Benz India:
Established in 1994, Mercedes-Benz India Pvt. Ltd. pioneered the luxury car market in India and boasts of more than 130 years of cutting edge innovation in the luxury automobile industry globally. Set up in 2009, Mercedes-Benz India's world class production facility is spread over 100 acres in Chakan near Pune. Since June 2015, Mercedes-Benz India also commenced production from its new expanded production facility located in the same premises. Mercedes-Benz India is part of Mercedes-Benz's Global Production Network. It plays an important role in the CKD/MVP production network in Brazil, Indonesia, Malaysia, Thailand and Vietnam. At these locations, Mercedes-Benz produces vehicles in various extension levels for domestic markets.
The production facility now carries an investment of INR 1000+ crores and has the largest installed production capacity for any luxury carmaker in India. Mercedes-Benz India also has the largest network spread amongst any luxury carmaker, with presence in 44 Indian cities through 90 outlets. Through the exclusive AMG Performance Centers located in 7 cities including Delhi, Mumbai, Hyderabad, Bangalore, Kochi, Chennai and Pune; the AMG performance sub-brand of Mercedes-Benz also boasts of a strong retail network presence in the country.
Mercedes-Benz India's flagship programme, 'My Mercedes, My Service' launched in 2016, aims to completely redefine the after-sales experience by digitalizing service process and create unparalleled benchmark in the luxury car service domain. The launch of 'Mercedes-Benz Approved Tyres' in February 2017, and the 'Approve Advanced Programme' in May 2017, is also integral to the 'My Mercedes, My Service' campaign. 'My Mercedes, My Service' aims at enhancing the customer's vehicle ownership experience manifold, making after-sales experience as the new differentiator in the luxury car segment. With the use of big data and in-depth knowledge of the driving pattern of Indian customers, Mercedes-Benz has been able to drive successfully, low cost of ownership for its customers.
Mercedes-Benz India product portfolio comprises the locally produced Mercedes Maybach S 500, S-Class, E-Class, C-Class, CLA luxury sedans and the GLA, GLE and the GLS luxury SUVs.
The CKD GLC was the 9th product added to Mercedes-Benz's local production portfolio. Completely Built imported cars portfolio includes the A-Class, B-Class, CLS, E-Class Cabriolet, S-Class Coupé, C-Class Cabriolet, S-Class Cabriolet and the S 600 Guard a range of other Guard vehicles etc. The product portfolio also comprises the iconic off-roader Mercedes-AMG G 63 as well as a wide range of other Mercedes-AMG performance cars like the AMG CLA 45, AMG C 63 S, AMG S 63 Coupe, AMG S 63 Sedan, AMG GLA 45, AMG GLE 43 Coupe, AMG GT S, AMG GT R and AMG GT Roadster sports car, AMG SLC 43 and AMG C 43.
The long wheel base new E-Class is made in India, for India, the first new generation car to be locally produced since market launch. India is the first country to get an RHD version of the LWB E-Class in the world.
Mercedes-Benz India registered the sales of 11,869 units in the January–September 2017 period. In 2017, 'One Team, One Goal' will be Mercedes-Benz's philosophy, towards achieving best customer experience. The company will have fascinating product introductions, innovative luxury retail experience, value driven finance programmes and innovative after-sales service experiences. With 'One Team, One Goal' philosophy, Mercedes-Benz India will continue the 'winning' momentum it has created for itself in the diverse Indian market.