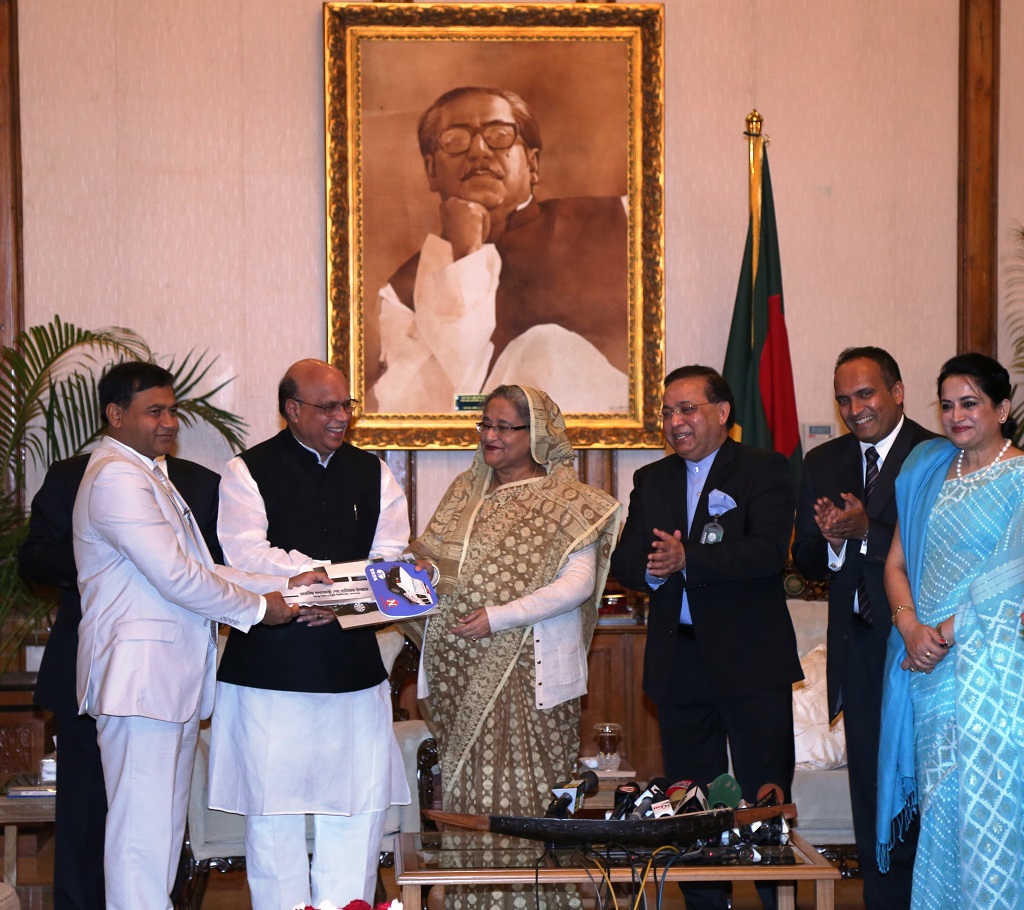 Dhaka, December 24, 2015: Tata Motors Limited and NITOL donated ten Sumo Ambulances at the Gonobhaban, the office of the Prime Minister in People's Republic of Bangladesh today. Mr. Johnny Oommen of Tata Motors and Mr. Matlub Ahmed of NITOL had the honour of donating ten Sumo Ambulances to the Government of Bangladesh.
Speaking on the occasion, Mr. Johnny Oommen, Head International Business, Passenger Vehicles, Tata Motors, said, at Tata Motors, we work with the belief that business is to create wealth for the progress of a nation and the well- being of the community. Our presence in Bangladesh has been widespread and strong and with the dedication and commitment to make a small contribution towards improving the health services for the people of the country, we announce the entry of the Sumo ambulance. With a long term association with NITOL Motors since 1988, we look forward to many such contributions to uplift the welfare of the society in Bangladesh."
Speaking at the ceremony, Mr. Matlub Ahmed, CEO, NITOL said "Bangladesh lacks modern hospitals & hospital equipments. Ambulance is one of the first equipment which any hospital must have in order to safely transport critical patients. Today, we are extremely happy that the honorable Prime Minister has accepted ten ambulances from the Nitol-Tata Motors alliance, in the presence of the honorable Health Minister, Secretary & the Director General of Health Services. We hope that Tata Motors would serve the health sector of Bangladesh as well as it has served the commercial vehicle segment."
The ambulances will be gifted to the Prime Minister, after which the ten units will be utilized to benefit medical and health services of the below-mentioned organizations:
1)     Sheikh Fazilatunnesa Mujib memorial KPJ Specialized hospital, Gazipur
2)     Sherpur Sadar Hospital, Sherpur
3)     Dinajpur Sadar Hospital, Dinajpur
4)     Patuakhali Sadar Hospital, Patuakhali
5)     Melandaha Upazila Health Complex, Jabalpur
6)     Mongla Upazila Health complex, Bugerhat
7)     Pirgonj Upazila Health complex, Rangpur
8)     Naikhongchhari Upazila Health Complex, Bandarban.
9)     Ramgarh Upazila Health Complex, Khagrachori.
10)   Bangabandhu Sheikh Mujibur Rahman Science and Technology University, Gopalganj
Tata Motors' vehicles have been popular in Bangladesh since 1972. Today, our cars, buses and cargo vehicles make us an important player in the transport segment. Over two-thirds of the commercial vehicles sold here bear our logo. Our passenger cars – the Tata Nano, Tata Indigo and Tata Sumo – have made us the third most popular passenger car brand in the market in a short span of two years.
Tata Motors has always attempted to contribute towards the social development of the countries it operates in. The donation of these ambulances will enable the accessibility of ambulance services to a wider section of community, who currently do not have access to basic health services