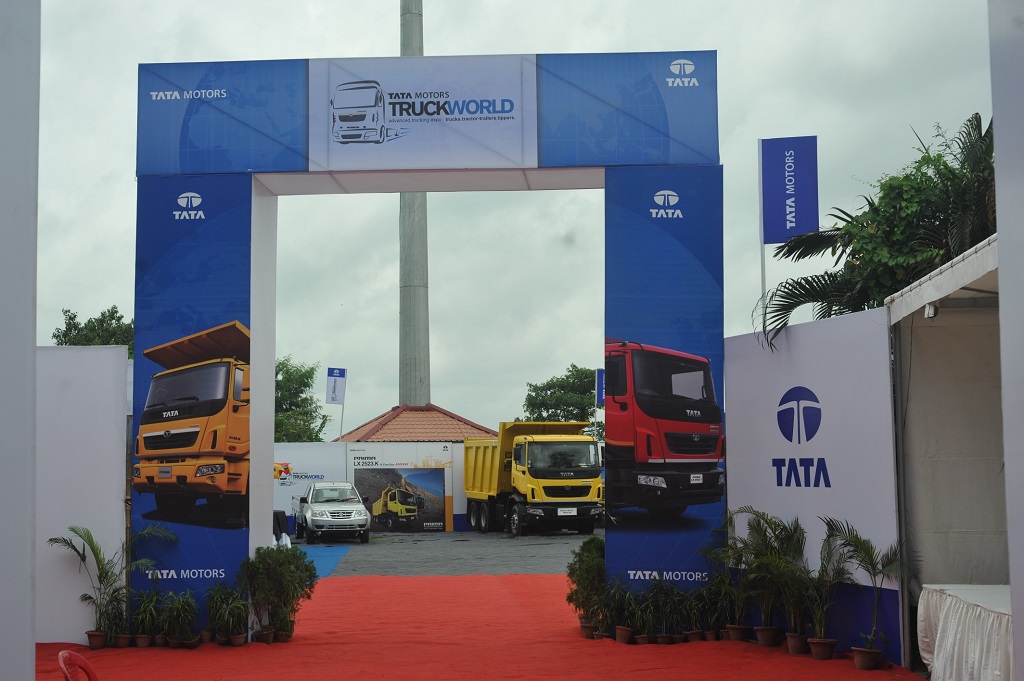 Furthering initiatives for an enhanced purchase experience of its commercial vehicle offerings, Tata Motors is showcasing its latest commercial vehicle products, technologies and services at its ADVANCED TRUCKING EXPO – 'TRUCK WORLD' in Hubli. A unique initiative for trucking customers and their families, the 2-day TRUCK WORLD expo, being held from December 11 – 12, 2015, offers Tata Motors and its partners, communicative and promotional opportunities, 'all under one roof' – at Railway Ground, Club Road, Keshwapur, Hubli, making it a first-of-its-kind purchase experience for commercial vehicle customers, in Hubli.
TRUCK WORLD comprises of separate areas for product display, service related workshops for mechanics and drivers, along with hospitality and entertainment activities. A truck-art zone is created to host an artist creating colorful patterns, depictions, calligraphy of verses on different parts of a Tata truck.
Commenting on the occasion, Mr. Rajesh Kaul, Business Head, Intermediate, Medium & Heavy Trucks, Tata Motors said, "At Tata Motors we will continue to offer value to our customers, and TRUCK WORLD is another unique way of doing so. With over 35 commercial vehicles from our IM&HCV range, 14 new trucking technologies, 8 service offerings, along with stage performances for customers and their families, TRUCK WORLD promises to make the experience of buying a Tata Motors commercial vehicle even more special." 
At TRUCK WORLD Hubli, Tata Motors is showcasing 35 Medium and Heavy Commercial Vehicles, including the Tata PRIMA Range of Trucks and Tippers. At the expo, Tata Motors is also showcasing its own service related brands like Tata Genuine Parts, Tata Delight and Tata FleetMan. Tata Motors' key vendors partners, financers and value-added service providers are also present at the Expo. 
Having attracted a crowd of over 15,000 truckers and their families at 'TRUCK WORLD' expo's held in Gurgaon, Vijayawada, Salem, Kolkata, Bhubaneswar, Indore and Gandhidham so far, Tata Motors also plans to organise these expos in other trucking centres across the country. 
OTHER UNIQUE TRUCKING INITIATIVES BY TATA MOTORS
For an enhanced product experience, Tata Motors hosted Season II of the T1 PRIMA TRUCK RACING CHAMPIONSHIP in March 2015, at the Buddh International Circuit (BIC) in Greater Noida. The championship featured 12 Tata PRIMA race trucks built for the purpose, driven by experienced international drivers representing six teams, competing against each other.
Furthermore, Tata Motors continues to invest in its products, its sales & service network, redesigning, developing & deploying modern dealerships, with an aggressive customer centric approach of anticipating customer requirements. With over 1800+ touchpoints across the country, the company hopes to develop and deploy effective modern dealership models, to significantly improve customer experience and convenience across its network, while also improving penetration and driving quality, building strong, lasting relationships with its customers.
With TRUCK WORLD, Tata Motors is adding yet another exciting new dimension to one of the largest commercial vehicle markets in the world.