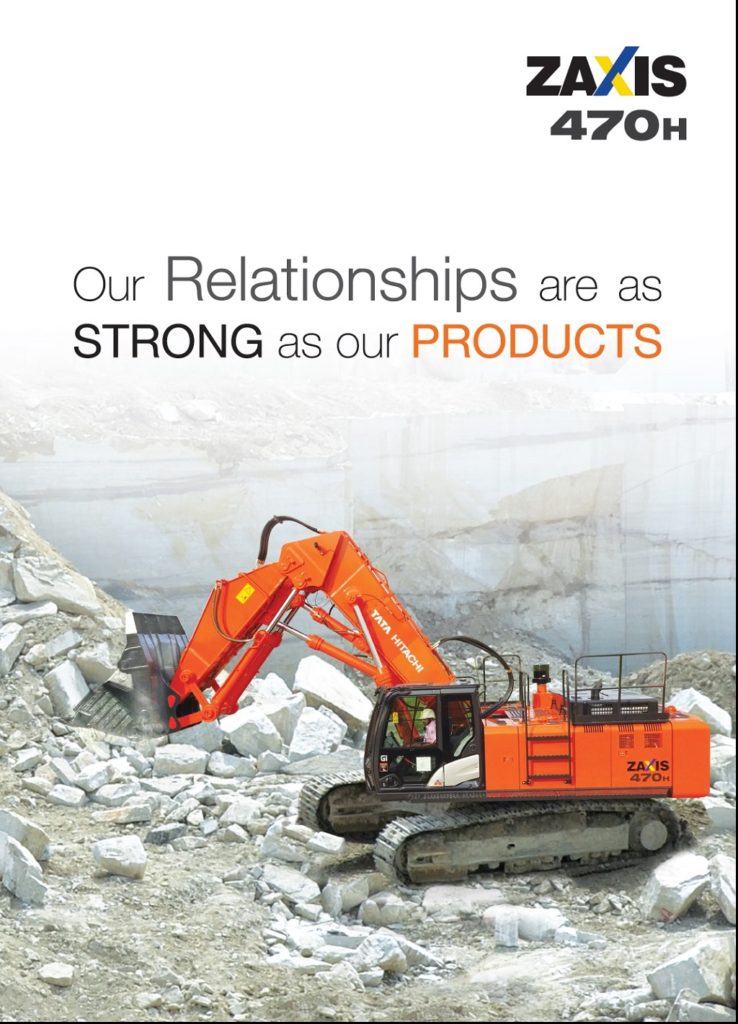 A joint venture between Tata Motors Limited (40 %) and Hitachi Construction Machinery Company Limited (60 %)
Three plants at Jamshedpur – Jharkhand , Dharwad – Karnataka and Kharagpur – West Bengal
Product lineup encompassing a wide range of excavators: from 2T – 800T Excavators , 35T to 290T Rigid dump trucks, Wheel Loaders, Backhoe Loaders, Motor Graders

Over five decades of experience in developing global standard products to suit the Indian marketCustomer centric organization
Technologically advanced product portfolio : upgrade of existing products and introduction of new products to maximize business opportunities and address customer needs
Launch of ZAXIS470 Shovel variant
Strong distribution network and efficient onsite service solutions
IT enabled solutions to address customer needs
Skill development training for operators
Tata Hitachi Construction Machinery Co Pvt. Ltd has been contributing towards the development of Infrastructure & Mining sector for over five decades. Focused on developing global products to suit Indian working conditions. The organization's product lineup includes a wide range of excavators: from 2T – 800T Excavators, 35T to 290T Rigid dump trucks, Wheel Loaders, Backhoe Loaders, and Motor Graders etc.
Tata Hitachi prioritizes outreach to customers through a strong distribution network that aids in the servicing and selling of products. The vast network includes a marketing head office, regional offices, branch offices and dealerships spread across the length and breadth of the country. Added to this is Full Maintenance contracts providing round the clock services to the customers on site, by deploying highly skilled and trained service teams supported by parts ware houses to ensure uptimes of equipment's.
A pioneer in introducing the latest technologically advanced equipment in the Indian market , Tata Hitachi has migrated technology from the EX series to EX Super of excavators and ZAXIS series to ZAXIS GI series of excavators where features like online access to location of equipment, online health monitoring system, etc. have been included.
In addition to this, the organization has introduced Consite – an IT enabled tool through which machine reports are transmitted to the customers' mail ID : helping them make their operations smart & efficient. Safety features have also been added in to the mining class excavators: e.g. travel motion alarms, online- vehicle health monitoring system, rearview camera, etc. – some of the many firsts from the organization in the manufacturing of Mining excavators in India.
Hitachi Construction Machinery Co. Ltd., Japan (HCM) also been continuously evolving technology for mining excavators and rigid dump trucks. The AC drive trucks manufactured by HCM are fitted with proven Hitachi Motors, IGBT technology, and have features like Arial Angle, trolley assist, etc which make these trucks outperform all others in its class. HCM offers the fleet management system "WENCO" to make the utilization of the equipment's effective and efficient thereby making the mining operations more productive.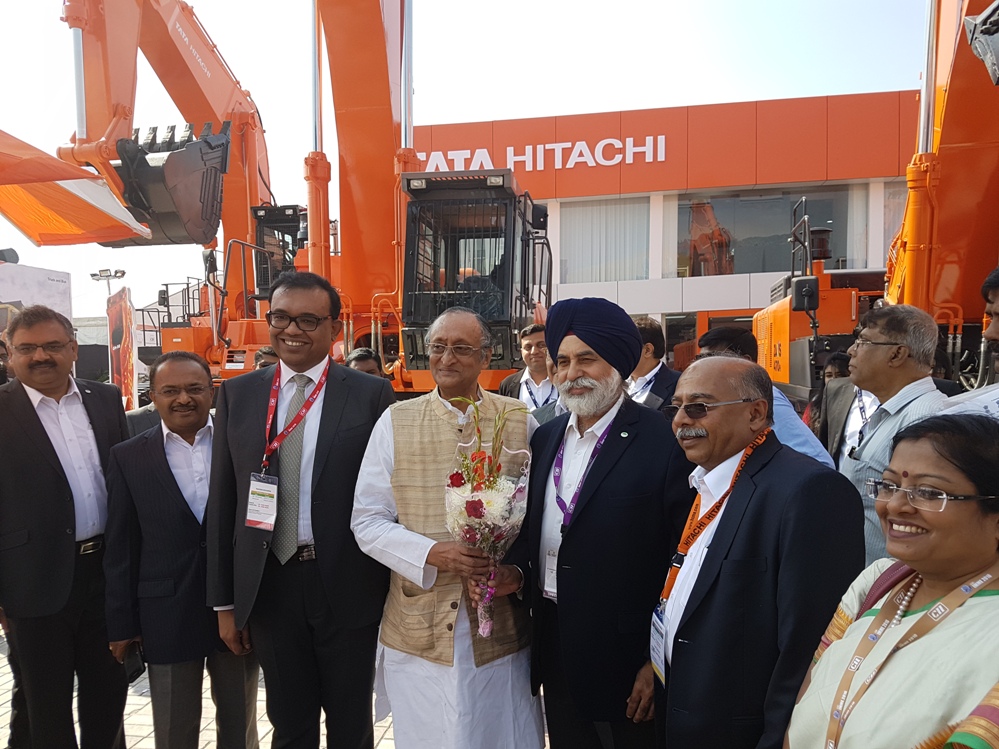 Speaking at the Tata Hitachi pavilion, Mr Sandeep Singh, Managing Director, Tata Hitachi said "At IMME, we are demonstrating our unmatched strength in Mining by showcasing our Hydraulic excavators: EX1200V, ZX870H, ZX650, ZX470H (Backhoe), ZX470H (Shovel) & the Wheel Loader ZW220. We are also launching our ZAXIS470 Shovel variant. Along with this, our support pavilion showcases CONSITE , the Training Simulator , the FMC Pavilion , the WENCO demonstration, attachments (Rock Breaker), spares support counter and the new Hitachi GET's designed and developed by Hitachi for the Ultra Large Class of excavators."
Tata Hitachi has been a pioneer in training operators to improve their skill sets in the mining equipment Industry. Though the upgrading of technology has improved efficiency of equipments, it has been found that many a times the operator needs to be trained to update his skills to optimize machine usage. To address this requirement, Tata Hitachi has set up Skill Development Centers and Operator Training Schools at Kharagpur and Dharwad where hands – on training is provided for new recruits and refresher courses for the factory and serv
ice personnel to help them sharpen their skill sets and keep them abreast of the latest technologies.