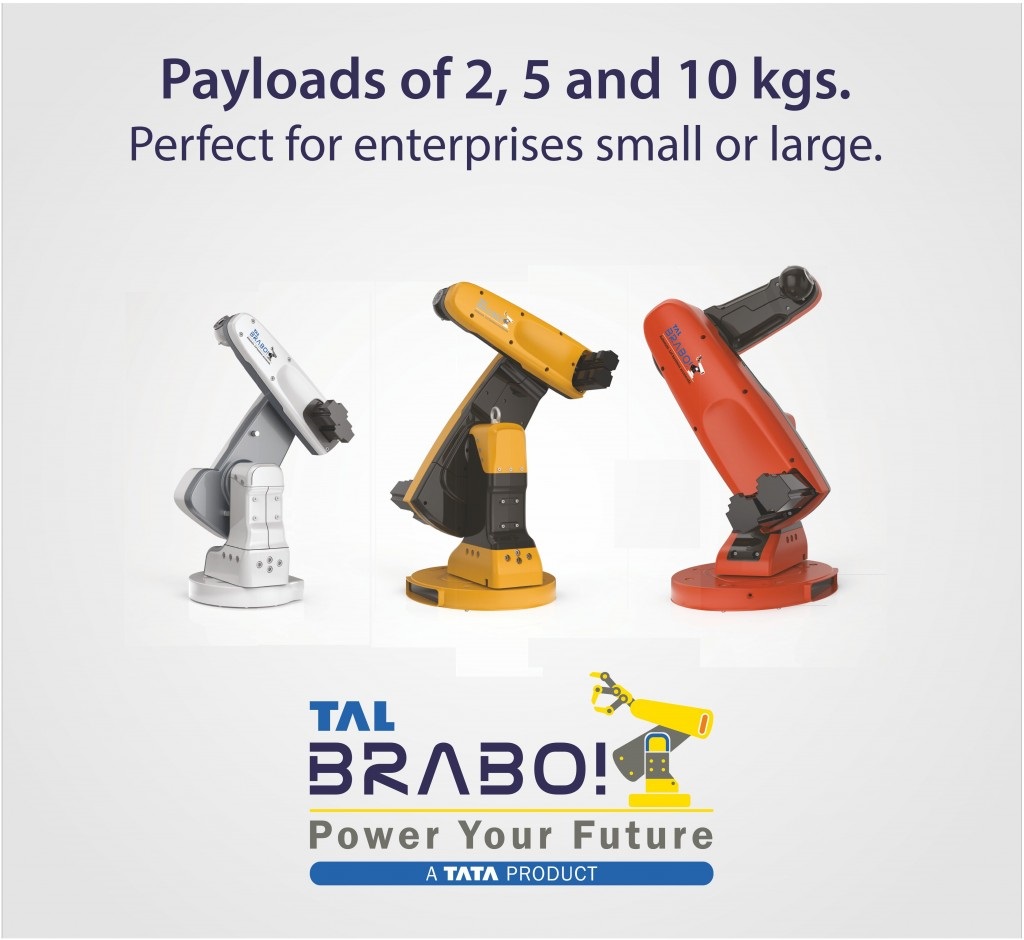 Pune, January 25, 2017: TAL Manufacturing Solutions Ltd, a Tata Enterprise a wholly owned subsidiary of Tata Motors is set to take the industrial manufacturing in India by storm by showcasing the compact BRABO 2kg payload range of indigenous Industrial Articulated Robot at the IMTEX 2017. Terming the phenomena as 'Robolution', Industrial Robotics will take a quantum leap with TAL BRABO expanding their robot lineup to cater to OEMS, medium and small enterprises.
With its focused effort on customer-centricity, TALBRABO is poised to transform the manufacturing ecosystem in India. TAL's new small robot offers all the functionality and expertise of the BRABO range in a much smaller package, helping to simplify industrial manufacturing with improved quality and productivity. Its size, combined with its lightweight design, makes the BRABO 2kg a reliable choice for generating high production outputs in return for a minimal investment. TAL BRABO is directed towards change in not only to the OEMs, but also to Tier 2 and Tier 3 suppliers who can automate their facilities by deploying robots, which will complement the human workforce, by taking over dull, dangerous, repetitive, and dirty jobs.
Mr. Amit Bhingurde, Chief Operations Officer, TAL Manufacturing & Solutions Limited. "Customer-Centricity is at the core of TAL BRABO's operations; it follows the outside-in- perspective to solve the numerous problems of its customers in the manufacturing space. Our aim is to strive and deliver best engineered solutions, our vast experience in providing manufacturing solutions and in mechatronics, enables us to offer ingenious engineering solutions especially for the pain points of manufacturers; thereby ensuring a seamless customer service experience. By supporting the various industries, we are also expanding our product portfolio which will help more manufacturers realize the benefits available from robotic technology. We are very excited to showcase solutions by low payload 2 Kg TAL BRABO Robot at South East Asia's apex exhibition the IMTEX 2017."
Since its inception more than 40 years ago, TAL brings lot of experience and expertise in providing manufacturing solutions. In export markets, TAL BRABO has already started exporting to Middle East Countries, and will now be predominantly targeting towards markets in SAARC countries. The present production capacity is around 3,000 and can be increased on an annual basis. While the investment on R&D is an ongoing process, in the new Technology initiatives in TAL with Aerospace & Robotics, approximately INR180 Crores already has been invested. TAL has set up a live demonstration center for their customers at their Demo Facility in Pune where robots are being demonstrated performing multiple applications like, sorting with vision system, press tending, gluing sealing, machine tending, pick& place, welding and various other application.
TAL BRABO will focus on automotive, electronics, logistics, food, packaging, pharmaceutical and other industries. The current list of customers includes TATA Motors Limited, Mahindra & Mahindra, L&T, Diebold, CPG Industries, Hydromatik, SGK Industries RTA Spa Italy, BITS Dubai Campus