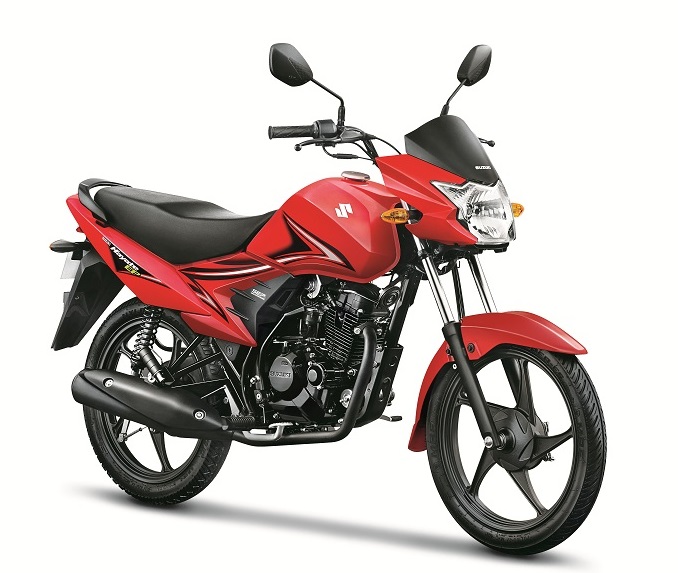 Suzuki Motorcycle India Private Limited (SMIPL), a subsidiary of one of the world's leading two-wheeler manufacturers Suzuki Motor Corporation, Japan, is proud to present the all new Hayate EP with innovative technologies.
The all new Hayate EP is a high-tech and robust 110cc motorcycle, guaranteed to attract daily commuters. The motorcycle, now powered by Suzuki's SEP cutting edge technology, uses the Suzuki Super Sleek Piston, high-ignition spark plug and low friction cylinder & piston rings. This aids in improved combustion, high compression ratio, reduced friction and weight reduction. This allows the Hayate EP to give powerful pick-up with superb real road mileage.
The all new Hayate EP has a longer seat to provide more comfort to its riders. It also has the longest wheel base and a brand new diamond frame, which gives the rider utility and comfort plus unmatched stability. On the convenience front, the Hayate EP comes with a maintenance-free battery, tubeless tyres and a 5-step adjustable rear shock absorber. This translates into hassle-free travel as well as a more stable ride for both the rider and the pillion.
The new Hayate EP sports powerful and edgy lines on the tank and tail, sporty mirrors and stylish new graphics that give the motorcycle an exciting look. Hayate EP is available in 3 attractive colours – Metallic Oort Grey, Pearl Mira Red and Glass Sparkle Black. Whatever the colour, the Hayate's distinct character will make the rider stand out in the crowd.
The Hayate EP will be available in the market in the current financial year and the pricing will be announced alongside.
Mr. Masayoshi Ito, Managing Director, Suzuki Motorcycle India Private Limited (SMIPL), said "The all new Suzuki Hayate EP appeals to every modern Indian rider. Our engineers and designers have worked very hard to give the Hayate EP superior fuel efficiency without compromising on pick-up. Added to that, the unmatched riding comfort of the Hayate EP makes it an ideal ride for daily commuters. We are confident that the new Hayate EP will be very well received in the market."
ABOUT SUZUKI MOTORCYCLE INDIA PVT LTD (SMIPL)
Suzuki Motorcycle India Private Limited is a subsidiary of Suzuki Motor Corporation, Japan wherein they have the same manufacturing philosophy of VALUE PACKED PRODUCTS right from the inception. SMIPL manufactures two-wheelers best suited for the valuable Indian customers. The Company started its India operations in February, 2006.