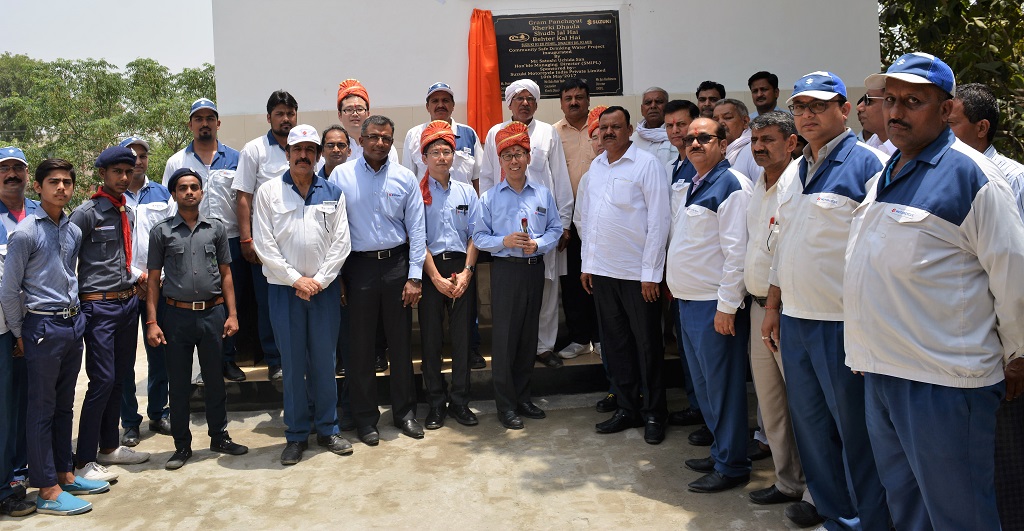 Installs refrigerated RO plant in government school at Kherki Daula as part of CSR
New Delhi, May 10th, 2017: Suzuki Motorcycle India Private Limited (SMIPL), a subsidiary of one of the world's leading two-wheeler manufacturers, Suzuki Motor Corporation, Japan, today extended its CSR outreach to people in Haryana by installing a refrigerated RO water plant in the Government Senior Secondary School at Kherki Daula Village.
Mr. Satoshi Uchida, Managing Director, SMIPL, inaugurated the advance technology water facility today in presence of the community leaders and school officials, which will provide safe and cool drinking water to the students of school in Kherki Daula.
Speaking on this CSR initiative, Mr. Satoshi Uchida, Managing Director, SMIPL said, "Suzuki constantly strives to improve the quality of life and has ranked the interest and wellbeing of the community as a priority. Installation of the drinking water plant in the Haryana government school is yet another step in same direction. This is part of Suzuki's endeavour to cater to requirements of access to safe and hygienic drinking water for school going children in rural areas. Availability of cool and fresh drinking water at the government school in summer will add yet another attraction for children in Kherki Daula village to attend classes and prepare themselves for a better future."
ABOUT SUZUKI MOTORCYCLE INDIA PVT LTD (SMIPL)
Suzuki Motorcycle India Private Limited is a subsidiary of Suzuki Motor Corporation, Japan wherein they have the same manufacturing philosophy of PRODUCTS OF SUPERIOR VALUE right from the inception. SMIPL manufactures two-wheelers best suited for the valuable Indian customers. The Company started its India operation in February, 2006.