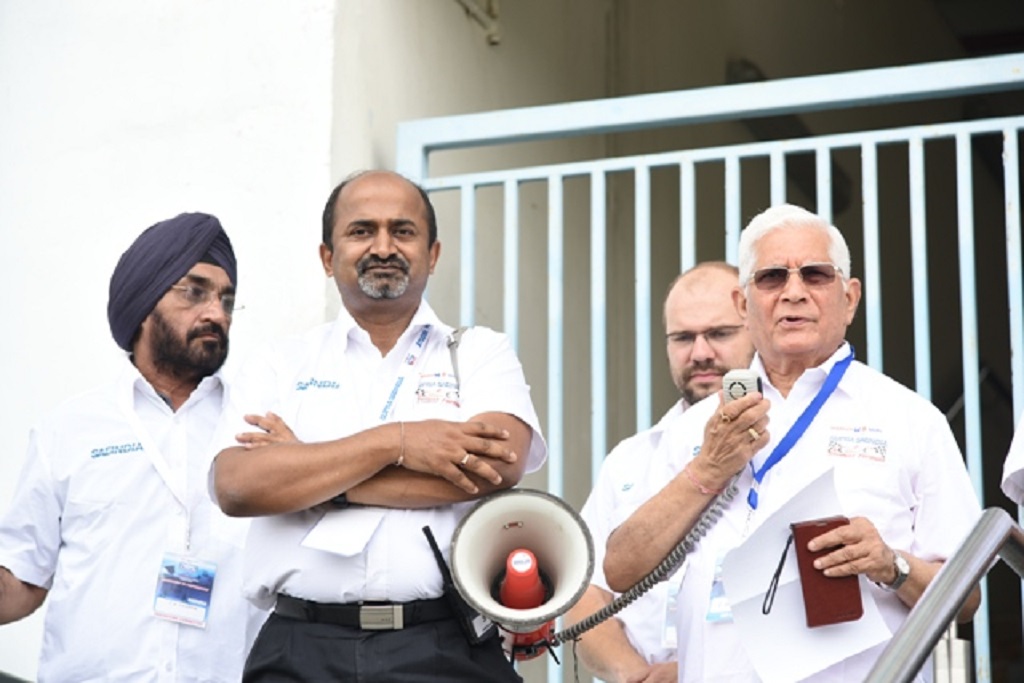 ~ Over 3500 engineering students representing 125 teams compete to design a Formula prototype car ~
The 5th edition of SUPRA SAEINDIA, India's biggest formula studentcompetition was kicked off with the oath ceremony at the Formula 1 track, Buddh International Circuit in Greater Noida, today. The oath for the much awaited student formula competition was administered by Mr Balraj Bhanot Chairman Transport Engineering Division Council (TEDC) of BIS. Organized annually by SAEINDIA,the eventprovides a platform for students toapply their engineering skills to design and construct a Formula category vehicle as per defined performance and safety specifications.SUPRA SAEINDIA 2016 will comprise a series of static and dynamic events spread over five days, concluding with a final endurance test and a valedictory function on July 9th. Mr. Narain Karthikeyan, the first Indian Formula 1 driver, will visit SUPRA 2016 on July 8th, the penultimate day of the event, to interact with the student community and encourage them.
Mr. Balraj Bhanot, Chairman Transport Engineering Division Council (TEDC) of BIS, Mr. Prashant K. Banerjee, Convener- SUPRA SAEINDIA 2016 & Deputy Executive Director (Technical) Society of Indian Automobile Manufacturers, Mr. C.L. Dhamejani, Ex-Director, Vehicles Research & Development Establishment, Ahmednagar (DRDO), currently the Principal of Jai Hind College of Engineering, Pune and Mr. N.S. Rao, General Manager,( R&D) Maruti Suzuki India Ltd and Co-Convenor, SUPRA SAEINDIAwere amongst the dignitaries present at the occasion.
In order to encourage an increasing number of women to participate in the event, two special award categories have been announced for this year. While the first recognizes the best woman participant, the second rewards the team with the maximum number of women participants. Around 200 women will be participating in SUPRA this year and there will be an all women's team joining the event.
Maruti Suzuki India Limited is the title sponsor of SUPRA India 2016, continuing to support the event for the fifth consecutive year.  Other sponsors include TOTAL, BPCL, Castrol, Shell, AVL, Siemens, Altair, Ansys, MRF, CEAT, GKN, HORIBA, ELEATION,DASSAULT SYSTEMS, Hindustan University, Tripti Hospitality,Continental and Viper Hobbies.
The competition provides an opportunity for teams to create a virtual design, build a prototype and test their own formula type race car during the course of a year. It has multiple stages such as virtuals in which students have to present and defend their designs, followed by actual construction of the vehicle. Encompassing all elements of vehicle building, from aesthetics in design, to choice of parts, structure design and modeling, safety, and above all, fabrication and testing, the competition aims to create industry ready engineers.
The challenge for the participating engineering students is to constantly innovate and bring about changes for reduction in weight, fuel economy and increased efficiency in transmission. The students are guided and mentored by industry professionals and faculty advisers who are imparted training and guidance by technical experts of SAEINDIA.
The event will be judged by a panel comprising 200 eminent experts from the automotive industry, including four international experts – Mr. Benjamin Moeller, Mr. Christian Thomas Amersbach, Mr. Christoph Martin Beisswanger from Germany and Ms. Anastasia Potrashkova from Russia.
FORMULA SAE is a student design competition organized by SAE International, held annually in the USA. The competition started in 1978 and was originally called SAE Mini Indy. In 2011, SAEINDIA decided to start the event in the country and named it SUPRA (abbreviated from Super Racing).