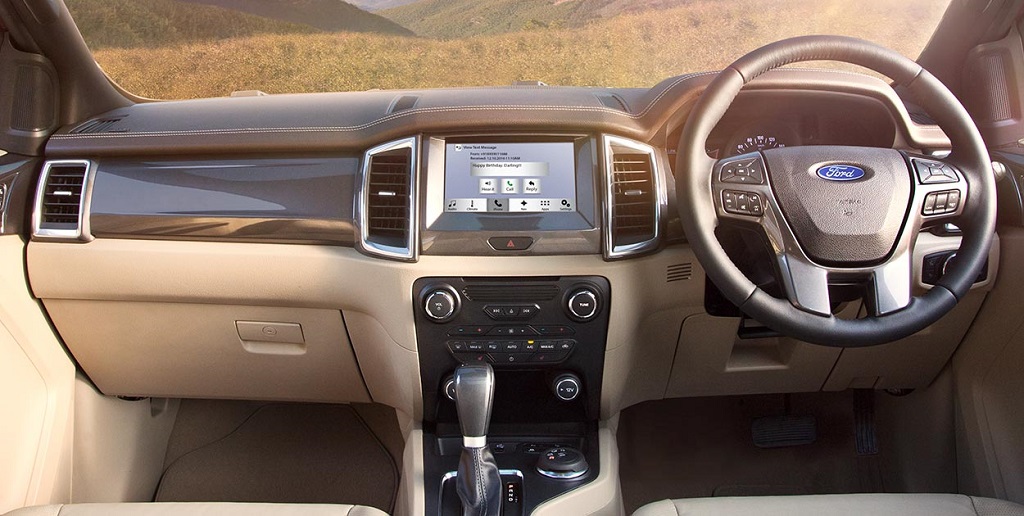 From streaming music to accessing live weather or news updates, your voice can do a lot more with AppLink compatible smartphone applications
New Ford AppLink apps include popular music streaming app Hungama, news aggregator InShorts, weather provider AccuWeather & others
Ford's latest in-car connectivity system with SYNC AppLink uses simple voice commands to elevate a smart, connected and safe driving experience; apps available across Ford cars and SUVs in India
NEW DELHI, May 24, 2017 – From streaming music, to exploring a new city or real-time weather to live news updates, SYNC AppLink is bringing five new apps to Ford dashboards in India. The new and updated compatible apps seamlessly integrate into the connected lifestyle of today's always-on consumers with their Ford vehicles. SYNC AppLink allows drivers to access and control compatible smartphone apps through voice commands or the in-vehicle touch screen. The platform helps Ford owners stay safely connected to their world while keeping their hands on the wheel and eyes on the road.
The new additions to the SYNC AppLink catalogue include well-known music streaming service provider Hungama, news aggregator InShorts, weather forecast services provider AccuWeather, and parking locating app Pparke. In addition, MapMyIndia has updated its SYNC AppLink-enabled app to include new voice and textual directions to a destination of choice.
"We are excited to expand Ford's SYNC AppLink portfolio with new India-specific apps. These new apps are an easier and more convenient way for our customers to integrate their connected lifestyle with their cars," said Julius Marchwicki, Director Connected Vehicle & Services, Ford Asia Pacific. "Today, there is an increased need for connectivity wherever you are and SYNC AppLink platform gives drivers and occupants more choices to make their driving enjoyable and informative while on the move."
An award-winning in-car connectivity platform SYNC is Ford's intuitive connectivity & infotainment system that allows customers to use voice commands to make calls, play music and get useful information about their vehicle.
Listen to Your Favourite Music on-the-go with Hungama Drive
Streaming on-the-move has rapidly become one of the most popular ways to consume music but smartphones can contribute to driver distraction. With Hungama Drive and SYNC AppLink, Ford owners can stream music without fiddling with their phones. The SYNC AppLink compatible version of the app will allow Ford owners to play their favourite music via simple voice commands.Hungama Drive will be available for Ford owners starting mid-June.
Hungama is a renowned music streaming app with a vast library of more than 3.5 million songs in five major Indian languages, including Hindi. It also offers a rich selection of English songs.
Always Stay Updated with InShorts
With Indian drivers on average spending nearly 12-hours commuting every week, staying up to date with the latest news is always a priority. A SYNC AppLink compatible version of this news aggregating app will now be available for use in Ford vehicles. InShorts app will read news in an easy to comprehend format. Ford owners will simply have to use voice commands to get their customized news feed to stay up to date with the latest developments in the world.
Explore More in your City with Maps by MapMyIndia
From popular hangouts to essential utilities, Maps by MapMyIndia app helps Ford owners to explore more in their cities, enables them to locate and navigate to their nearest attractions, fuel filling stations, hotels and other points of interest. To minimize distractions, the app helps navigate to any destination using spoken and textual driving directions, thereby preventing drivers from looking at their smartphone while driving.
Be sure of the weather with AccuWeather
AccuWeather, a well-known source of weather forecasts with millions of users in India, is now available with SYNC AppLink.  AccuWeather provides accurate local weather information and updates, including daily high and low temperatures, five-day forecast and more, ensuring Ford owners are prepared and safe for changing weather conditions on their journeys.
Parking Woes are Things of the Past with Pparke
Finding a place to park has emerged as another big contributor to stress amongst Indian drivers. The SYNC AppLink now features PParke app that enables Ford owners to not just identify the closest parking lot but also provides full address, distance from the current location, number of parking spots available and the price to park.
This integration is possible through SmartDeviceLink, the open-source software on which the SYNC AppLink™ platform is built. SmartDeviceLink enables smartphone app developers to seamlessly integrate their apps with the vehicle's display screen, steering wheel controls, and voice commands. Part of the Ford SYNC® platform, AppLink is available on new Ford vehicles around the world including the entire Ford India vehicle portfolio — Ford Figo, Ford Aspire, Ford EcoSport, Ford Endeavour and Ford Mustang.