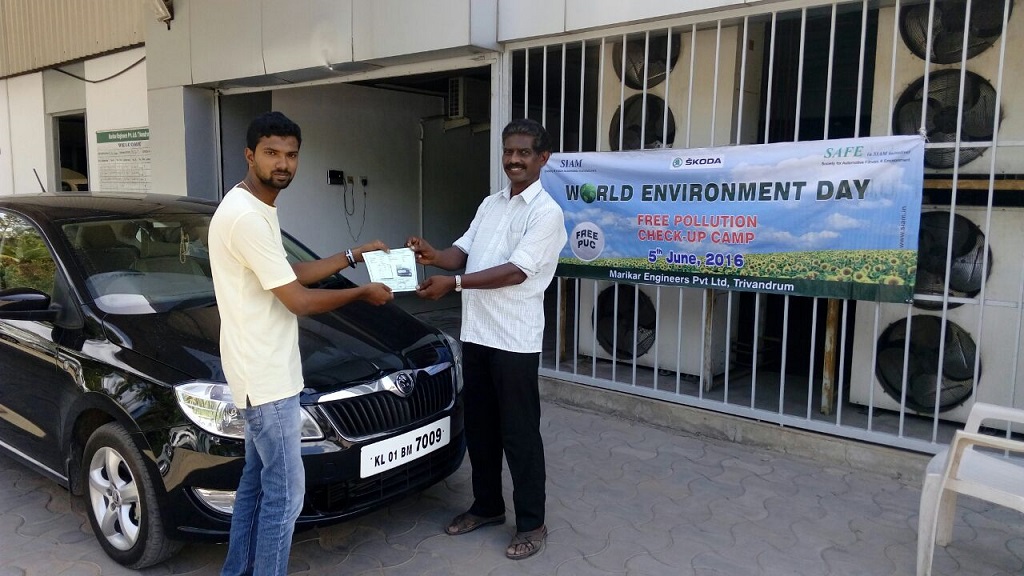 Commemorating World Environment Day, SIAM-SAFE partnered with 5,500 automobile dealers to boost safety and environment awareness among vehicle owners and society at large
SIAM aims to reach out to over 1 million consumers through this initiative
Free day-long PUC (pollution under control) check-ups organised for over 1 lakh vehicle owners

Free PUC certificates issued to 1 lakh commuters at various dealers across India
Society for Automotive Fitness & Environment (SAFE), an initiative by the Society of Indian Automobile Manufacturers (SIAM) celebrated the World Environment Day on the 5th June 2016 across 5,500 automobile dealers throughout the nation. SAFE organised various activities related to environment safety and conservation along with a pledge to spread awareness around environment protection, sustainability and eco-conscious growth. The nationwide initiative is also being continued today and will be extended for a week in select dealerships for better reach and service.
As global warming and climate change trigger periodic environmental crises such as flash floods, drought, erratic weather patterns, forest fires, deforestation, etc., it is imperative to garner the support of individuals, corporate and societal entities as well as communities at large for the common cause of environment protection. Therefore, on the occasion of World Environment Day, SAFE is organising several mass awareness campaigns with special focus on Safety, Environment and Technology to promote environment safety and protection.
Some specific activities undertaken included free day-long PUC (pollution under control) check-ups and the issuing of free PUC certificates at various dealers across India. Over 1 lakh vehicles were provided free PUCs and 1 lakh vehicle owners were given free PUC certificates. Several unique initiatives – such as a drawing competition for kids, environment conservation tips for customers, sapling distribution, tree plantation, green processions, awareness rallies, etc., – were conducted at dealership outlets. This activity is part of several initiatives from the body to cater to various challenges faced by the sector.
Speaking on the eve of the launch, Mr Vishnu Mathur, Director General – SIAM, said: "SIAM is fully committed towards environmental sustainability and the World Environment Day an ideal platform for the Indian Auto Industry to drive awareness about key environmental issues. SAFE is founded on the firm belief that community education and public consciousness about environmental issues are pivotal to curb air pollution. Air pollution is a major and immediate threat and it is imperative that corrective and preventive measures are taken. This initiative is aimed at educating car owners as well as the society at large about creating a cleaner, greener environment. We urge all vehicle owners across India to work towards the cause of safeguarding the environment and help us realise the goal of ensuring sustainable, environment-friendly growth in the coming years."
Several manufacturers such as Ashok Leyland Ltd, Bajaj Auto Ltd, Ford India Pvt Ltd, General Motors India Pvt Ltd, Hero MotoCorp Ltd, Honda Motorcycle and Scooter India Pvt Ltd, Hyundai Motor India Ltd, India Yamaha Motor Pvt Ltd, Mahindra and Mahindra Ltd, Maruti Suzuki India Ltd, Nissan Motor India Pvt Ltd, Renault India Pvt Ltd, Skoda Auto India Pvt Ltd, SML ISUZU Ltd, Tata Motors Ltd, Toyota Kirloskar Motor Pvt Ltd, TVS Motor Company Ltd will participate for the common cause through their dealerships.
About SAFE
To promote Inspection and Certification (I&C) of vehicles and reduced emission from in-use vehicles as well as drive increased safety on roads, the Society of Indian Automobile Manufacturers (SIAM) has launched an independent body, Society for Automotive Fitness & Environment (SAFE). With memberships from Industry, Government, Testing Agencies and NGOs, SAFE will work to generate awareness among various stakeholders vis-à-vis Inspection & Certification of in-use vehicles to ensure vehicle safety and a cleaner environment.
SAFE has organized Inspection Clinics for in-use vehicles and training workshops for emission technicians in various parts of the country. These programmes are meant to create awareness among vehicle owners on the importance of regular maintenance, which is one of the most effective ways to control vehicular emission levels. Additionally, SAFE will organize seminars in coordination with State Governments and other stakeholders.
SAFE has already undertaken several initiatives on Road Safety education of students, drivers and the general public. Through Road Safety Awareness Programmes, SAFE educates the community on traffic rules and inculcates a proper, responsible attitude towards fellow road users. SAFE is a catalyst in the automobile industry's endeavour to fulfil its commitment towards a cleaner and safer environment and will continue to support and enhance the industry's role as a responsible corporate citizen.