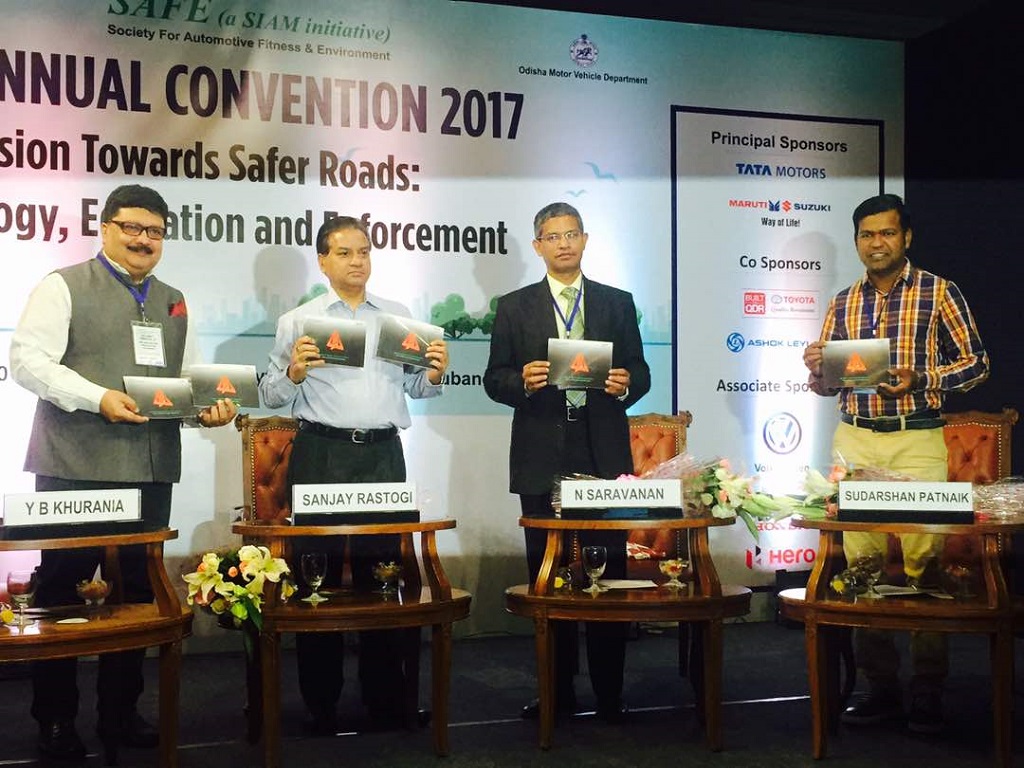 Bhubaneswar, April 20, 2017: Society for Automotive Fitness & Environment (SAFE), a SIAM initiative in association with Ministry of Road Transport & Highways, Transport Department Government of Odisha, organised its annual convention today in Bhubaneswar, Odisha. The theme for this year's convention was 'Vision towards Safer Roads: Technology, Education & Enforcement'.
The SAFE convention was organised to share the best practices adopted by government and private organisations in areas of vehicular safety, technology innovations, and standards for enhancing road safety. The convention was attended by prominent guests from the ministry and the delegates from different backgrounds.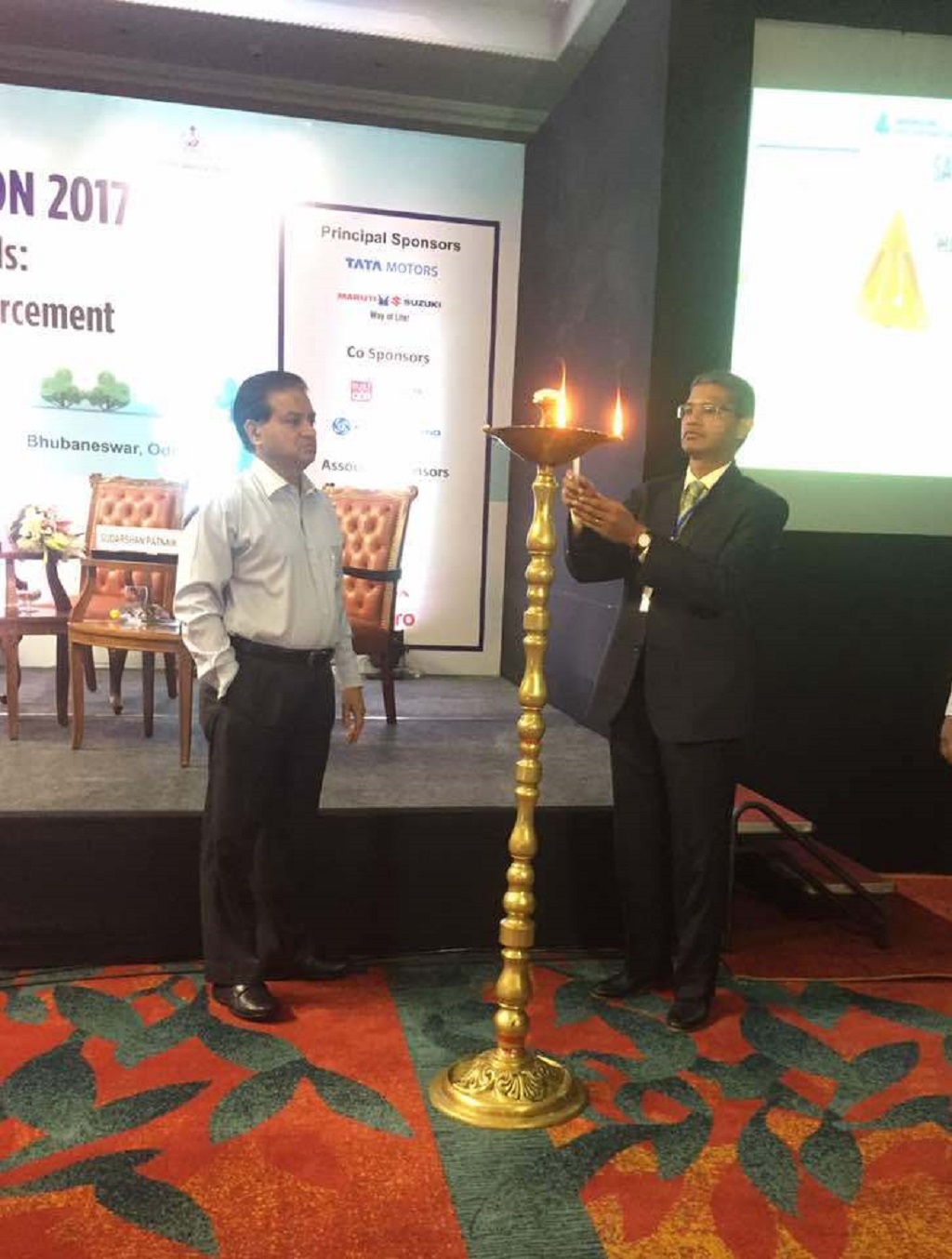 SAFE also launched Road Safety Compendium of Indian Automobile Industry during the SAFE Annual Convention 2017. The compendium was launched by the guest of honour, Mr. Sanjay Rastogi, Principal Secretary, Department of Commerce and Transport, Government of Odisha.
The inaugural session was addressed by Dr N Saravanan, President, SAFE along with Mr Sanjay Rastogi, Principal Secretary Department of Commerce and Transport, Government of Odisha , Mr. Sudarsan Patnaik, renowned sand artist, Odisha and Mr. Naveen Soni, Vice President, SAFE.
Speaking at the convention, Dr N Saravanan, President, SAFE said, "Road safety is a shared responsibility. We as manufacturers are committed to initiate steps to equip vehicles with safety technologies and support the creation of responsibility and safety culture with our users. We Indian automobile manufacturers are the integral part of SAFE's family and we are confident that with the support of Government and all other stakeholders, our efforts to make roads safer and develop sustainable road transport system are achievable."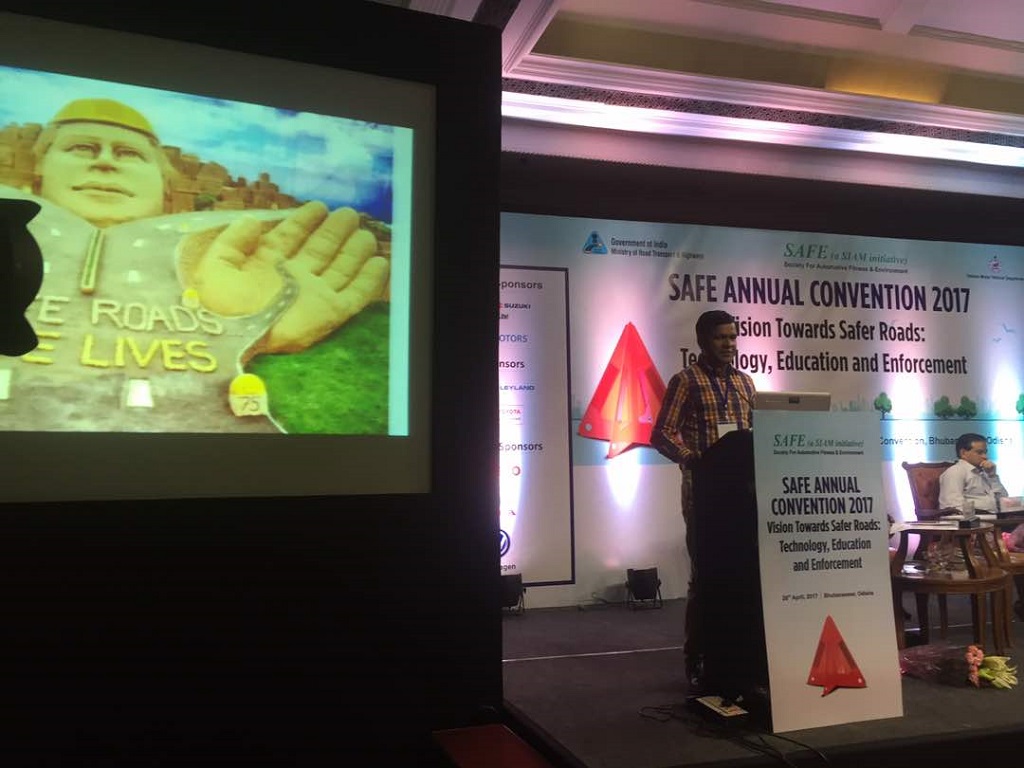 Guest of Honour, Mr Sanjay Rastogi, Principal Secretary Department of Commerce and Transport, Government of Odisha reiterated his views during his address. He said "Every individual is responsible for making the roads safer. The government alone cannot enforce the road safety measure without the help of drivers, pedestrians and the auto industry. We all have to come together and educate the people and reduce the fatalities on our roads. SAFE, by organising this seminar with all stakeholders, is going to come out with ideas on safer roads which can be implemented for road safety."
Two different technical sessions were organised during the convention. The first technical session highlighted the projects implemented and upcoming road map by Government of Odisha. Mr Tapan Mishra, Assistant Director, Transport Department, Government of Odisha, along with Mr Bikash Mohapatra, Secretary, Forum for Prevention of Road Accidents and Mr Mahesh Rajoria, Advisor, Maruti Suzuki India Ltd gave the presentations during the session. The session highlighted the steps taken up by NGO, Forum for prevention for Road Accidents. They have been consistent on creating Road safety committees and driver training clubs. During the session, Mr. Mahesh Rajoria, Advisor Maruti Suzuki India gave a presentation on quality of driving training.
The second technical session encapsulated the steps taken in planning the traffic and data analysis. During the session, Mr. Amit Bhatt, Integrated Urban Transport, WRI made a presentation on 'Making cities safer by design'. Mr. Abbas Rawat, , KPIT Technologies encapsulated the importance of traffic demand handling. Mr. Sitikantha Padhy, NATRiP and Mr. N Balasubramanian, Renault Nissan shared their insights on accident data collection and on-road analysis.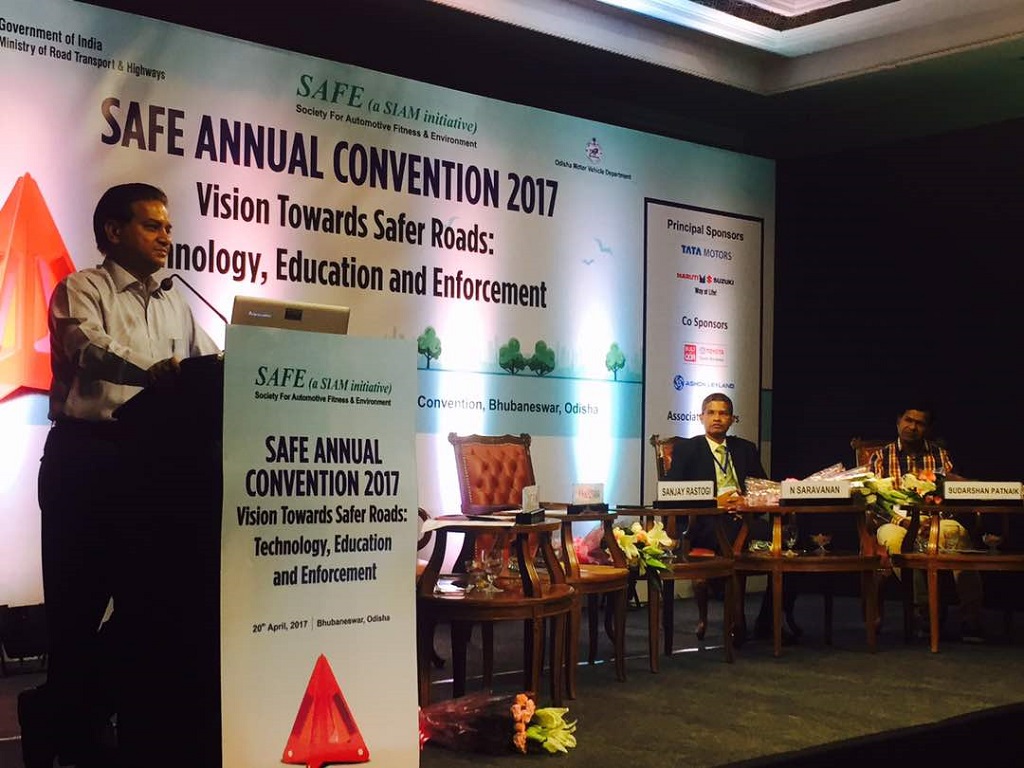 The final session comprised of a panel discussion was coordinated by Mr. K.K Gandhi, Executive Director SIAM and moderated by Dr. N Saravanan, President SAFE. The panellists discussed the Road Map of usage of ITS in improving Safety and environment. The panellists included Mr. D Balakrishnan, Ashok Leyland; Dr. Madhu Errampalli, CRRI; Mr. Guururaj H, KSRTC and Mr. Sangeet Kapoor, Tata Motors.
About SAFE
In order to achieve advancement of Inspection and Certification (I&C) of vehicles and reduced emission from in-use vehicles as also increased safety on roads, the Society of Indian Automobile Manufacturers (SIAM) has incorporated an independent body, Society for Automotive Fitness & Environment (SAFE).
With memberships from Industry, Government, Testing Agencies, and NGOs, SAFE works to generate awareness among the various stakeholders regarding Inspection & Certification of in-use vehicles which would lead to safe vehicles and cleaner environment.
SAFE organizes Inspection clinics for in-use vehicles and training workshops for emission technicians in various parts of the country. These programmes are aimed to create awareness on the importance of regular maintenance among vehicle owners. It is one of the most effective ways to control emission levels from vehicles in the country. In addition SAFE organizes seminars with State Governments and other stakeholders.
SAFE has also undertaken several initiatives on Road Safety education of students, drivers and public at large. Through Road Safety Awareness Programmes, SAFE tries to apprise the community on traffic rules and also to inculcate correct and responsible attitude towards fellow road users.
SAFE is a catalyst in the automobile industry's endeavour to fulfil its commitment towards a cleaner and safer environment and will continue to support and enhance the industry's role as a responsible corporate citizen in the country.