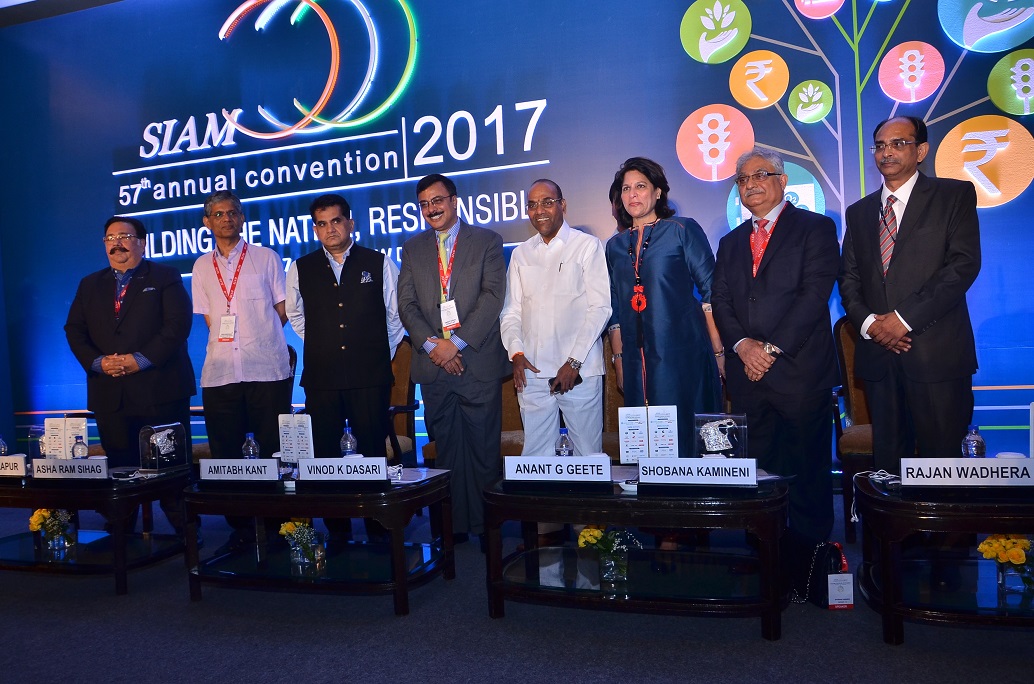 New Delhi, 7 September: The Society of Indian Automobile Manufacturers (SIAM), an industry body representing India's automobile sector, held its 57th Annual Convention today titled "Building the Nation, Responsibly" where speakers highlighted new challenges evolving globally concerning innovations, reduce dependence on single technology and focus on R&D for sustainable development of automobile sector.
Speaking at SIAM's Annual Convention, Union Minister of Heavy Industries and Public Enterprises, Mr Anant G Geete said India's automobile industry has been a primary contributor to Prime Minister Narendra Modi's `Make in India' initiative.
"We as the guardian of the automobile sector, assure you that the government will do everything and help the industry by all means. There are concerns raised over GST, Goods and Service Tax, unified tax regime implemented on July 1 and its impact on auto industry. I assure you that it is the duty of the government to offer all help to the industry in this regard," Mr Geete stated.
Commending the auto sector, Mr Geete said: "Global automobile industry have set up giant manufacturing plants in India. They not only manufacture vehicle for us but also export to other countries globally. Even the Euro VI emission cars are being manufactured and exported globally. At the same time, we have to change with the changing times and adopt to newer technology within the country also".
The minister also launched the voluntary vehicle recall initiative by SIAM.
Mr Amitabh Kant, CEO of NITI Aayog, government's main policy think-tank, calling India's automotive industry as the pride of the country and said it played a very crucial role in India's growth. "The government feels that the courts should have hands-off approach," he added.
Mr Kant also pointed out that there has to be clarity, consistency and continuity in the policy and that all policies for auto sector should be technology agnostic and left to the market forces for its self-sustaining growth.
Mr Kant said that over- dependence on a single technology may scuttle the R& D spirit, innovations and out of the box thinking which may not be helpful for automotive sector.
He pointed out that India's automobile industry must think of the size and scale that is required and must follow innovation plans.
"The conventional regulatory policies in the automobile sector so far have been incremental and gradual. However, the recent decisions like leapfrogging to BS-VI emission norms, 100 % electric vehicles by 2030, methanol economy and fuel efficiency norms are transformational and will have fundamental impact on entire automotive ecosystem without any transitional phase," Mr Kant observed. This is one of the most disruptive phases for the automotive industry globally.
Mr Kant also stated that India is catching up fast with the world's automotive leaders in greening the mobility by promoting EVs and with alternate cleaner fuels that could provide environmentally sound, seamless and convenient connectivity to urban and rural areas in India creating jobs, improving the lives of masses, and protecting the environment and climate change.
"We should have India as hub for EV growth," he added. He also called upon the industry to formulate and suggest overall policy for EV promotion. He said India should be the base for zero defect and zero effect' and with homegrown innovations, India should be the base of manufacturing.
Earlier while welcoming the delegates Mr Vinod K Dasari, President SIAM, CEO and MD of Ashok Leyland said India's automobile industry is today standing on the threshold of major transformations and unprecedented challenges.
Ms Shobana Kamineni, President, Confederation of Indian Industry and Executive Vice-Chairperson, Apollo Hospitals Enterprise Limited said NPA and subdued demand is one of the challenges today. "Creating new jobs and industrial infrastructure is also a worry. The auto industry is wherewithal of the entire economy." She also called for joint initiative in areas for smart manufacturing and skilling.
Mr Dasari urged the government to create a National Automotive Board which considers the concerns of all factions and then prepares a clear and ambitious, long term roadmap for regulations that are in the best interest of the country. "We do not need to simply copy the regulations from Europe," he pointed out.
Mr Dasari also called for providing greater impetus for doing more Design in India as this is the only way we will gain traction with government's `Make in India' initiative.
He also appealed to the government to bring in legislation to reduce polluting vehicles and ban vehicles which are more than 15 years old. "To reduce pollution we have committed to Euro 6 levels in 2020 already. We request that you please bring in legislation to reduce polluting vehicles and ban vehicles which are more than 15 years old," Mr Dasari explained.
He also announced that as a voluntary measure, SIAM will initiate three more Voluntary Codes of Practice a Full compliance to the Bus Body Code which is ready but yet to be implemented by government, banning use of certain materials in the manufacturing processes for vehicles and components that are now globally known to have hazardous effects on the health of people; and making all Vehicle Recall data available on the SIAM and the MoHI Websites for public consumption.
"Any country with a strong defence force also has a dynamic and committed auto industry that provides the backbone for the defence equipment. India is no different. We generate over 30 Million jobs, spend more than 10% of the country's R&D, and contribute to over half the manufacturing GDP. We are slowly but surely becoming an integral part of the security of our nation," he stated.