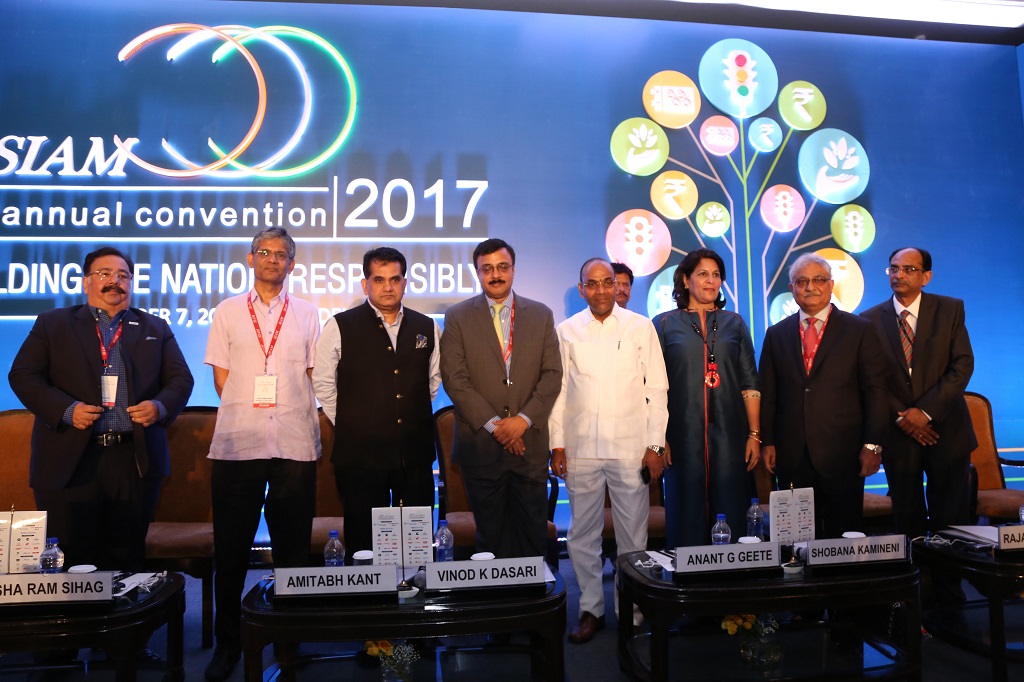 New Delhi, 7 September: The Society of Indian Automobile Manufacturers (SIAM), an industry body representing India's automobile sector, held its 57th Annual Convention today where Union Minister of Road Transport & Highways, Mr Nitin Jairam Gadkari called upon India's automobile industry to gear up to face the competition heating up in the international market.
Speaking at SIAM's Annual Convention titled "Building the Nation, Responsibly" Union Minister of Road Transport & Highways, Mr Nitin Jairam Gadkari said Indian automotive industry has done well despite facing various regulatory hurdles and environmental issues.
Mr Gadkari said the theme of the convention: "Building the Nation, Responsibly" gels well with the Government of India initiative "SANKALP Se SIDDHI".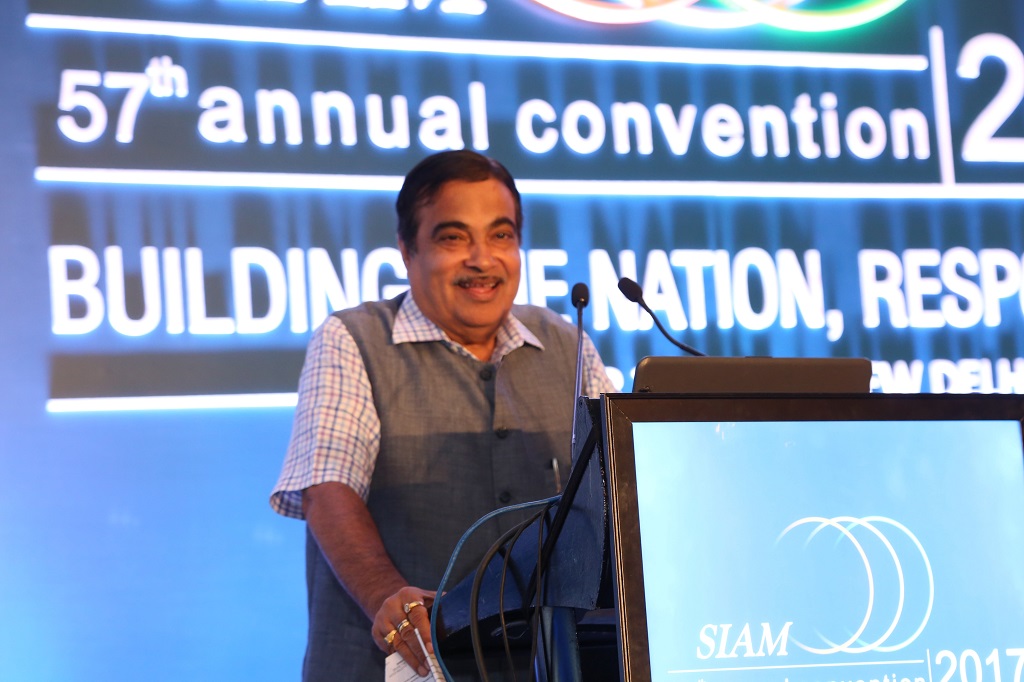 "I am proud to say that the auto industry has always been one among the leading players in our nation building, and that too responsibly. When it comes to sustainable and environment friendly transportation, the Indian auto industry took up the challenge and agreed to go through the pain of leapfrogging towards better environment by accepting BS6 norms from 1st April 2020," Mr Gadkari observed.
However, at the same time, the industry also needs to move towards Zero Emission regime with electric vehicles, he added.
Although the minister was bullish on the size and market of Indian auto industry and directly linked it to India's GDP growth, he pointed out that as more vehicles are coming on road, the government will have to increase lanes of roads and highways to meet the demand.
He also informed that the demand of cars have increased in past three years.
"This is something big that the country cannot handle in the existing infrastructure alone. The industry and the government must come up with a diversified solution. We need to bring in qualitative reforms in the automobile sector and expand the scope of rural
transportation while bringing in newer technologies and encourage electric vehicles," Gadkari asserted.
Mr Venu Srinivasan. Chairman, TVS Motor Company Limited was of the view that the GST and demonetisation will make a transparent economy.
"The most important disruption is the electrification. It is something certainly going to happen by 2030 or 2040, I cannot say. But at least 30 per cent of the vehicle will be electric," Mr Srinivasan, an industry veteran apprised.
He further said that India is a player in the global market but it should also be an original engineer as well. "We in the automotive industry must have an approach to move on from Make in India to Made in India. We have created excellent clusters in Chennai, Bengaluru and now Uttarakhand has become a very vibrant cluster. In next ten years, there will be huge growth in passenger vehicle, two wheelers and export volumes will also go up.
Dr Abhay Firodia, chairman of the Force Motors Limited said that the government is closely monitoring the DNA of the manufacturing industry, especially the auto sector in India to ensure that it is as par the global standards.
"It is good that Indian automobile industry is taking up this challenge despite shocks in the past year. We had disruptions due to demonetisation last year. We have the GST now. We had transition to BS IV emission norms in an unplanned manner owing to which we suffered losses. We need a clear, firm policy guidelines concerning fuel, new technologies and clean transport. This would ensure that the industry doesn't suffer jerks and losses," Dr Firodia stated.
Dr Firodia further pointed out that there is lot of confusion on many aspects relating to GST. "We need to have a comprehensive automobile policy and we need a favourable policy environment. Safety on roads is a concern for all of us, as over 1.5 lakh people died in the past year. We also urge for the need of more cooperation from the Ministry of Road Transport & Highways for having a robust policy and infrastructure.
Mr Kenichi Ayukawa, Treasurer, SIAM and Managing Director & CEO, Maruti Suzuki India Limited called India as a unique country where the auto industry offers a large scale employment. He however pointed out that there are some concerns like issues related to CO2 emissions, growing traffic and accidents.
He said some of the bottlenecks concerning vehicles can be mitigated while working on appropriate designing of the vehicle.
Mr T Mookiah, Associate Director (R&D) at Vikram Sarabhai Space Centre (VSSC), Department of Space, Government of India said the geopolitical situation has made India develop technology through R&D, and today they have developed technologies and on board computer for real time guidance of the launch vehicles. "These technologies can be used by the automotive sector and take a lead in high powered batteries for taking India on E-mobility path.