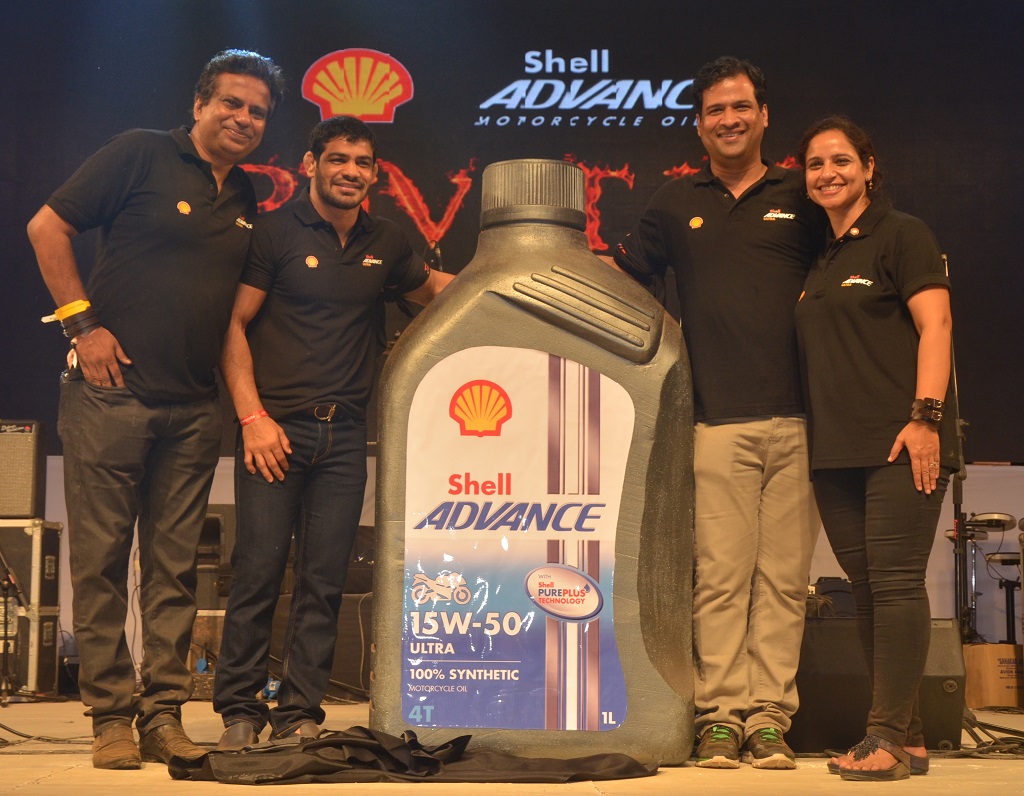 Promises to let you 'Stay Powerful' with its revolutionary Pure Plus Technology
Goa, February 20, 2016: Shell Lubricants, the global market share leader in finished lubricants, today announced the launch of c with PurePlus Technology at India Bike Week 2016. A special formulation for heavier bikes, Shell Advance Ultra keeps your bike better lubricated with no power loss over time. It stays stable longer due to Shell's revolutionary & patented PurePlus gas-to-liquids technology, that converts natural gas into a crystal-clear base oil. With Shell Advance Ultra, you can now rev it up and stay powerful.
Speaking at the launch, Nitin Prasad, Managing Director, Shell Lubricants India said, "The heavy bike segment has witnessed an upward trend in the country. With India developing into a potential hub for premium super bikes, there is a great opportunity for a lubricant brand like Shell to bring technological expertise to this segment.  With this in mind, we are happy to launch Shell Advance Ultra15W-50, our premium oil formulation for the heavier bike segment. You can now keep your bike's power loss close to zero with Shell Advance Ultra."
Also present for the launch, Sushil Kumar, Freestyle wrestler and Silver medalist at the 2012 Olympics, said "I am happy to be associated with the launch of Shell Advance Ultra 15W-50. Power is a pre-requisite for both wrestling and heavy-duty biking.  Just the way, I cannot afford a drop in my power levels in between wrestling rounds, similarly, your bike cannot afford to lose power between oil changes. Shell Advance Ultra 15W-50 ensures your bike stays powerful over time and delivers an exhilarating biking experience."
"The Shell Advance Ultra 15W-50 is a special formulation for heavier bikes that keeps the two-wheelers better lubricated with no power loss over time. This product is powered by the Shell patented PurePlus Technology which is the base for delivering highest quality and the cleanest form of lubricants across our customer value chain. Shell Advance Ultra does not degrade between oil changes, thus not letting the engine efficiency plummet and preventing any power loss. This claim is based on Shell's Internal test data using Honda Wave 125cc motorcycles measured at first 1000th and 13000th km mileage coverage, with extended oil change interval of 6000km." said Akhil Jha, Vice President, Technical, Shell Lubricants India.
Mansi Tripathy, Chief Marketing Officer, Shell Lubricants India commented, "This is the second consecutive year that we have partnered with India Bike Week as the 'Official Gold Sponsor'. Having received a phenomenal response at last year's edition, we believe a platform such as India Bike Week not only provides a brand like ours an opportunity to showcase our technologically advanced products and services, but also to connect and engage with our consumers directly. At Shell Lubricants, we always strive to understand the need gaps in our target market and deliver products to address the same. With India fast catching up on heavy bikes, a product specifically designed for this segment was a challenge we wanted to take up. We also ensured that this year our outlook at India Bike Week reflects the same and has thus been themed around 'Rev It Up With Shell Advance'."
For all the passionate bikers, Shell Advance Ultra 15W-50 with PurePlus Technology will be available pan India at engine oil retailers, motor cycle workshops and amazon in a 1Litre pack size for INR 1051.