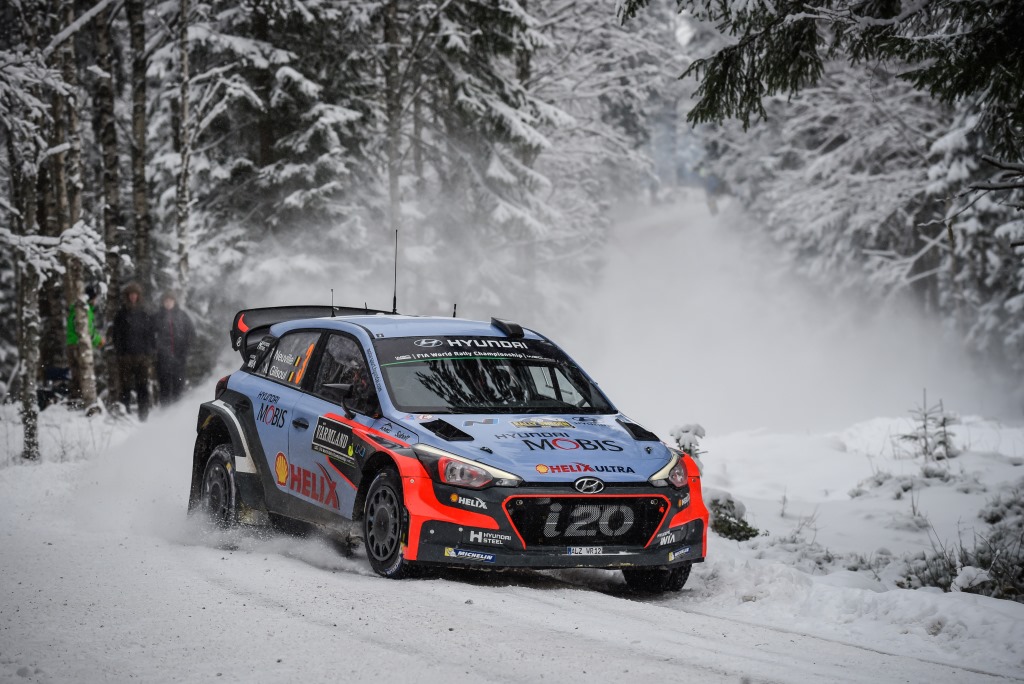 Hyundai Motorsport has scored its second podium of the 2016 FIA World Rally Championship (WRC) season after Hayden Paddon secured second place in Sweden
Dani Sordo finished the rally in sixth place and Thierry Neuville brought his Rally Sweden to a trouble-free conclusion to help the team increase its Manufacturers' points total to 49
Feb. 15, 2016 – Hyundai Motorsport celebrated another podium result as Hayden Paddon clinched second place in Rally Sweden, the second round of the 2016 FIA World Rally Championship (WRC).
The result marks the first occasion that Hyundai Motorsport has taken back-to-back podium finishes in the WRC and also represents the second podium for the New Generation i20 WRC which only made its rally debut at Rallye Monte-Carlo last month.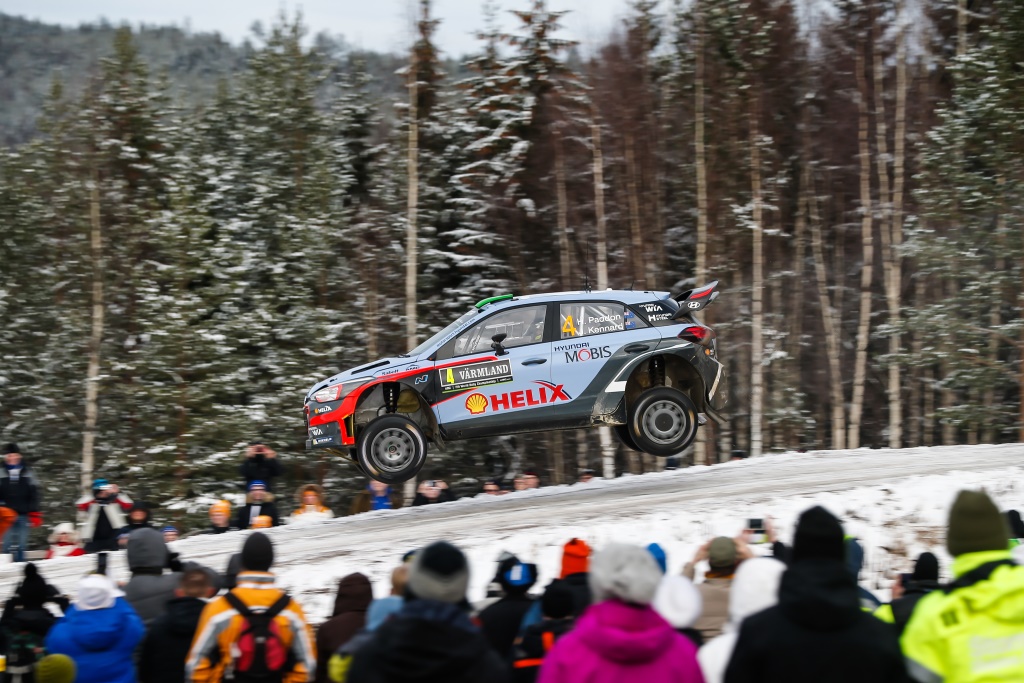 Further underlining the performance of the new car, Dani Sordo added a second top-six result to his 2016 rally, finishing in sixth place. Thierry Neuville also ensured all three New Generation i20 WRC cars completed the rally.
For Hayden Paddon and co-driver John Kennard, second place equals their previous best result – achieved in Sardinia (Italy Rally) last season in 2015 – and scores 18 important manufacturer points for the team, who are now just five points off leaders Volkswagen Motorsport.
Hayden Paddon said: "A podium is a fantastic result for me and everyone in the team. We were hoping to have had a less stressful finish to the rally but unfortunately, we had some water licking from the radiator after hitting a wooden post in the stage, which required some quick repairs. Thankfully, we were able to find a temporary fix and get back to service with our second place intact! Late drama aside, we have had a good weekend and I have felt very comfortable in the New Generation i20 WRC. We made the most of our road position when we had to, and refused to get drawn into a fight for the lead. In the future, we will fight more for the win but there's a bit more work needed on my driving and on the car set-up. We're not far away and, for now, we'll happily take second place."
Hyundai Motorsport has now amassed ten individual podiums since it entered WRC in 2014 with the New Generation i20 WRC continuing to show improved performance and its ability to fight near the front of a competitive field. Hyundai Motorsport team will resume in just a few weeks' time as Mexico plays host to the third round of the 2016 Championship.
Overall Final Classification
Ogier / J. Ingrassia (Volkswagen Polo R WRC) 1:59:47.4
Paddon / J. Kennard (Hyundai New Generation i20 WRC) +29.8
Østberg / O. Floene (Ford Fiesta RS WRC) +55.6
Mikkelsen / A. Jaeger (Volkswagen Polo R WRC) +1:10.8
Tanak / R. Molder (Ford Fiesta RS WRC) +1:50.7
Sordo / M. Martí (Hyundai New Generation i20 WRC) +2:24.0
Solberg / I. Minor (Ford Fiesta RS WRC) +2:40.0
Breen / S. Martin (Citroën DS3 WRC) +2:44.6
Evans / C. Parry (Ford Fiesta R5) +5:17.0
Suninen / M. Markkula (Škoda Fabia R5) +5:31.6
…
T. Neuville / N. Gilsoul (Hyundai New Generation i20 WRC) +7:10.7
2016 FIA World Rally Championship for Manufacturers' Standings
Volkswagen Motorsport 54 points / Hyundai Motorsport 49 / Volkswagen Motorsport II 30 / M-Sport World Rally Team 27  / DMACK World Rally Team 18 / Hyundai Motorsport N 14