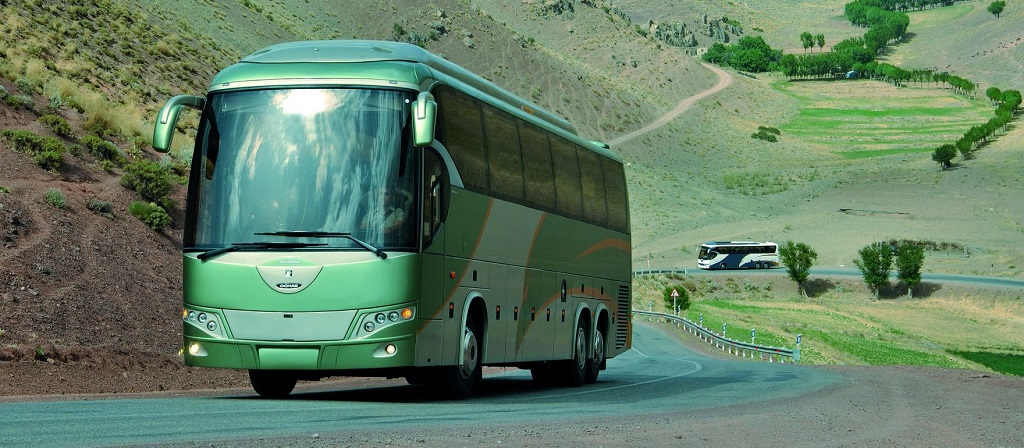 Once again Iran is about to become one of Scania´s biggest and most important markets. Last year about 990 trucks and 860 buses were delivered to Iranian customers in great need of modern, new vehicles.
This weekend, Swedish Prime Minister Stefan Löfvén and EU and Trade Minister Ann Linde, accompanied by a heavy Swedish business delegation including Scania, will visit Iran.
It´s no coincidence that industry and business community from many countries are investing heavily in developing commercial relations with Iran. With the lifting of the sanctions last year, Iran is in a driver´s seat to re-emerge as the regional superpower it once was.
Today Scania has a large market share of both the bus market and the truck market in Iran.
"Without our partners Mammut on the truck side and Oghab on the bus side we would not be where we are today and with a growing market we will deepen our co-operation with them," Tobias Sigerstad, Scania´s Country Manager Iran, says.
A regional hub
The lifting of sanctions has opened the Iranian economy to international trade and investment. Iran is currently undergoing major transformational changes aimed towards attracting foreign investments and increasing trade with the European Union.
Iran's long term goal is to become a regional hub and partner for manufacturing and regional distribution. Scania is committed to continuing to contribute to Iran's development ahead through offering of sustainable transport solutions focusing on energy efficiency, smart transport, alternative fuels and electrification.
"With the right mind set and the right environment we firmly believe that Iran can enjoy increased mobility of goods and people, with decreasing negative external effects ahead. Scania has the solutions to many of the challenges following such a development," Tobias Sigerstad continues.
Solutions for cleaner air
Air pollution in Iranian cities has steadily increased in recent years, claiming lives and lowering quality of life, but also hampering economic activity. According to recent statistics from the World Health Organization, WHO, four out of the 10 most-polluted cities of the world are in Iran.
"Here, Scania can provide Iran with tools to tackle these air quality problems caused by local emissions."
In co-operation with Iran´s Ministry of Environment and Vice President Masoumeh Ebtekar, Scania has developed a specific solution for the country, ensuring that local emissions are kept at a minimum with current fuel quality.
Scania´s partners in Iran
Mammut, Scania's truck partner and distributor since 2008, assemble, sell and service Scania trucks from CKD (Complete Knocked Down) parts from Sweden or Brazil. Mammut employs 520 people in their Scania operations. Last year 991 trucks were sold to Iran from Scania, with a market share of 37 percent.
Oghab has been Scania's bus partner and distributor since 2000. They buy Scania chassis on which the build both city buses and coaches. Oghab employs close to 1,100 people in their Scania operations. The current market share is 65 percent for city buses and coaches combined. In 2016, 792 buses were sold to Iran from Scania placing Iran on Scania's top ten markets for buses globally.