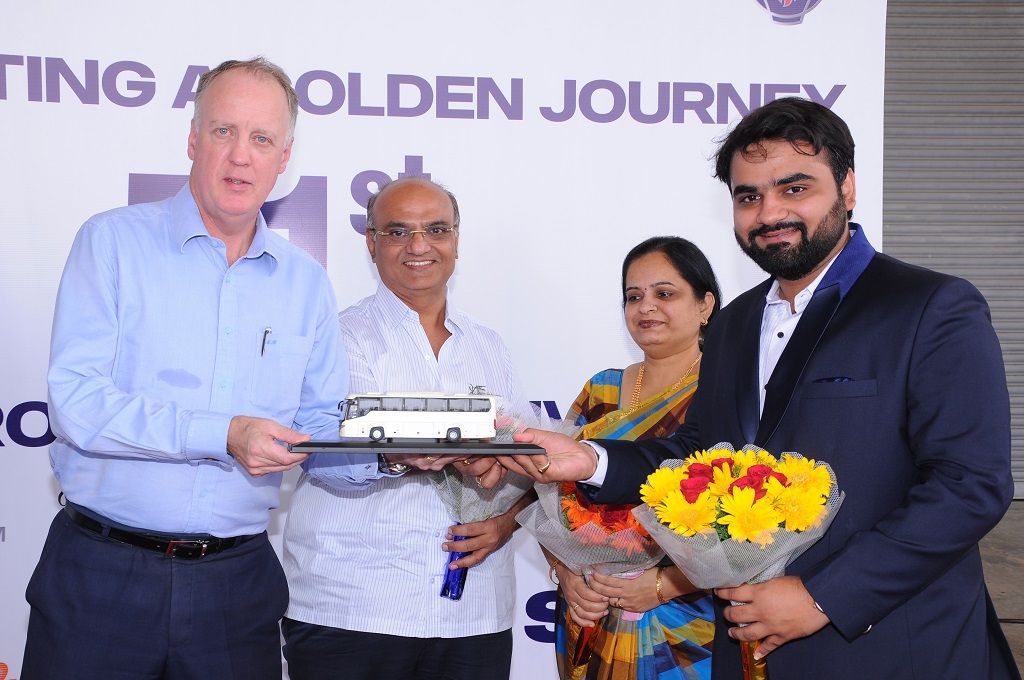 Bangalore, April 07, 2017: Scania India, the leading commercial vehicles manufacturer strengthened their association with top bus operator Chirag Travel Co.by handing over the 51st bus to the operator. The multi axle Metrolink bus was handed over at the Scania bus factory and is slated to operate in the western region of the country.
Speaking on this occasion, Mr. Mikael Benje, Managing Director, Scania India said: "Scania's relationship has strengthened with Chirag travels based on the trust they have shown in Scania over a period of time. Chirag Travels has already seen the value of Scania's low total cost of ownership with improved profitability. Their repeat purchase from Scania is further testimony to the confidence that they have in our vehicles. We are delighted to take our relationship to the next level and extend further support to Chirag Travels. We genuinely hope to explore this relationship beyond the current set of products and extend our portfolio towards the renewable product offerings for Chirag travels."
Chirag Travels is one of the most sought after brands in the western region among the urban transportation service providers. Mr. Vijay.R.Makwana, Chairman, Chirag Travel Co. & Mr. Pratik V Makwana, Managing Director, Chirag Travel Co. added, "Chirag Travels relishes the wonderful experience provided by Scania through their robust product performance and after sales service. Scania buses offers state of the art safety feature which ensures customer safety and hassle free journey experience. We wish to continue our relationship with Scania and expect greater heights in future."
Scania Metrolink buses offer unmatched safety and comfort features to the customers. Scania Metrolink Buses are packed with progressive safety elements such as speed limit compliant to state regulations, fire detection system as standard feature while one can opt for fire suppression system as an additional option six emergency doors with twelve hammers and flight like safety video to educate passengers on Do's and Don'ts at the time of emergency. A Scania Metrolink bus also comes with refined suspension for comfort and appealing ultra-luxury features.
Scania has an efficient aftersales service and dealership network in the country, starting from the Southern and Western states and expanding to other geographies. Understanding the vital role that drivers play, Scania offers a complete driver training programme. A well trained driver can bring about huge impact in terms of operating economy, safety and acting at the time of emergency. Other additional service that Scania offers is real-time online Fleet Management Service (FMS). The FMS on Scania Metrolink provide real time monitoring and facilitates driver coaching to derive the best performance parameters.
Scania Metrolink offers superior Total Operating Economy (TOE) ensuring significant fuel savings and CO2 reductions. This in turn increases customer profits and ensures environment safety.
Scania India
Scania, which is celebrating 125 years of global innovation, is a leading manufacturer of premium commercial vehicles – heavy trucks, buses and coaches, as well as industrial and marine engines. The company offers a world-class service network and dealership in the markets and sells a broad range of service-related products and financial services.
In India, Scania has made its presence felt in the mining and construction segments since 2007 through its partnership with Larsen & Toubro (L&T). In 2011, Scania established the company, Scania Commercial Vehicles India Pvt. Ltd., to strengthen its presence in the on-road segment for buses and trucks.
Scania has two manufacturing facilities in India – one for trucks, and one for buses and engines. Scania has more than 1,500 trucks and over 250 buses registered in the Indian market. The company has a current production capacity of 2,500 trucks and 1,000 buses.
Social, environmental and economic sustainability is at the core of Scania's offerings. All Scania vehicles have the capability to run on alternate fuels. Scania has world-class experience in mobility solutions, which run on biofuels, and the company has brought this unique offer to India. Scania handed over the first ethanol-run Green Bus in India to the city of Nagpur in August 2014. In December 2016, Scania India inked a deal for handing over 55 Green Buses to Nagpur Municipal Corporation. In the same month, it also launched 25 buses retrofitted with bio diesel engines in Karnataka with the Karnataka State Road Transport Corporation. This marked the launch of India's first bio diesel powered buses.  Led by Scania's philosophy of 'local waste to local fuel for local transport', the company has initiated a pilot to showcase how sustainable fuel can be produced from sewage water in India. Scania sees itself as a partner to the Indian Government's ambition of building sustainable urban mobility solutions for Smart Cities.