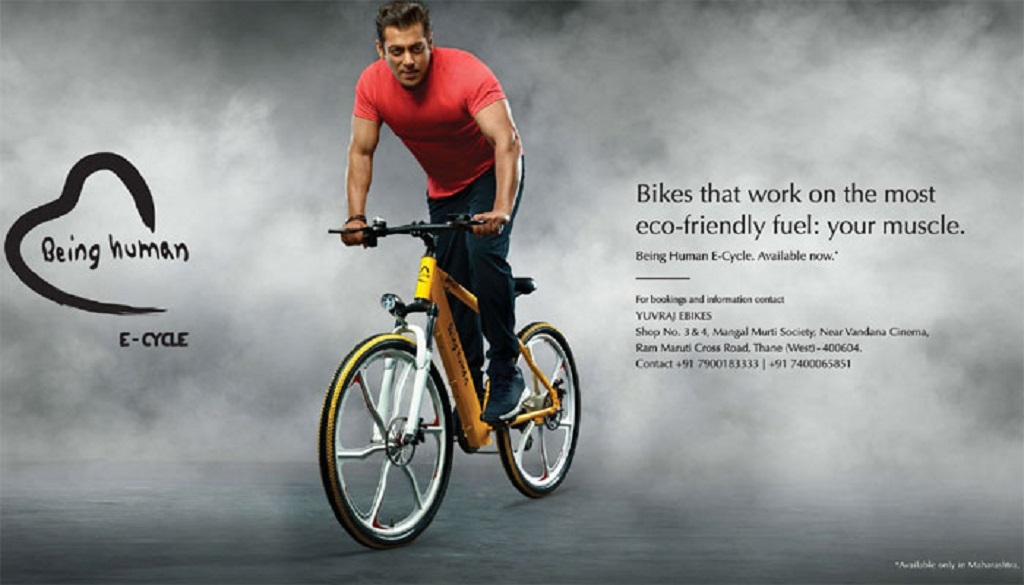 Mumbai, June 5th, 2017: Salman Khan unveiled Being Human E-Cycles today, marking the expansion of the very successful Being Human brand into a whole new retail category. In keeping with the spirit of World Environment Day, Salman delighted guests by choosing a fun, eco-friendly entry into the event, by cycling from his home in Bandra to the venue of the press conference, Mehboob Studios. Allowing his actions to speak louder than his words, the star demonstrated the prowess of the motor and pedal assist on the Being Human E-Cycle for everyone to see for themselves.
The brand unveiled two variants of the E-Cycle, BH27 and BH12. Both will be available in four colours – white, yellow, red and black. Additional variants will be available for sale in a few months as well.
Commenting on the launch, Salman Khan said, "I have always enjoyed cycling. It's fantastic for leisure and sport. But people often drop the idea of using cycles when they have to travel long distances because of the effort involved. With the pedal assist and rechargeable motor support, Being Human E-Cycles make it easy and practical to cycle across both urban and not-so-urban areas."
"Being Human was created with core values like 'Love, Care and Share' in mind. It supports education and healthcare. Buying the Being Human E-Cycles will help you get where you want with ease and do some good as well," he added.
Today, more than 50 percent of people worldwide live in cities. They face great challenges: air pollution, shortages in water and energy supply, lack of space, congested streets. E-Cycles can help move us towards sustainable city development and a liveable urban environment as compared with fuel run vehicles. They help to save on resources and emissions as well as to reduce noise.
Atul Gupta, CEO, Being Human E-Cycles said, "Being Human E-Cycles are designed to be user-friendly and easy to manage on Indian roads. One of the main differentiators of the e-cycles is that they are likely to need less maintenance as they have fewer moving parts than conventional bicycles. With a maximum speed of 25 Km/hr, the Being Human E-Cycle, as certified by ARAI, is exempt from various regulations, and does not require a license or registration to operate."
The event was hosted by Olympian swimmer and Arjuna Awardee Rehan Poncha, who holds the distinction of being a five-time national champion and multiple record holder in the sport.
The Being Human E-cycles are now available for booking in Mumbai. Additional distributors will be added across various states in India over the next few months.
Distributor address: Yuvraj ebikes- Shop No. 3&4, Mangal Murti Society, Near Vandana Cinema, Ram Maruti Cross Road, Thane west – 400604. Phone number: 7900183333 and 7400065851