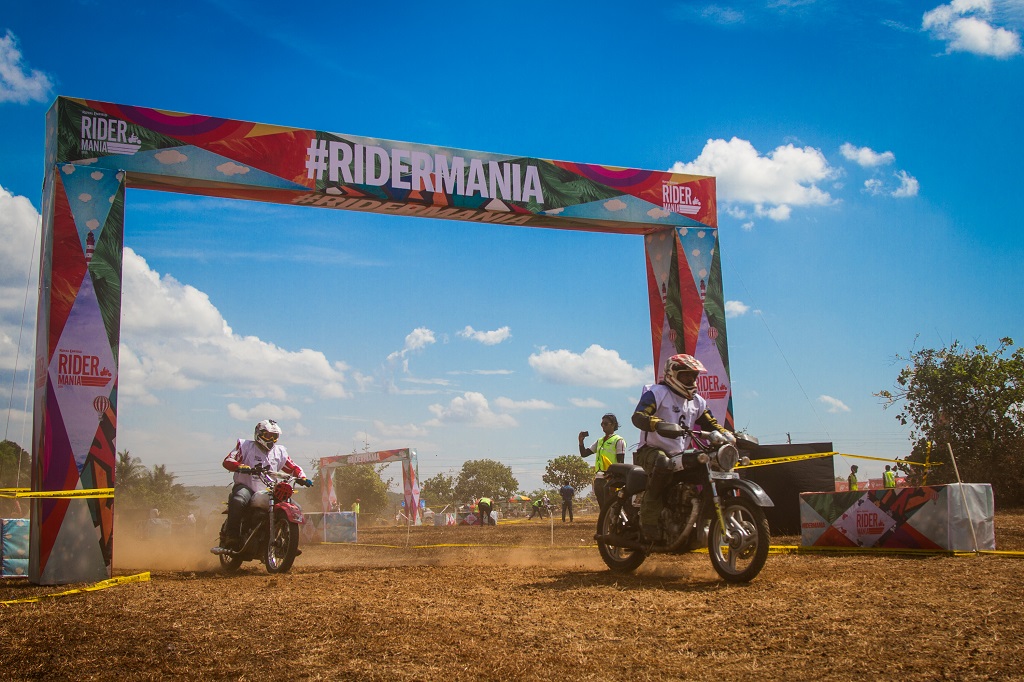 Largest ever gathering of Royal Enfield enthusiasts expected for Rider Mania this year
Rider Mania: 18th November – 20th November
The beach town of Vagator, Goa will be buzzing with the energy and camaraderie of thousands of Royal Enfield owners from November 18th to 20th, as the iconic annual gathering of Royal Enfield enthusiasts – Rider Mania 2016 begins. More than 4,500 riders have already registered for three-days of action packed mornings, adrenalin pumping afternoons and surreal evenings that celebrate the spirit of 'pure motorcycling'. To register and be a part of this motorcycling pilgrimage log on: https://royalenfield.com/ridermania/register/
Royal Enfield Rider Mania is an annual motorcycling festival where people come together to celebrate a common passion; the joy of riding. Along with a thrilling motorcycling experience Royal Enfield Rider Mania stands apart with a strong promise of an authentic experience in an unintimidating and friendly environment. The core element of Rider Mania are the people who come together in Goa every year to celebrate their love for Royal Enfield Many of these riding groups travel thousands of kilometers all the way to Vagator, relishing every moment leading up to Rider Mania.
Over the years, Rider Mania has grown into a place where experienced and new riders find common ground to engage and participate in different facets of motorcycling. The 3-day festival has an expansive line up of motorcycling events ranging from contests to learning courses to live music. This is best exemplified by the learner's course at Rider Mania for people who want to learn to ride a motorcycle. The main objective is to have fun, celebrate old and new friendships, connect at one common ground which is love for motorcycling.
Royal Enfield Rider Mania promises a complete motorcycling experience. Day long action is juxtaposed with the scintillating music in the evening. Fans can also shop for a plethora of motorcycling accessory and gear stalls at Rider Mania.
The Rider Mania 2016 three-day extravaganza includes many interesting activities:
Off-road training session, a hands-on training experience available to anyone who rides a Royal Enfield. The one-hour session will be conducted on

18th Nov 2016

, where the participants will be trained for basic riding skills on dirt by experienced coaches. Participating in this training is a great way to hone a person's riding skills. While this will be beneficial to owners of all Royal Enfield models, the Himalayan owners could be more excited.
Dirt track racing, the most sought after competitive event at Rider Mania will also feature a Himalayan category apart from the up to 360cc & up to 550cc, giving riders a chance to showcase their off-roading capabilities. The Dirt Track Racing scheduled across three days (

18th-20th November

) of the Rider Mania 2016 will follow the International Sporting Code of the FIM & appendices of The Federation of Motor Sports Clubs of India (FMSCI). "Race of Champions", where last years' podium finishers will go ahead and race with this years' podium finisher will culminate this event.
Slow Race, where the slowest participant to complete the track without putting their leg down or going out of their lane wins.
Another challenging activity is the Maze Chase where riders use their manoeuvrability skills to complete the specially designed course in the shortest time.
Hands on events like Assembly Wars and Carry your Bike also add to the fun element of Rider Mania and test participants skill with the bike and build spirit of motorcycling.
Trials is another very popular event at Rider Mania. With a specially designed obstacle course, it tests one's riding skills. There will be a special category for Himalayan owners this year.
Rider Mania will also be introducing a learner's course this year. A number of enthusiasts accompany their motorcyclist friends to Rider Mania and this initiative provides an excellent opportunity for them to be introduced to the experience of pure motorcycling.
For the explorers
For the lovers of pure motorcycling Early Risers', a ride for those who want to experience Goa in all its morning glory, will start from the Rider Mania venue on 19th & 20th November. These rides will take participants to places that highlight authentic Goan experiences, like Mahadai Wildlife Sanctuary, Divar Island via Panjim to Old Goa comprising of a ferry ride before culminating at Vagator.
Film making workshop
Rider Mania offers something for everyone. Riders with a flair for filmmaking have a chance to showcase their skills with the camera through a special 'Shoot your Rider Mania 2016' workshop. Starving artist films (S.A.F)'s Rahul Datta, who has worked with some of the most well-known brands in the country, will be present at the venue to share his knowledge and experiences with the participants.
Custom bike exhibition
Custom bikes have always been a huge draw, some of which are exclusively designed and built for Rider Mania and will be on display. These motorcycles are an expression of the designers' motorcycling spirit and craftsmanship.
The celebrations have begun
The Rider Mania celebrations have already started in key motorcycling hubs with Pre-Rider Mania parties and rides. There are special Royal Enfield Pre-Rider Mania parties being held in Bangalore, Delhi, Hyderabad, Mumbai, Chennai and Pune to kick start the celebrations. The remaining Pre-Rider Mania parties are scheduled to be held in Chennai and Pune, details for which are given below:
City
Location
Date | Time
Pune
Classic Rock Coffee, Kalyani Nagar
28th October, 2016 (Fri) |

7:30 pm
Riders across the seven states of Andhra Pradesh, Bihar, Rajasthan, Kerala, Tamil Nadu, West Bengal, Madhya Pradesh and Punjab, are gearing for the festival with pre-Rider Mania rides. Interested Royal Enfield fans can sign up for the ride in their city on Rider Mania page of the official Royal Enfield website. https://royalenfield.com/ridermania/before-the-mania/pre-rider-mania-rides
How to register
While main ingredients like the camaraderie, and a rider's ultimate mood lifter – good music, remain the same, the Royal Enfield's spirit of motorcycling continues to grow. Rider Mania is the place to be if the thump is what drives you. Rider Mania will soon announce its line-up of popular contemporary artists for its 3 nights of musical extravaganza. The registrations are open for the Rider Mania 2016, the annual motorcycling pilgrimage.  To register please click on the following link: http://royalenfield.com/ridermania/register/