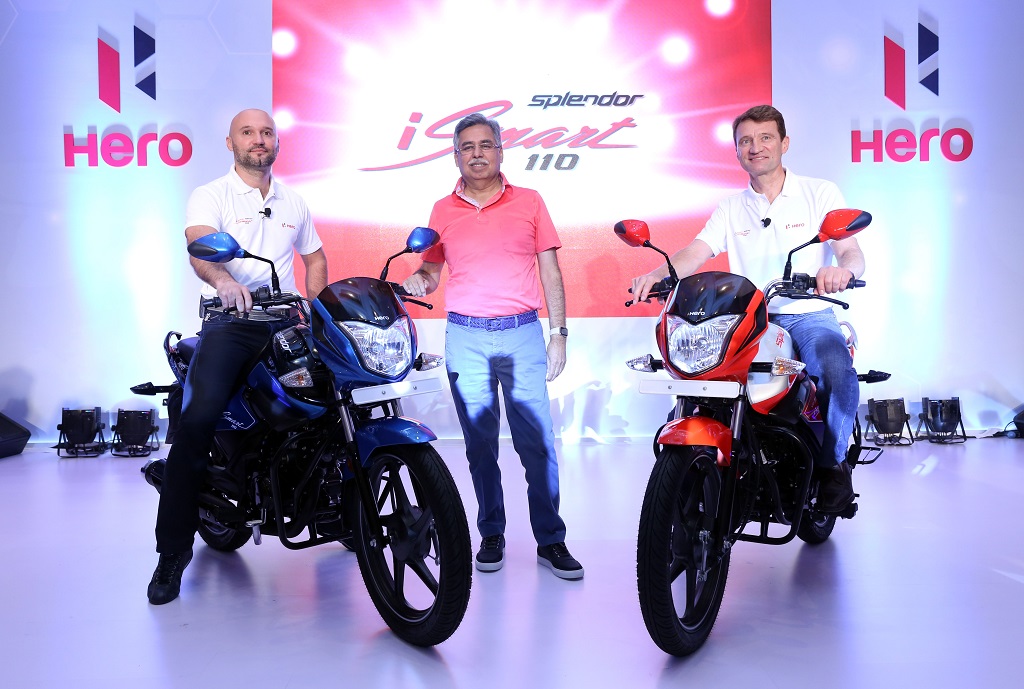 Hero Moto corp begins a new era with the splendor iSmart 110 – the first motorcycle completely designed and developed in-house.
Sets a benchmark with completely new BS-IV compliant engine. Riding on new frame and design, the bike features Hero's pioneering i3S technology
'TORQUE ON DEMAND' ENGINE
ONLY BS IV COMPLIANT ENGINE IN THE CATEGORY
OFFERS BEST-IN-CLASS FUEL EFFICIENCY, POWER, ACCELERATION
NEW CHASSISWITH OPTIMIZED RIGIDITY AND STRENGTH
MORE COMFORT ON ROUGH TERRAINS
BETTER AGILITY IN TRAFFIC
AUTOMATIC HEADLAMP ON (AHO)
GIVING THE BIKE A UNIQUE CHARACTER
ADDS TO SAFETY AND CONVINIENCE
DISTINCT FEATURES
LONGER SEAT FOR ADDITIONAL SPACE AND COMFORT
NEW MUFFLER GIVING THE BIKE A CHARATERISTIC 'EXHAUST NOTE'
"With the launch of the all-new Splendor iSmart 110 today, we have achieved yet another significant milestone in our solo journey.This comes close on the heels of the successful launch of our first range of indigenously developed scooters last year. I can proudly state that Hero MotoCorp possesses a self-sufficient in-house capability to develop new products for our global customers – from Product Planning, R&D and Manufacturing to Sales and Marketing – indeed, the entire value chain!
As the market leader in India and asa global organization, we constantly strive to lead the industry towards cost efficient and green technologies for a sustainable future. The new iSmart 110 is another example of our efforts, featuring a BS IV compliant engine along with the intuitive, fuel-efficient i3S technology. Coupled with our green manufacturing facilities, such products will enable us to achieve our sustainability goals.
With our ever-increasing global footprint, we are engaged in developing products that will bring to life engineering excellence that is made-in-India, for India and the world." Pawan Munjal Chairman, MD &CEO, Hero MotoCorp Ltd.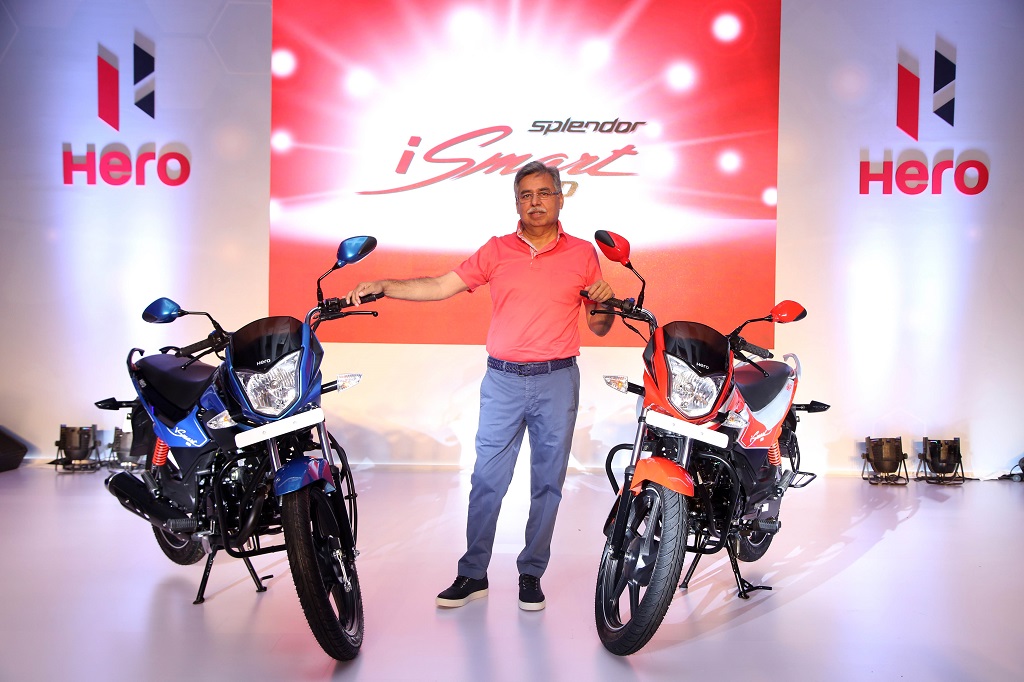 Hero MotoCorp Ltd. (HMCL), the world's largest two-wheeler manufacturer, today launched the new Splendor iSmart 110 – thefirst motorcycle to be developed completely in-house, with Hero's own technology. Built on a completely new chassis and frame, the bike is powered by the new 110cc 'Torque on Demand' engine that also features Hero's patented i3S technology.
Entering the market within six months of being showcased at the 2016 Auto Expo, the high-tech and modernSplendor iSmart 110 is a category-defining motorcycle, offering best-in-class performance and fuel efficiency.
The bike is now available at all Hero dealerships across India, at a price of INR53,300 (Ex-showroom Delhi), INR 53,100 (Ex-showroom Mumbai), INR 53,800 (Ex-showroom Bangalore), INR 53,700 (Ex-showroom Chennai), INR 54,200 (Ex-showroom Kolkata), INR 53,100 (Ex-showroom Pune), INR54,100 (Ex-showroom Hyderabad). 
Hero MotoCorp is already the dominant leader in the commuter motorcycle segment with over 65 per cent market share, thanks to the popular Splendor range, Passion and HF Deluxe brands. With the introduction of the new Splendor iSmart 110 in its portfolio, the company aims to further augment its undisputed leadership in the category.
 A testament of Hero MotoCorp's focus on developing world-class products in India, the youthful and performance oriented new Splendor iSmart 110 is a result of the relentless efforts of Hero R&D team at the Hero Centre of Innovation and Technology (CIT) at Jaipur.
The New Splendor iSmart 110
Designed for today's smart generation, the stylish motorcycle is loadedwith an array of safety, comfort and utility features which integrate seamlessly to make the riding experience convenient, hassle-free and enjoyable. The lean and contemporary look of the new bike, along with superior performance and mileage gives the bike a holistic and global appeal.
Engine
The new motorcycle draws its unmatched performance from the completely newBS-IV compliant 110cc TOD (Torque on Demand)engine. The air-cooled single cylinder, 4-stroke engine produces a maximum power output of 9.4 PS @ 7500 rpm and maximum torque of 9 Nm @ 5500 rpm. Apart from the class leading power and performance, the new engine with low friction, optimized flow and combustion, offers more usable power and more acceleration across the range. The bike races from 0-60 km/h in 7.45 seconds only.
The Splendor iSmart110 also features Hero's intuitive i3S (Idle-stop-startsystem), a proven technology that has been widely appreciated by customers. The i3S system, apart from increasing fuel efficiency, is an important convenience feature in the urban stop-go traffic.
Chassis and Frame
The motorcycle rides on anew frame that offers improved durability, enhanced agility and conformable riding experience, even on rough terrains. With low Centre of Gravity, the bike offers superior balance. The optimized torsional rigidity, strength with synchronized suspensionprovides better cornering, highspeed stability and planted feel on rough roads. The improved double cradle design of the bike allows improved chassis tyre suspension sync and better front-rear balance with no twitching.
Convenience
The ergonomic design of the bike allows for convenient and easy riding over long and rough terrains. The new profile longer seat offers more space and unmatched comfort over long rides. The new speedometer with a fresh Analog Digital design offers superior functional utility while service due indicator provides timely service reminders.
The first-in-class Automatic Headlamp On (AHO) feature gives the bike a unique character, provides enhanced visibility and adds to the safety of the rider while riding in low-visibility conditions.
Styling
The new styling translates into a Smart, Modern and Innovative image for the bike. The youthful design statement is continued with the seamless new graphics, dual tone mirrors, fenders and cowl. The new tail light and muffle with chrome tip give the bike a sleek look from the rear.
The new styling language of bike extends to its enthusiastic 'exhaust note' which is characteristic of a refined 4-stroke engine.
Adding to the style quotient are the four exciting color schemes – Silver & Black, Red & Black, Blue & Black and Sports Red.